Xervantes' Challenge #2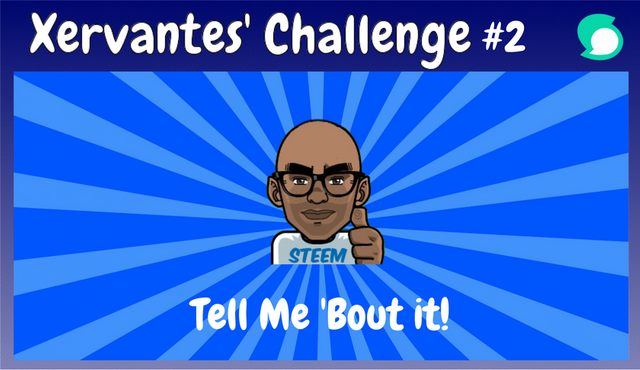 Yes, Yes, Yes, my peeps, it is time for another Xervantes' Challenge. In the first part I challenged my fellow Steemians to write one week about a subject of their choosing but for this challenge we are going to change it up a little.


So what have I cooked up now?
This time I want to do a writing contest. Some time ago I had an idea to do a series called "It's all about style" where I would write about well-known Steemians and what made them so special. But alas it never came to be. So now I am looking for Steemians who are going to write about their favorite author on Steemit and tell me what makes that author so unique, good, wonderful, extraordinary etc.
What am I looking for?
A Minnow with a REP less than 50 preferably someone just starting out on Steemit.
For two weeks (starting now) you have the chance to submit your post (#xervanteschallenge) about your favorite well-known accomplished Steemian.
I will do a groundback check to see if you have not misbehaved on Steemit.
What do you get in return?
All the posts will get a 100% upvote from me, and a resteem. The winning author will get a 20 SBD reward!
How do you apply?
Let me know that you want to take part in the competition and drop a link to your post in the comment section. Let me know which Steemian you are going to write about and I will check out your post. I will decide on the winner Sunday 19 March.
What not to do!
Copy-Pasta Posts- Yes I will be looking for plagiarism.
No memes or Zappl posts- Sorry.
What you should do!
Accept my challenge, submit one post about your favorite Steemian and let everyone know what makes him or her so special in your eyes.
add the #xervanteschallenge tag so I know which posts to look for
Be sure to do your best because we got some talented Steemians out there!



Are you that talented and enthusiastic minnow who is just starting out and are you up for a challenge?