#x-daysofmusic es geht weiter mit dem Jahr 1995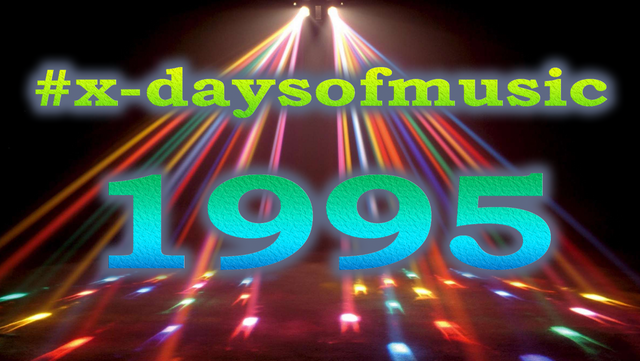 Was ist x-daysofmusic ???
Was soll das jetzt? 38 Days of Music. Ja.... 38ter Geburtstag war am 26.November 2018 und ich hatte anlässlich dazu gedacht diese challenge ins Leben zu rufen. Ich finde es großartig wie viele Leute dort schon mitgemacht haben und hoffe das noch viele dazu kommen. Solltest du nicht nominiert werden, fühle dich frei einfach selbst unter #x-daysofmusic einen Post zu starten.
Eigentlich wollte ich ja relativ rasch also innerhalb von 38 Tage das ganze Programm abgespult haben, aber leider hat das nicht ganz geklappt. Entweder es liegt an meiner Motivation, oder einfach wirklich an dem Mangel an Zeit den ich durch Ausbildung, Kinder und anderen Beschäftigungen habe.
Anfangs habe ich das ganze mit einer nomination eines Users gemacht, welcher am Ende eines Posts genannt wurde. Ich tendiere dazu das nun zu lassen. Jeder darf sich frei fühlen und an der Aktion teilnehmen. Unter dem #x-daysofmusic hat sich sogar schon eine riesen Menge angesammelt.
die Regeln
finde Dein Geburtsjahr heraus


starte mit Deinem Geburtsjahr


suche Lieder aus diesem Jahr die Du noch heute magst


Poste täglich, wöchentlich, wie Du magst für jedes weitere Jahr ein paar Songs die Dir gefallen bis Du in diesem Jahr angekommen bist


Schreib eine Kleinigkeit dazu


Nominierung eines Users


nutze den Hashtag #x-daysofmusic
Nun will ich aber auch mit 1995 starten
GRAVE DIGGER - Circle of Witches
Das ich ein riesen Fan der Band Grave Digger bin ist ja mittlerweile glaub jedem bekannt. Im übrigen ist morgen ein Konzert von Ihnen in München. Ich freu mich da schon riesig drauf. Ich freue mich natürlich auch dieses Lied zu hören, welches zu meinen Favoriten.

Coolio - Gangsta's Paradise
Man Man, ich war 14 kurz vor 15 als dieses Lied rauskam. Die ersten Dicobesuche bei uns im Örtchen standen an. Wir kamen damals in dem Alter da noch rein, das Türsteherpersonal war nicht ausreichend geschult. Mein Bro David und ich beide über 2 Meter groß, leichten Haarwuchs um die Nase und schon war der Einlass gesichert. Natürlich lief das damals wie folgt ab, wir standen in der Ecke, und die Mädels tanzten irgendwie in , aus heutiger Sicht, komischen Klamotten dazu. Immer wieder aufregende Abende.

Corona - Rhythm Of The Night
Hahahaha... auch dieser Titel zählt zu denen die dort gespielt wurden. Die Disco ist heute ein mehr oder weniger gut gehendes Mongolisch Chinesisches Restaurant. Ja und heute, manchmal überkommt einen doch die gute alte Zeit und man wiegt sich in Erinnerungen, dazu spielt man gerne so Songs die damals ständig liefen.

Scooter - Hyper Hyper
So...... das lass ich unkommentiert. Ja ich schäme mich. :D
Aber beim Hairaten und Bärenraten ..... ist der Haibär Haibär das ultimative was man erreichen kann.

Grave Digger - Dolphin's Cry
Zum heutigen Abschluss gibt es in Vorfreude auf morgen noch einmal einen Grave Digger Song aus dem Jahre 1995, "Dolphin´s Cry" ist eine der wenigen Balladen der Band. Mich fesselt der Song stets aufs neue.

---