2018 Season Preview: NL WEST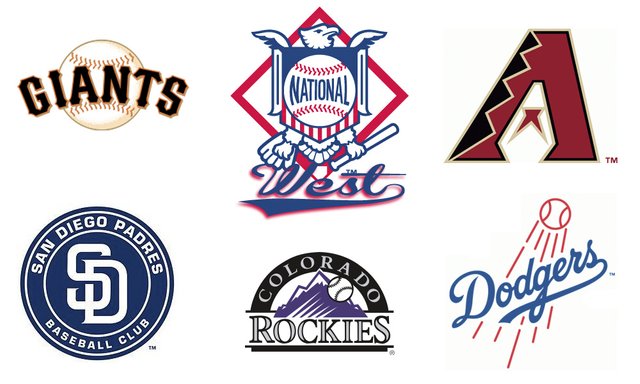 I'll give you the who, what, when, where, and why's with predictions coming when I finish with the divisions. In 2017 this division was home to three playoff contenders and the NL pennant-winning Dodgers. Lets dive in, shall we?
Arizona Diamondbacks: Anchored by perennial MVP 1st base candidate Paul Goldschmidt and now settled Zack Grienke, this is a fun team to watch. The rotation and bullpen are top notch while the lineup has only gotten better after the trade for Souza Jr. No d-backs fan will cry foul now that Tomas is riding the pine. This team could potentially do more than challenge for this division if they play their cards right. The team doesn't have great prospect depth but a healthy return of Shelby Miller will do in place of a midseason bolstering play.
Colorado Rockies: This was another surprise team in 2017 when they made the wild card with an 87-75 record. This team won 12 more games than the previous year based on their solid lineup and anchored by their top 5 closer Greg Holland. This year, Holland has been replaced by an even better closer in the form of the former teammate and Cubs closer Wade Davis. The depth they have in the outfield is outstanding and to relieve the logjam, they didn't resign their renaissance 1st baseman Mark Reynolds in the hopes that the outfields can try it out when not starting in the outfield grass. If the rotation can take the next step, this could be a dangerous team.
Los Angeles Dodgers: Last year was a banner year for the pennant-winning Dodgers. They had the perfect mix of skill and luck. When their aging all star Adrian Gonzalez went down, in stepped rookie of the year, Cody Bellinger. When Joc Pederson couldn't hold down the centerfield job, Chris Taylor, a reserve infielder with 1 career home run, came up big with a 21 home run season along with solid defense. Their rotation depth was severely tested as well when every member of the starting staff took turns on the disabled list. It was an excellent first campaign for rookie manager Dave Roberts. We'll see is the Dodgers can replicate last year's magical season.
San Diego Padres: A.J Preller giveth and A.J Preller taketh away. The embattled Padres GM turned the Padres into instance paper contenders a few years back when he traded for the former MVP Kemp, top closer Kimbrel and others but the team didn't gel and was completely disbanded. It was an ugly scene in San Diego. After a few bottom dwelling years, the Padres have made their biggest free agent signing ever in Eric Hosmer. This move relegates their best player to an outfield position which is not in the clubs best interest. The move is sort of a head scratcher as the rotation remains a work in progress and the farm is a few years away from contributing.
San Francisco Giants: Bruce Bochy might be one of the games best managers but their was nothing he could do help this aging, overpaid and underachieving team. Their best player and possibly the best post season pitcher in league history, Madison Bumgardner, didn't help the team after crashing his four wheeler early in the season and ending up on the DL for most of the season. The Giants did add some talent and upgrade a few positions like Evan Longoria will now man third base and the additions of Andrew McCutchen and Austin Jackson will push fan favorite, Hunter Pence, into a position he's never played. Make no mistake though, this is a veteran team in a win now mode. They must forget 2017 and play up to their contracts worth. Good luck in this division.
---
@writesbackwards is a group of friends who love to write about life, sports, comedy, tech and other fun stuff!
Please, give us a follow! Re-steem this post for your friends! And, join us in promoting quality content on Steemit!
Thank you for your support.