Asia's New (not so new now) Influence on North America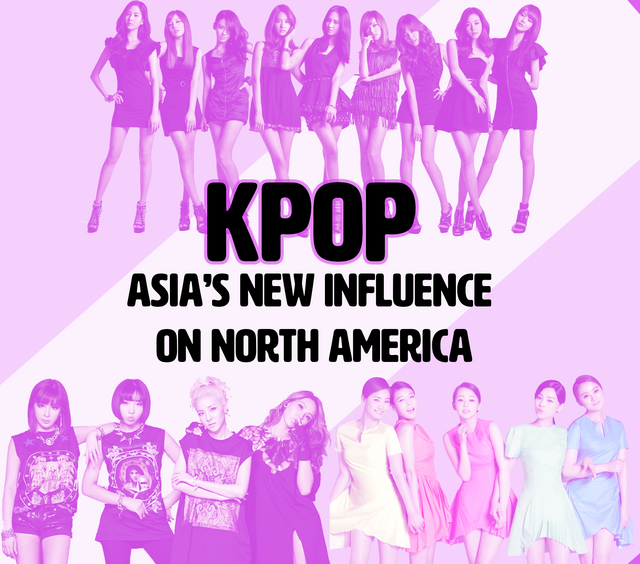 I happened to be going through one of my external hard drives, in search of some old pictures to develop on Lightroom. Well, I just so happened to come across an old article I write on April 15, 2011. At the time I was starting to write more, taking an interest in Creative Writing, as well as other topics (non-fiction related). It was so interesting to read this piece that I wrote but don't believe I ever published anywhere. I remember thinking I should reach out to music sites back then and never really did.
And...here I stand, more than 8 years later still loving this genre of music, and most of the groups I reference have honestly now run their course and disbanded, although that doesn't make me too sad anymore. Looking back and knowing how things played out and how big Kpop actually has gotten worldwide, and why, I would certainly change some of what I have written, especially when it comes to why and the defining factor of it all.
Let's take a look at the old piece:
Asia's New Influence on North America
The power of Asia is rising. The Asian influence is traveling across world borders and appearing in North America. It comes in the form of K-pop, a genre of music that includes electronic, pop-rock, hip hop, and R&B. K-pop songs and albums are silently making their mark on music charts all over the US and Canada, qualifying for some of the top spots. In the past two years, K-pop has shown up on US and Canadian music charts, securing high profile spots on the Billboard HOT 100 chart and the top 10 iTunes music chart. K-pop is beating other North American music artists who in other cases might qualify for spots on those charts but instead have succumbed to a lower valued spot.
K-pop which is spreading through Asia like wildfire and now is being referred to as the "Hallyu wave" has been making a significant influence on the North American market. Original Korean tracks have even been translated into English in order to compete in the US market. The Wonder Girls, a popular K-pop girl-group successfully debuted in the US with an English version of their hit track "Nobody". The original Korean track was translated into English for their US debut. That song successfully landed them a spot on the Billboard Hot 100 chart in 2009. The group grew in popularity while they performed the opening act for the Jonas Brothers while they were on tour. The popularity of K-pop has not stopped there and seems to be growing significantly in the past two years. More groups are finding themselves placing on various music charts within the US and Canada. The most recent placement on a US music chart was made by the returning boy-group Big Bang who had the first K-pop album to place in the Top 10 on the iTunes US music chart and achieved this with a strictly Korean album.
The successful spread of K-pop into various global markets has been achieved with the help of one very significant effort. Korean artists, unlike North American artists, have set themselves apart by learning the language of the countries they debut in. The Wonder Girls, for example, have worked very hard at becoming fluent in English. A few of the top K-pop groups and idols are fluent in English, but otherwise, when emerging into the North American market these artists have to study the language. The US is not the only market where idols learn the language; instead, they study the language of any foreign nation they break into.
Girls' Generation (SNSD) for example, debuted in Japan last year, and immediately made an effort to learn the language so that they could communicate to hosts while on Japanese television or music programs. Along with the effort to be able to communicate to hosts and fans while in Japan, they also re-released their hit K-pop singles in Japanese, with new videos appropriate to that nation. Girls' Generation along with groups such as KARA, 2NE1, 4Minute, 2PM, and others have released new Japanese singles or Japanese versions of their already popular Korean hits. The effort of these groups to adapt to the foreign markets they emerge into has proved invaluable for their success.
The increase of K-pop popularity has sparked the interest of various US and Canadian musicians that now wish to work with successful K-pop groups and idols. American singer Amerie collaborated with 4Minute to re-produce a Korean mixed version of one of her hit songs. She added the vocals of the 4Minute group members singing original Korean lyrics and kept the English chorus which was sung by Amerie. The song was performed with Amerie and 4Minute side by side and was showcased on a music program while Amerie was promoting in Korea.
Will.i.am of The Black Eyes Peas expressed interest in working with the K-pop girl-group 2NE1. He has since made appearances in the 2NE1 television series and has written and composed a few tracks for their most recent comeback album. It is rumored that 2NE1 will be debuting in the US in the near future with the help of Will.i.am. Since at least 2 of the members in the group are fluent in English and they have already released an English version of one of their hit singles on their current album, it should not be difficult for them to catch a part of the North American market.
Ne-Yo, American pop and R&B singer-songwriter has expressed interest in collaborating with K-pop artists, specifying the group 2PM and idol Jay Park, amongst others as possible candidates. Girls' Generation member Sooyoung recently publicly requested that Canadian singer-songwriter Avril Lavigne write a song for their group.
The past couple of years have marked a high growth rate for the expansion of K-pop into various global markets. With English websites dedicated to K-pop updates and gossips like allkpop.com or English fansites dedicated to specific groups or idols, such as Soshified.com, the K-pop nation can continue to expand without borders. Language is proving not to be an obstacle for this growing genre of music, and instead many people are embracing the fresh style of K-pop.
Who says you have to limit the music you listen to based on which language you speak? We are a global economy. We have imports and exports blanketing the globe. We have people of different colors, shapes, sizes, and races living all around us. So why would we limit our way of thinking and enjoyment based on language? We are in a global era where music is no longer confined to its ethnic borders. Let your individual walls down and embrace a new cultural influence of music. Expand your mind to the world of K-pop, it is spreading whether you have tried it or not, so give it a chance.
-- END --
Thanks for checking it out. I felt like sharing it, in between doing all my other stuff. It felt like something I just needed to have out there and document. I had always hoped Kpop would get as large as it would, and I had an inkling at the time that it would, but it's really really cool to be watching it all unfold.
Have a great night all (or day depending upon where you are).
Much Love
Jenny (TopKpop)