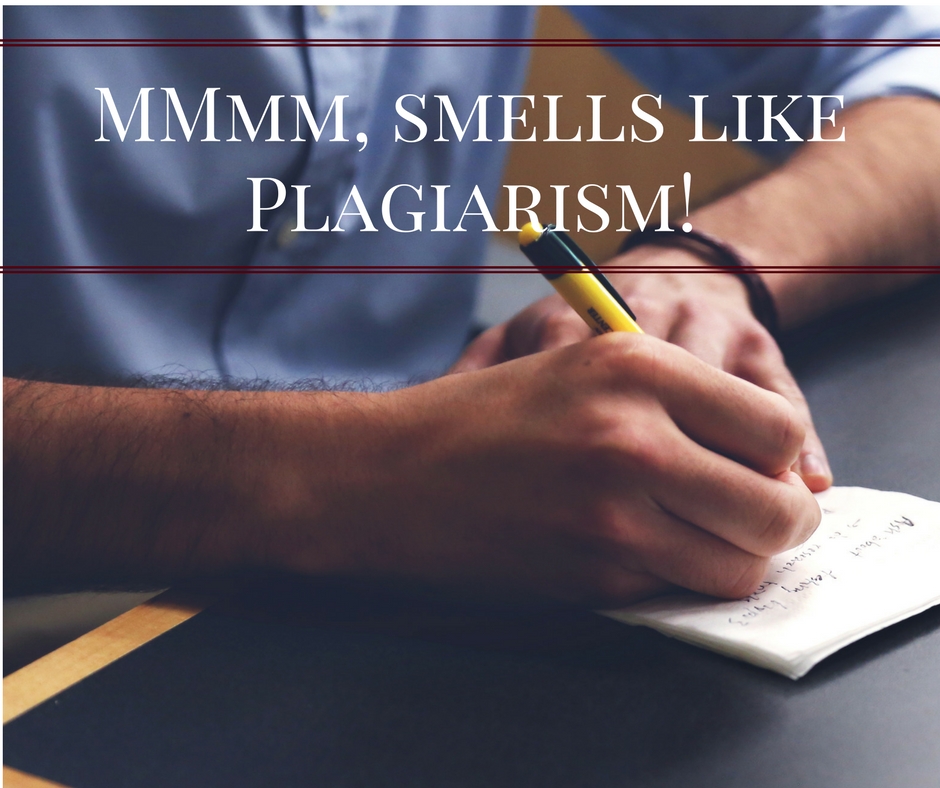 (image created with Canva)
What is plagiarism? Plain and simple, if you take somebody's intellectual property, call it your own, and don't give any kind of credit to the creator of said content you are plagiarising and are a thief. It's that simple. Even if you take that content, change it around, and slap a pretty sticker over it somewhere, you're still a fraud. The First Amendment does not give you the right to steal somebody's intellectual property, even if you're stupid enough to think you can bamboozle your way into saying you can. The Supreme Court, and most people within a community, would consider you a thief, a fraud, and a liar.
Take the picture on this post. I created it using Canva, which pays artists to produce font styles, pictures, and templates for commercial use. I pay them a monthly fee so that I can use that service. I don't know how they distribute it from there, but I use a reputable site and give credit to the company that helped me produce that image. It's not MINE, even though I created the final product, but I can use it because I've been granted that privilege by the creators. See the difference?
Freedom of speech covers your rights to state your opinion, it does NOT give you the right to steal intellectual property to use as your own. You can ASK a creator if you can use their work, get their permission, and then use it, but you cannot just take it or use it, and say it is yours. Just as when you are in school and have to write a paper, you can't just take somebody's paper and call it yours.
Taking it further, only a certain percentage of that same paper can have quotes in it before many universities will consider it unoriginal and plagiarism. You can only have 10% or LESS of someone elses work, even if you do paraphrase it. Paraphrasing means you've used their words but restated the original work. Think of it like taking a picture, covering it with borders, throwing some font over it, and maybe putting a picture you took, right beside of it.
So what is plagiarism? Finding a picture on the internet, pasting it into your post, and not giving credit (or getting permission from) to the artist. It's taking someone's words and reposting them as your own. It's using a quote without giving credit to the writer. It's taking something that is not your intellectual property and saying IT is, even if you don't mean to, or saying you didn't know it was. That is no excuse. If you are going to be a content creator on Steemit then it's time you learn what is plagiarism, before you get bounced out of the club!
If you aren't sure what is or isn't plagiarism, there are these really helpful tools on the internet called plagiarism checkers. There's tons of them free online. As for images, if you don't get written permission from the creator or use a site to legally produce such content, then you're a theif. Canva is free and has many options for producing images for free. There are other places like it but I use it to make my book covers and have found it the simplest to us. Other than that, use that thing you're using to produce content and do some research. It's not that hard.
This post was produced in response to the "it's not plagiarism it's freedom of speech" brigade found over on @allasyummyfood post about their content being stolen by a supreme jerk. That post can be found here, go and upvote it, they deserve it, not that jerk that stole their content!
https://steemit.com/steemit/@allasyummyfood/plagiarism-on-steemit-stop-it-we-will-flag-and-report-you#@smuggly-sparrow/re-joeyarnoldvn-re-willymac-re-joeyarnoldvn-re-sjennon-re-allasyummyfood-plagiarism-on-steemit-stop-it-we-will-flag-and-report-you-20170623t190949564z