I sat down on a wooden chair beside my window glancing at the stars. I don't know what really drew my attentions to them but for a while I felt the comfort of the evening illuminating from them and the glamourous beauty it poured on the evening, until it reminded me of the past I have always run from. A past that hunts me ,pin me down and render me helpless. A past I have always fear writing about. It memory is still fresh in my heart like it was yesterday. I tell myself to move on but my strength fails me.
It seemed like the stars wanted to tell me a message, probably a message she might have sent and I was not getting it. Her favourite words were "written in the star" . I can't tell why she made that her most used words and I never asked.
August 10 ,2000 I got enrolled in a science college,not because it was my choice, but because my parents believed every brilliant child should be a science student.I was cajole into it from the beautiful-lie tales my dad told me about every science kid. Not knowing destiny has it part to play as I met this damsel whose name is Linda.
I can't remember anything about my upbringing beside the fact that I started being sick from my childhood up till my age 12. Maybe this is why I grew up as an introvert. I could count the number of words I speak in an entire day to illustrate how gentle and isolated I was. Linda who Happened to be my seat mate was the direct opposite of me. You could imagine how bored we both found each other. When she thought I was too quite,I was thinking she is too noisy.
Our course-mate relationship didn't start well, there were many times we had disagreement and fight but as long as a seat bonded us, we still return and sit next to each other though not talking to each other, which I believe I loved at then.
This kept up for months, until the day I fell ill and could not attend school for a week. I think she missed me and she decided to visit to check the reasons behind my absence only to find out I was ill. The care she showed me astonished me because we have never been in good time but here is she acting like we have been best of friends. Her kind gesture opened a new story in our lives.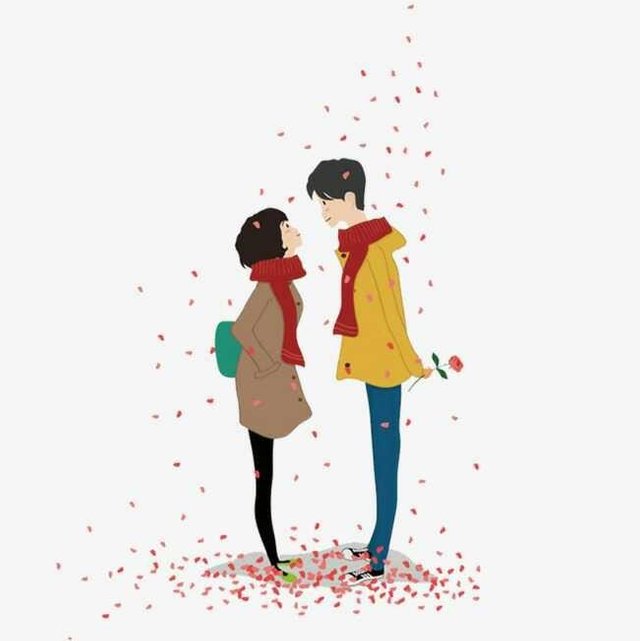 Source
We became best of friends in a twinkle of an eye, just like a magic. Each passing day our friendship became stronger and I adjusted my nature a bit in favour of her. It wasn't all smooth, but I needed to sacrifice for what we share.
Our friendship gain transformation into a relationship. A story I wouldn't have believed when we first met. We understood each other better, thanks to the days of our disagreement, they went long way in helping us gain understanding of each other.
One evening , we sat in the moon light and a shooting star passed by.
"Make a wish" she told me
"Why" I asked
She narrated how every wishes come true whenever they are made under a shooting star.
"I wish that you become the mother of my unborn children" I told her. She smiled and said the same. "It's written in the Stars" she added.
"I will need your sweatshirt to travel with" she demanded and I refused, told her I do give her when she is back
How could I have known that her days on Earth were numbered, that shooting stars hold no wishes. How could I have known that was our last time. If only I knew , I would have given her the sweatshirt to keep her warm wherever she is gone to.
At about 6:00pm, my phone rang
"Hello, good evening" I responded the call
"Is this Shem" the caller asked
"Yes, who are you please" I asked
"Linda's brother," he continued "Linda had an accident on her way home and did not survive it , before she gave up the ghost, she left a message for us to you, we don't know what it means but she told us to tell you "it's written in the Stars"
I couldn't believe it ,as I went lifeless for some minutes, no no, this can't be true as tears started to drop from my eyes.
I can't recall what Happened but woke up the next day with people surrounding me. "Thank God he is awake now" one said , "Linda's death has really affected him. Then I knew I was not dreaming.