Free Writing about free writing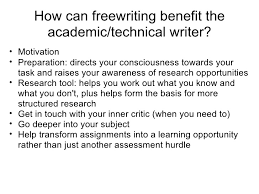 You probably already know what free writing is. Free writing is when you just write whatever thoughts that you have off the top of your head down on paper or the computer or typewriter ect . Another thing about free writing is that as you are doing it you do not need to be concerned about grammar, punctuation or spelling. I was sitting in an English class one day and the teacher had us do a free writing assignment. He told the class to just start writing whatever comes to our mind on a paper for 5 minuet. I have to admit that I was facing some serious writers block after the first minuet passed. However, I was glad that he had us do that assignment because it really helped me to start thinking about all kinds of things that I would have otherwise forgot about. One of those things is that I have a lot to say and there are not many people that I know that really care to hear about what I have to say. So, in order for me to get the thoughts out it is helpful for me to write them down on a paper or type them on a computer program. I usually use a text editor such as word pad. I especially think that it is good to write the on a computer program because not only does it help me to be a better writer but it also helps me to type faster and more accurately.
I wonder what other peoples thoughts are on the topic of free writing. What do you like about it? What do you not like about it if you don't like it? Does free writing help you become a better writer if you are a writer? Does free writing have any therapeutic benefits for you? When do you find yourself wanting to sit down a just free write the most?
I don't really consider myself a professional writer because it is not something that I do for a career right now but I do write from time to time. I also have posted some of my writings on the internet but I do not write as much as I think that I should. I would like to become a better writer and hopefully one day be able to inspire others through the artifacts and text that I write. Sometime I think it would be good for me to get some inspiration myself because I go through times that I hit a wall and just don't write for weeks and months at a time. One thing that I do find good about free writing is that it can help me reflect on the thoughts that I am having and when I do that it helps me to think about different solutions to problems that I am facing in my life. In that way free writing is very therapeutic for me. Anyway, for those that are into free writing. Happy free writing!