This is just a general chatty update, since I have been pretty scarce around here lately! I don't know about you, but it feels as though a pall has settled over the world. Everything feels slow and depressed. Sometimes I succumb to the feeling, but much of the time I keep myself busy with my various enthusiasms and that really helps!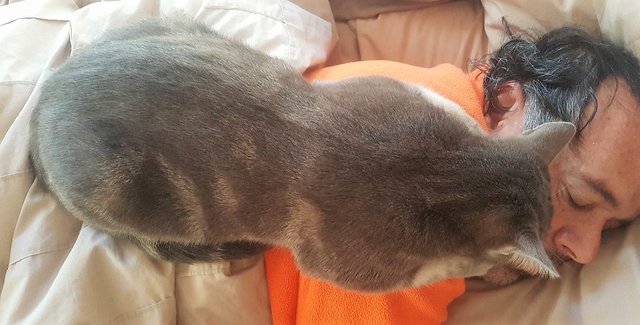 I have to start off with this crazy cat! Or is it us that are crazy??? Both my husband and I have never loved an animal as much as Smokey. She is devoted to us and has a routine for everything! After she was spayed she started gaining weight fast, and sleeping on our shoulders is one of her favourite things to do. This morning I woke up and my arm was completely numb.
On the subject of cats, something really bad happened, and I have been devastated by an awful situation which was my fault!!! I have written before about all the neighbourhood cats that terrorise our four sweet natured cats. In my last (non-lp related!) blog I mentioned the ginger cat who started hanging around our house, and began spraying urine in our house. I attached a note to its collar, explaining the situation to it's owners, but the cat soon returned, with the collar removed.
When cats attack ours, we usually remove them, and drop them in another area far away, near some houses. I felt kind of sorry for the ginger cat as it was not attacking our cats, but rather spraying our house and "shouting" for the other cats at all times of the night. We decided to drop him at the shop, as I have a backyard there, and there are a block of flats next door too. The next morning I went to check on the cat, and feed it if it was still in the area. To my utter horror, he had gotten himself tangled in a roll of razor wire, and was caught by his tail, which was almost stripped of fur and covered in cuts. To make matters worse it had rained all the previous night too.
With great difficulty we cut him out. Two of the pieces of razor wire were still embedded in his tail, which I had to remove with a scissors. I got a big bucket of warm water, added disinfectant and dipped him in it a few times. I left him to sleep in the shop overnight, and in the morning he seemed pretty well, so we took him back home so he could return to his home. We decided we would never drop off a cat anywhere again, but rather at the animal shelter. We didn't want to do this before as the cat could be euthanised, but now I see there are worse dangers than that. I feel so horrible about the situation that I can't even adequately describe it. What happened was my doing.
It is so frustrating. My cats are constantly the victims of attack. They don't roam because they get enough attention at home. They are all neutered and spayed as well. I can't allow them to be physically attacked, or my home to smell like a litter box through spraying, but I hate the situation we have to put the attackers in by removing them.
This incident as well as the fact that my son's stomach ailment has flared up again, and we are currently experiencing a stressfully quiet month at the business has made me seek alternative ways to get through the day,  (hahaha, that sounds bad!) and has not left me feeling chatty at all. Okay, to quickly clarify, getting through the day for me entails new interests (or, ahem, obsessions!). You may have noticed I have gone lp crazy. I have been buying and listing more and more. And when I am not doing that, I am thinking about how to do it more. I even had to flirt for a bunch of lps!!! Then I am listening to them, and that sends me off on another tangent. I spent an entire week listening to Leonard Cohen!!!
I have also decided it's eventually time for me to start growing some of my own food. I have never gardened in my life, but the idea has been kicking around in my head for years. Food prices are skyrocketing, but the real reason I want to start a garden is to learn how to do it, as I am always convinced we are on the brink of some form of societal collapse. Winter is just beginning in South Africa, so I have a couple of months to research, plan, and gather together what I need. Now that I have decided to get started, I feel that familiar obsessive feeling!
I hope everyone is doing well. I wish I could force myself to be more sociable, but sometimes I have to disappear into my own little weird world for a while. I am going to have a LOT more lp posts, because that is what I am into at the moment.