(Of) let me breathe for a minute.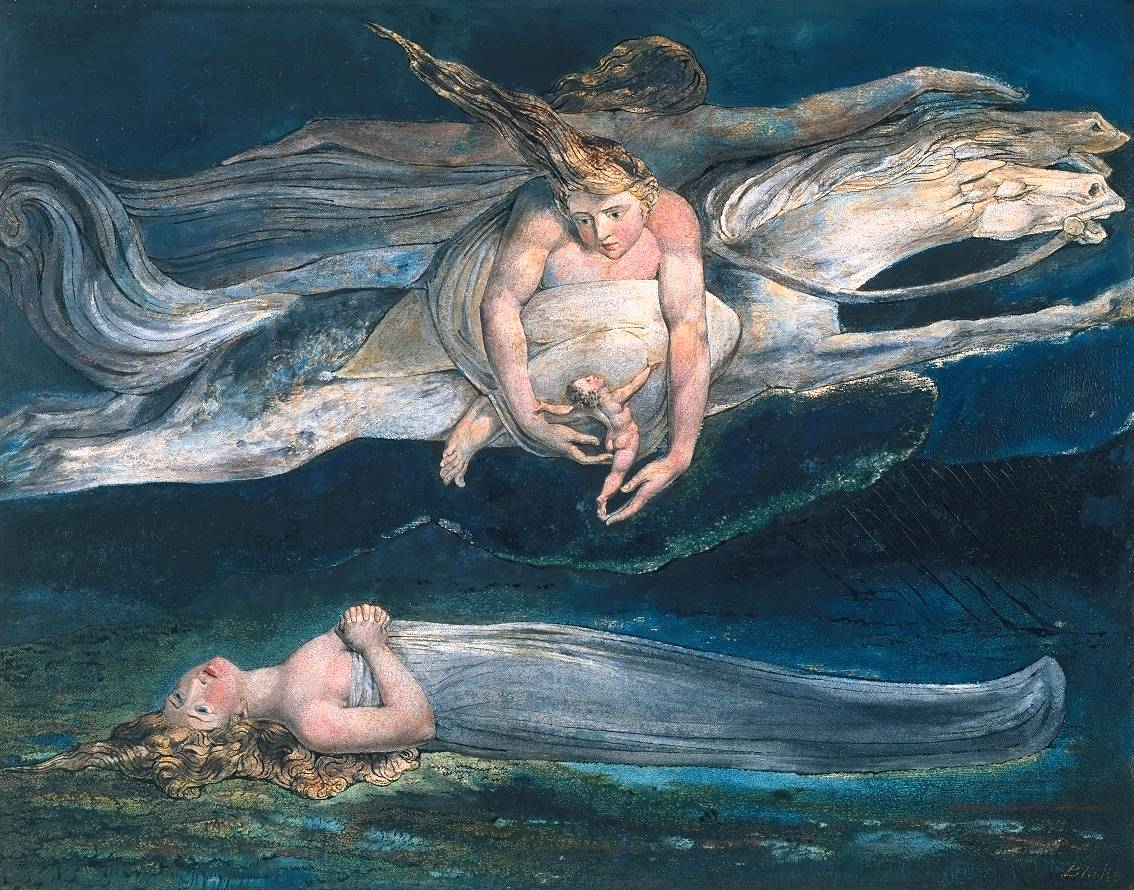 source: "Pity", William Blake, 1795
---
---
(of) let me breathe for a minute
---
I go missing for weeks at a time, both to myself and the outside world, in paralysis I stare at the ceiling unable or unwilling or its genuinely difficult to distinguish but stare at the ceiling continuing cast in concrete I stare silent sowing seeds of serdition.
It's as though the breath leaves me - not so much that I "can't breathe" - I do not choke for air. But rather as though I was simply plucked and placed within outer space to subsist until I return to O2 by some cosmic or chemical push or pull of a sort.
During some of this time I am unfortunately intermittently conscious, in both slightly varying definitions of the term to slightly varying degrees. Dissociation rules these brief lapses in rest - time seems warped, as does my face, both of these perceptions reflecting reality in my case. Whose face is this? Whose life, whose path, whose time, whose decisions - motherfucker they're mine (guaranteed to be fucked). Perhaps there is some form of mercy to be found in this life, in that unused (unusable, same thing) time moves slower and imprints such a visceral feeling of waste in the soul even the weakest are stirred to some final push (until the final push has finally become final I presume), but if the only thing stirring is the catheter bag or some such they have the rather comforting and I've always thought, merciful end of death awaiting them. I've come to view death, that is to say death and not whatever indignities or horrors precede it, isn't some violent pulling away of consciousness from the material realm but rather more of a return home, each soul being a unique bottling of some eternal essence, the bottle possessing whatever quirks or whims possessed the glass blower at the time of creation, simply being poured back into the vast, warm ocean of... whatever. These are passing whims of thought, not firm convictions as I have absolutely nothing that would indicate the above to be anywhere even vaguely near the truth. Might not even be warm.
This bottle still has some potential however, a fixer upper but I intend to sell my soul high.
---
of
---
I decided to make any of the stream-of-consciousness diary-entry-esque shit fall under the "Of" title. I know I'm overdue to deliver something of a little more substance but I still enjoy writing these.
---