Halaqah Lailatul Qadar (Bilingual)
Halaqah Lailatul Qadar, adalah suatu kegiatan ibadah pada setiap bulan suci Ramadhan di Masjid Besar Bujang Salim - Krueggeukueh, Dewantara, Aceh Utara.
Kegiatan Ibadah ini dilaksanakan secara rutin sejak tahun 2012 dan telah menjadi agenda tetap Masjid, sebut Tgk Katsir Syamsuddin, kepala bidang imarah Masjid Bujang Salim.
Pelaksanaan kegiatan Halaqah dimulai mulai pada setiap malam ganjil di sepuluh terakhir bulan Ramadhan atau malam 21, 23, 25, 27 dan malam ke 29.
Hal ini didasari firman Allah dalam surat Al-Qadr (kemuliaan) ayat 1-5 :
---
إِنَّآ أَنْزَلْنٰهُ فِى لَيْلَةِ الْقَدْرِ
Sesungguhnya Kami telah menurunkannya (Al Qur'an) pada malam qadar.
وَمَآ أَدْرَىٰكَ مَا لَيْلَةُ الْقَدْرِ
Dan tahukah kamu apakah malam kemuliaan itu?
لَيْلَةُ الْقَدْرِ خَيْرٌ مِّنْ أَلْفِ شَهْرٍ
Malam kemuliaan itu lebih baik dari pada seribu bulan.
تَنَزَّلُ الْمَلٰٓئِكَةُ وَالرُّوْحُ فِيْهَا بِإِذْنِ رَبِّهِمْ مِّنْ كُلِّ أَمْرٍ
---
Pada malam itu turun para malaikat dan Ruh (Jibril) dengan izin Tuhannya untuk mengatur semua urusan.
سَلٰمٌ هِىَ حَتَّىٰ مَطْلَعِ الْفَجْرِ
Sejahteralah (malam itu) sampai terbit fajar.
Dalam tafsir surat Al-Qadr disebutkan bahwa pada malam sepuluh terakhir Ramadhan terdapat satu malam, yang pada malam itu ibadah seorang hamba lebih mulia dari pada ibadah yang mereka lakukan dalam seribu bulan diluar malam tersebut, yang dikenal dengan malam lailatul qadar, saat malaikat turun dari langit untuk menetapkan usia, rezeki, amalan manusia dan sebagainya, sampai terbit fajar.
Namun Allah SWT tidak menyebutkan malam berapakah dalam sepuluh terakhir Ramadhan yang disebut sebagai malam lailatul qadar, agar umat manusia tidak mengkhususkan ibadah pada malam itu saja dan menjadi pemburu lailatul qadar yang merupakan rahasia Tuhan.
Halaqah Lailatul Qadar di Masid Besar Bujang Salim dilaksanakan pada pukul 00:00 WIB sampai menjelang waktu sahur atau pukul 03:30 WIB yang diawali dengan Tausyiah Agama, Kemudian Shalat tasbih dan shalat witir berjamaah, kemudian istirahat sambil makan makanan kecil, lalu dilanjutkan dengan Zikir bersama sebagai kegiatan ibadah penutup.
Setelah semua kegiatan ibadah selesai, semua jamaah diberikan nasi untuk menu sahur sambil berangkat pulang kekediamannya masing masing, Begitulah seterusnya kegiatan pada setiap malam ganjil di puluhan terakhir bulan ramadhan di Masjid Besar Bujang Salim.
---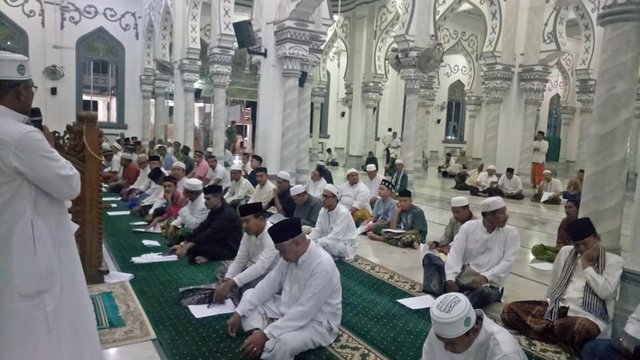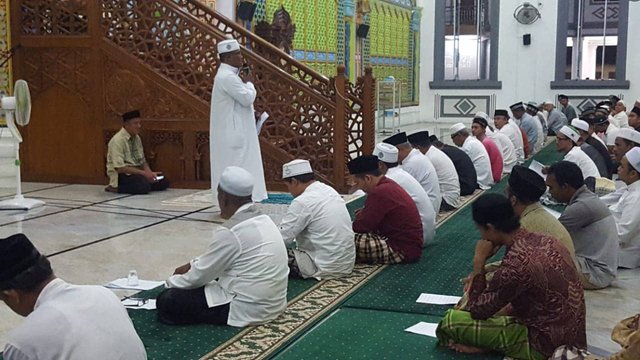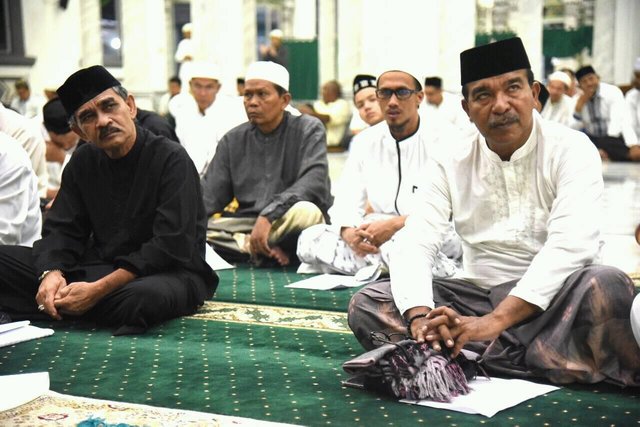 Pemberi tuasiah dan jamaah/Giver of trust and congregation
---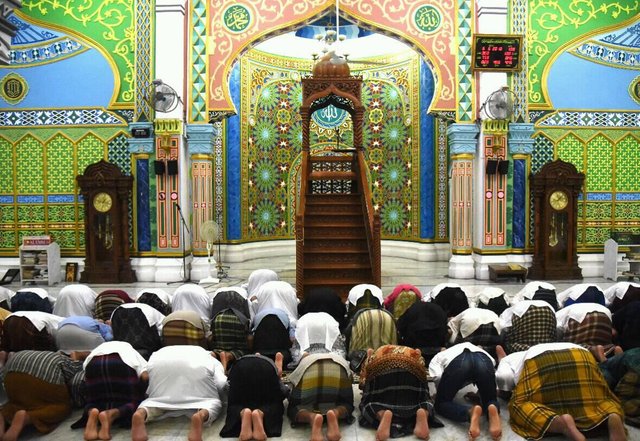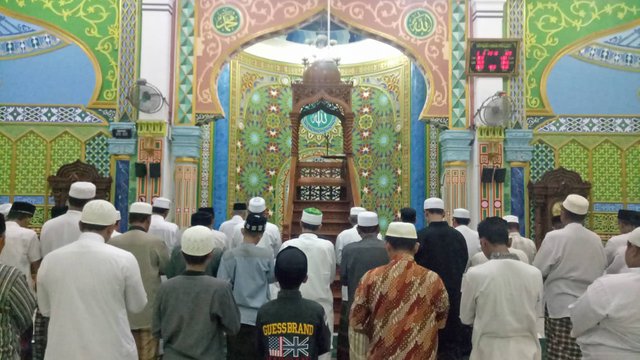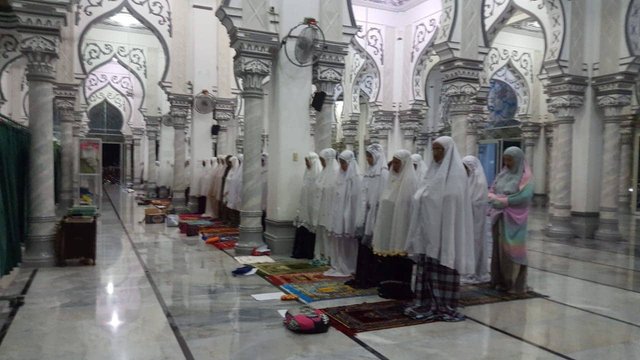 ---
Kegiatan shalat tasbih dan witir/Prayer activities tasbih and witir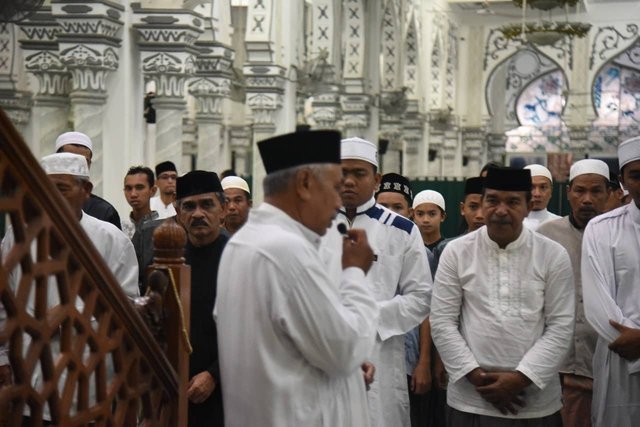 Zikir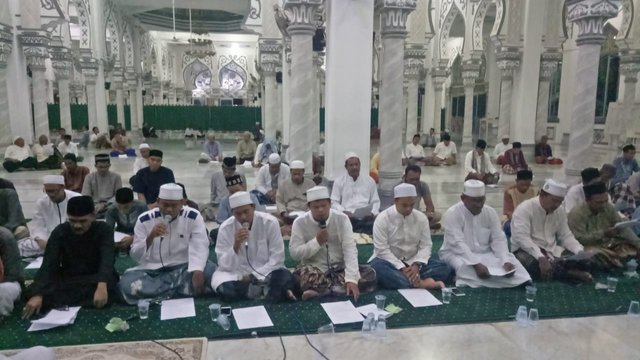 Zikir
---
Halaqah Laylatul Qadr, is a worship activity on every holy month of Ramadan at Bujang Salim - Krueng Geukueh Great Mosque, Dewantara, Aceh Utara.
This activity is held regularly since 2012 and has become a fixed agenda of the mosque, said Tgk Katsir Syamsuddin, head of mosque imarah Bujang Salim.
Implementation of Halaqah activities begins every night with odd numbers in the last ten months of Ramadan or the night of 21, 23, 25, 27 and 29th night.
This is based on the word of God in Surat al-Qadr (glory) verses 1-5 :
---
إنآ أنزلنه فى ليلة القدر
Verily We have sent it down (the Qur'an) on the night of qadar.
ومآ أدرىك ما ليلة القدر
and do you know what the night of glory is?
ليلة القدر خير من ألف شهر
The night of glory is better than a thousand months
تنزل الملئكة والروح فيها بإذن ربهم من كل أمر
On that night descend the angels and the Spirit (Jibril) with the permission of his Lord to arrange all matters.
سلم هى حتى مطلع الفجر
peace (that night) until dawn.
---
In Tafsir Al-Qadr's letter mentioned that on the night of the last ten of Ramadan there is one night, which on that night worship of a servant is more noble than the worship they do in a thousand months beyond that night, known as the night of lailatul qadar, as the angel descends from sky to establish age, sustenance, human deeds and so forth, until dawn.
But Allah SWT does not specify the last ten Ramadan is called the night of the lailatul qadar, so mankind does not specialize the worship of that night alone and becomes the hunter of Lailatul Qadar or the qadar night which is the secret of God.
Halaqah Lailatul Qadar at Masid Besar Bujang Salim is held at 00:00 WIB until the time of dawn or at 03:30 WIB which begins with Tausyiah, Then Prayer tasbih and worship witir congregation, then rest while eating snack, then continued with Zikir together as a closing worship activity.
After all worship activities are finished, all jama'ah are given rice for Sahur menu while returning to their respective home, this is the activity in every night odd number in the last tens month of ramadhan at Bujang Salim Great Mosque.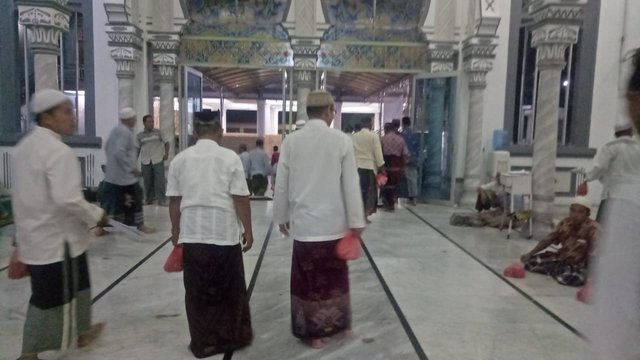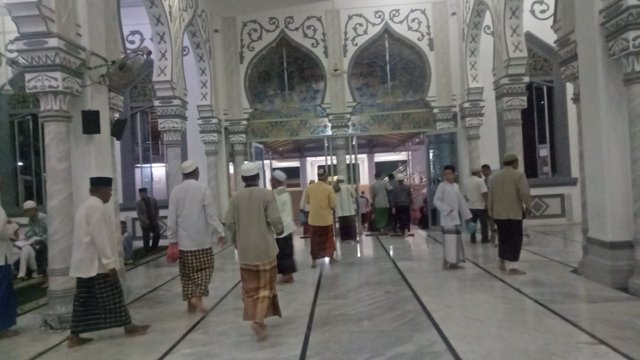 Ibadah halaqah Lailatul Qadar Selesai, semua jamaah pulang setelah mendapatkan nasi bungkus/ Worship halaqah Lailatul Qadar Completed, all pilgrims come home after getting rice wrap