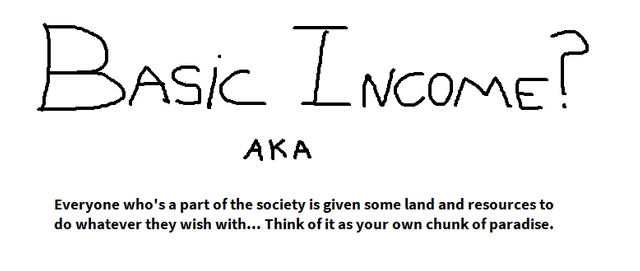 Revision
When I wrote this post initially I wasn't fully aware of the actual way the author mentioned in this post intended these proposed basic income ideals would work.
As I understand it currently it's not about an actual income such as social assistance /welfare but a model of land and resource distribution which may one day dictate the way an actual land mass.
I've got to extend an apology both to the author mentioned here as well as the STEEM community for expressing my feelings in such a way before properly understanding what had actually been proposed. While I still do not entirely understand the idea I've been taught enough to feel the need to mention to all readers that at the time this was written I was envisioning a completely different (and unsustainable) model.
---
I've recently been noticing a disturbing trend in posts dealing with the ideas of creating or enabling these grand utopian societies where everything is fair, perfectly balanced and everyone basically has all their needs taken care of simply by showing up.. While even I admit the idea of one day humanity banding together and shrugging off our violent, bloody past and going on to unite under the canvas of supporting eachother..

Let's be friggin honest and realistic for a moment:
Humans for the most part are greedy, gluttonous creatures.
When we start looking into the main authors behind this new found #basicincome rise of popularity you can't help but notice that one individual's posts stick out like a dirty thumb. Now I'm not going to name any names here as it's blatantly obvious whom I'm referring to and if it's not all you must do is go and check out the tag and you'll know.
One thing that irks me (perhaps more than it should, hence why I'm getting this off my chest here) is that while we've got this glorious Utopian dream posting going on what's being actively exercised by the posters is in fact the opposite.. Or at least that is how it looks from my point of view. We've got high reputation/value staff accounts basically doing the opposite of dollarvigalante's "bullshit doomcalling posts" (You're talented writer TDV, stop preying on fears of idiots) and spreading what I can only describe as "Needless Utopian Circlejerking". Not only do we have these extremely long winded posts being created, and heavily upvoted (likely by people only upvoting on the author name) by the community but anyone who actually takes the time to read these things soon realizes that they've absolutely NO significance or value when applied to realistic reality models where humans are involved.
What seems to be the problem with utopian fluff posts?!
While I'll admit right now some of this author's ideas do in fact seem to be pretty damn ingenious. For the most part what you're seeing here is needless embezzlement of the reward pool by Steemit Inc. staff members who frankly do not need another damn cent in their accounts given the fact a clear pattern of preach one thing and practice another emerges when you look into it.
I'm all for freedom of speech, sharing ideas and dreaming of a better tommorow we really need to as a community give our damn heads a good shake and focus on our current reality which isn't even a whiff close to the perfectly balanced dream worlds our favourite #basicincome author lays out.
Where is the Value or Meaning Behind this #basicincome Trend?
What is the true meaning behind these basic income posts? My guess is perhaps some form of peer acceptance seeking or self validation via upvotes on the blockchain.. But really when you look into it more and actually read these posts you soon realize they are literally nothing more than unrealistic pipe dreams that just so happen to be written by a man who's got an extremely high reputation on STEEM.
Are these posts necesarry? Sure, everyone is entitled to post their opinion and thoughts.
Do these post deserve such payouts? Absolutely f**king not!
Stop Devaluing others posts by upvoting pipedreams not set in any reality anyone here lives in..
Let alone when authored by people who frankly do the exact opposite of what they write. There is no need to further express my disdain for what is going on.. The blockchain tells a story that cannot be covered up
The only reason you see these posts soar so high is people piling on votes because of whom the author is without actually reading them. Lord knows if any of you actaully read any of these recent basic income posts you'll clearly soon realize that they've absolutely no value in our current reality other than to inflate the ego of the author and take your hard earned rewards and siphon them into the author's pocket.
It's fine to write about utopias, to spread good vibes and feelings to the users of STEEM.. But when you're rapidly inflating your own wallet and ego basically to the tune of demise of the network you helped create while others are knowingly suffering and in far worse positions than what you lay out in your utopian posts there is something seriously wrong with this situation.
Utopian societies will simply not exist as long as humans are involved
We've actually already got a basic income system set up in most modern countries anyways.. It's called
welfare or social assistance
, And last time I checked all it did was enable obese lazy people to feed off of the society's tax dollars and enables addicts and junkies to do f**K all with their lives.. Do we really want to further expedite the problem by enabling these slothful, weak willed individuals to carry on? Nah. Basic income and utopian societies don't work and the factor in which it fails at every god damn time is PEOPLE.
As a species we are far to greedy and harbour far too much hypocrisy to even take the first steps towards the seemingly perfect little worlds being laid out in these #basicincome posts.
Please stop upvoting stuff that isn't realistic nor feasible steemsters, regardless of whomever is shilling it.
You make us all look like a bunch of f**king idiots making this feel good, fantasy fiction writing trend on the front pages as if we actually as a community believe that sort of stuff is even attainable given the current state of human nature.
Some BRUTAL Honesty
Let's be brutally honest with ourselves here, Had any other account posted that stuff it'd been extremely lucky to make $1.00. Get off of the developer d!ck and start throwing your votes at content and ideas that are actually worthy of being seen by outsiders of our community.
Some Final Thoughts
This should not be viewed as a personal attack on anyone nor should this be misconstrued as "shots fired", disrespectful or me stirring the sh!tpot. I'm merely expressing my thoughts and feelings on the current trend I see and in no way is anything written above to be taken personally by anyone or taken for definitive truth.
We as a community need to stop acting like a bunch of friggin' sheep though so eager to give up our wool to folks who frankly have already taken full advantage of their position in the STEEM Ecosystem. Next time you see a nice fluffy feel good utopia sprawl article make sure you actually read the damn thing before you consider your vote.. I bet you'll find that if you actually read and understand what's being said you'll soon realize it's all just basically feel good garbage with very little bearing on reality as it sits today. By upvoting and encouraging these type of posts we're not only saying it's OK for the authors to dump meaningless feel-goods on us but you're also taking away rewards from writers whom actually deserve or need the payout.
/rant
I'm fully aware my opinion may not be shared by everyone! If you'd like to kick in your $0.020 SBD on the situation or debate me on it please feel free to do so in the comments! :D