Write Club (Session 4)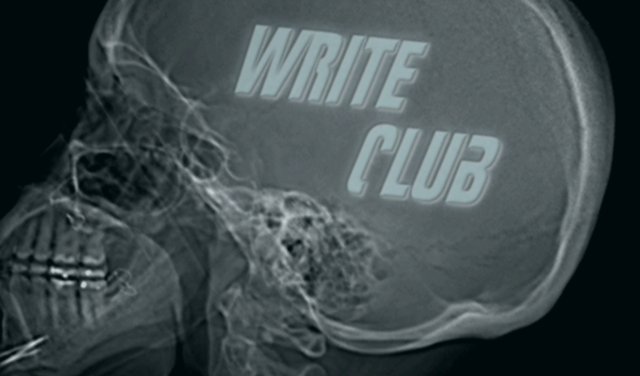 #WriteClub session four has just expired and it's left a crater.
@Tanglebranch has crashed out, leaving us with six members from the eight we started with.
Lambing season is upon us and Tangle has discovered to all of our detriment that sixteen hours a day working with animals that keep pushing out new and more demanding animals is not conducive to writing fiction. Especially when all of the aforementioned animals are going to need sheared right about now. The trouble with Tribbles…
Tangle has been a solid contributor since the inception of #WriteClub and we are all in shock at her leaving.
Onwards!
We may be down to six but this has been the best session yet if you go by internal reviews. Of course the first rule of Write Club is… STFU
Putting that to one side for a minute, I'll give you a run down on what happened this fortnight.
The prompt, if you don't remember from my previous rant, was Unreliable Narrator.
@caleb took us from small town Coffee Springs to the big city. Chaos ensued with gangs and shadow people and aggressive gay guys decking septuagenarians. All viewed through the perspective of an elderly couple (who should probably not have been driving any further than their main street). I just couldn't figure out why the dead waitress got a 20% tip…
@xandeslee decided that the prompt gave him carte blanch to murder everyone in sight, including his girlfriend/psychotherapist, and shot the place to shit. We're still hosing down the walls.
@Greg stepped up to the mark with a compulsive gambler entertaining an alter-ego that was always going to send the MC into penury. I think it all worked out in the end but the narrator was pretty fucking unreliable so WTFDIK?
@Jordan wrote a particularly poignant piece about a lawyer losing her sanity and committing grievous acts of self-harm before coming face to face with her nemesis. And then re-wrote it from scratch. Three times. We had to stop him, he was going for four. He's currently rocking quietly in a corner, playing with his toes.
@Johnkingwriter I… Well, I did what I do best. Which, this time around was to alienate 51% of the population by using the Unreliable Narrator prompt to portray just how hormonal pregnant women are. Specifically, when placed in charge of a star ship while Earth is being destroyed by alien invaders. She shone in the end.
@Jayna outdid herself, continuing in her Whimden theme but embracing the madness with an MC taxi driver who epitomises a ride for a ride until someone oversteps the mark. Whimden will never be the same again. It is now a den of debauchery. To be fair, it was never going to survive #WriteClub unsullied.
Which brings me to the new prompt.
I skim read it and thought, "Ya beauty! A beast in a cave. I can do fucking wonders with that!" Sadly this is not the case. I just saw the title of the example work (Lovecraft again). I was all Cthulhu'd up and yet, it was not to be.
The prompt was below, and it is 'The Lost Protagonist'.
So, I figure my protagonist gets lost in the mist/thunderstorm/his fragile mind, and retreats to a cave. Wherein, he finds Cthulhu!
Sheesh!
More in a fortnight.