I've gone through periods of what I used to call "writer's block", feeling like I was barely able to etch much more than my own signature on a credit card receipt because of it.
I can't say what triggered these spells, except that I was left feeling like I had run out of something to say, which was anxiety-inducing all on its own. (I now consider "writer's block" to be just a state of either having nothing to say or simply not knowing what matters to you in a given moment. In some cases, it may be a lack of motivation, but that's a whole other topic.)
Almost without exception, however, the ice would eventually break apart and melt as a result of participating in the comment sections of other people's online discussions, be it blog posts, news articles, or (egad!) even Twitter.
Not only did being an active commenter help me "get the juices flowing", but it has over time helped me hone my rhetorical abilities, or has made me reconsider my position on a given issue before blogging about it.
In addition to the above, getting my feet wet in comment sections often renews my sense of which issues are relevant, or at least which issues are relevant to me. Conversely, I like to get a sense of what arguments are being made on either side of a given debate, as well as what arguments aren't being made that ought to be. (To those pushing all-or-nothing absolutist positions, expressing a nuanced opinion may resonate with them as trolling, or at least as more of a threat to them than their useful bogeymen at the opposite end of the spectrum. Oh well.)
Also, delving into what other people have to say on a given topic often helps me discover and appreciate new information and perspectives, and make my own scribblings on the matter that much more well-informed, or at least partially informed where passion otherwise blinds me to my own lack of knowledge or insight.
(Note to self--passion about a topic isn't the same as knowledge or insight. Emotion minus knowledge equals zero.)
In short, being an active commenter on social media and/or news sites can help you stay relevant in your thinking. And, if you're not careful, you may find yourself composing a lengthy enough comment that you stop and think, "Hey, this comment feels more like a blog post than a comment." On many occasions, I have cut the text out of a comment section response and, with a bit of contextual retrofitting, repurposed it for a standalone blog post.
This happened quite recently while starting to comment on someone's article on Medium, and I wound up instead with a blog post (How I Accidentally Quit Smoking in Two Steps) that has gained a certain amount of traction (and has been curated) on Medium as well as Steemit.
And so, in the process of writing a comment on someone else's article, I discovered something that I hadn't previously considered writing about, and also that I had something to say that was important to me, and hopefully to whoever happens to read the piece. (Fear not--if something matters to you, you can be sure it also matters to someone else. Finding that someone else is the real trick.)
If blogging (or non-fiction writing in general) is an athletic event, think of your activities in other people's comment sections as hitting the gym for a workout.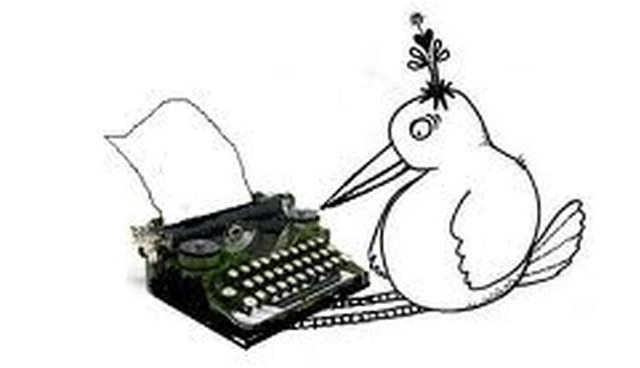 'Typewriter Bird', by Amy Lohrman.
Licensed under CC0 1.0 Universal (CC0 1.0).