Types of writers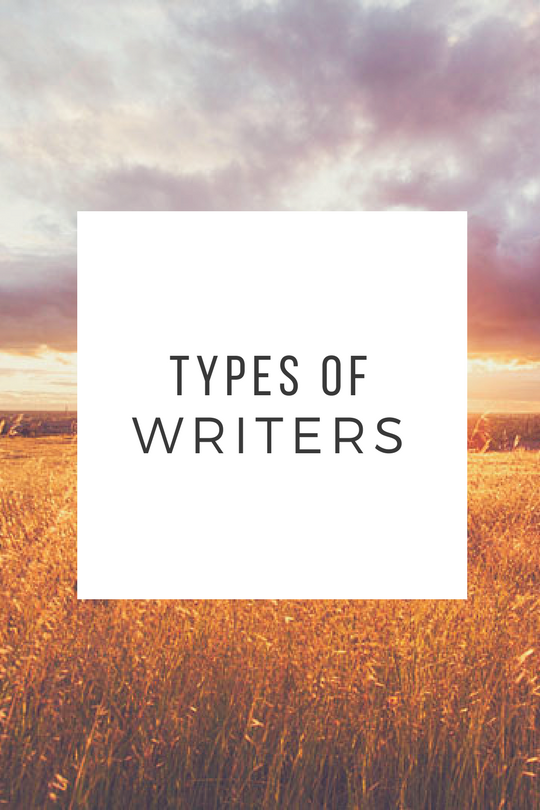 I have made a small list of the various kinds of writers; however, it is not a complete list. I am just listing the most popular kinds of writers. For a full list, you can do a search on Google or Bing.
Academic writers
Academic writers are writers who write for scientific journals, university magazines. These writers are researchers who research and publish their findings in different scientific journals and present papers in conferences.
Apart from writing research articles and papers, academic writers also write:
Academic books
Essays
Conference papers
Research papers and research articles
Dissertations
Thesis
Just to make things clear for the novice writer, scientists and researchers including Ph.D. scholars write and publish their findings. If you are not a scientist or a researcher, it might, however, will be tough to get published in such publications. 
Novelists
Novelists are writers who write novels. Novels are long stories which can contain more than 50,000 words. If you go up and check any novel, it will most probably contain at least 2,00,000 words. Novels can be both fiction and non-fiction. They can provide real stories or entirely fictionalized ones. It totally depends on the writer.
The best thing about writing novels is that you get total creative freedom and you as a novelist get to create a whole new world with exciting characters.
Copywriters
Copywriters are the authors who write marketing content. Any content that is written to sell or promote some product or service is known as a Copy and the writer who writes it is called as a Copywriter.
There is always a huge demand for good copywriters. The marketing industry always needs copywriters who can write eye catching, mind controlling, captivating copy.
Journalists
Journalists are the most popular type of writers. They write news articles for Newspapers, Magazines and Television. Unlike other types of writers, being a journalist requires a degree. You need to have completed a college degree in Journalism.
Article writers
Article writers are the writers who write small non-fiction write-ups on different topics such as travel, food, medical, and much more.
Articles are short, mostly between 300 words to 3000 words. But in certain cases, they can be longer. Since there is a word limit, article writers have to write their pieces in a concise and crisp language.
Columnists
Have you read a newspaper? Yes, of course, you have read. Have you seen a column written by a famous writer? Yes, you might have seen.
A columnist is a writer whose job is to comment on the current trends. The column can be of political in nature or humor; columns often include research and analysis on the matter of discussion.
Most Newspapers and Magazines hire experts, political or business analysts, and popular celebrities to write columns in their publications. If you aspire to become a columnist, you must have good knowledge about current affairs and be good at analyzing and providing unique insight to the story/news.
Columnists are paid well, and popular columnist's columns appear in different newspapers and magazines around the world.
Technical writers
Technical writers are the writers who write technical documentation, such as user manuals, knowledge base articles, how-to articles, business proposals, press releases, technical reports, case studies, and white papers.
A Technical Writer's primary task is to explain a product in a  straightforward and easy to understand language so that the user of the technical document can benefit and understand the product better. 
Blog writers
Blogging is a new field; it's just been around for less than two decades. What bloggers do is write articles about the topic of their blog. Some bloggers blog about their life, like a diary, some choose to write about different more relevant or technical issues.
Blogging is one of the most popular forms of writing these days. It is quite easy to start a blog and get readers read your blog.
Was the above list helpful?
Now that you are aware of the different types of writers I think you will be in a better position to choose what kind of writer you want to be. 
Think and research and decide. What type of writer do you want to be?
Do you want to be a blogger?
Do you want to be a Novelist?
Or do you want to be a hobby writer and write whatever comes to your mind?
To be a good writer, it takes a lot of reading and practice. As they say, practice makes a man (or women) perfect.
Until this point, I have discussed who a writer is and what writers do. Further, you will read about how to be a writer. 
Follow me @imransoudagar to keep track of my progress.
If you find my posts interesting then do read my other posts too: