I carried a bucket of poop through the yard. Not my poop, chicken poop. It was a heavy bucket; it was a lot of poop. I dropped it in the garden, near the exposed soil. I had just spent the half an hour earlier power-hoeing—the gardening version of power walking. I have zero upper body strength, so I was panting like a dog. The stench of chicken fertilizer was potent in the late afternoon air.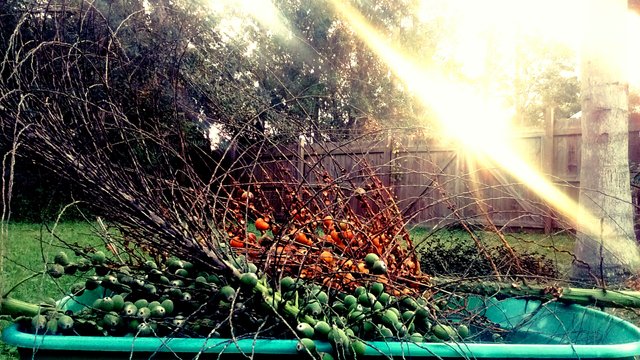 The palms work very hard at making rat food near the house. That had to go...
I forgot the gloves, so I had to go back up to the house. Then, I forgot the plants—the little baby Georgia collard greens I had to buy because I didn't get my distracted self out there a month prior to plant seeds—back to the porch.
Hold that thought—while I write this there are little children avoiding sleep by sneaking out of their room to the bookcase near me to acquire more material to fight sleep. Anyway.
BACK ON TOPIC
I got the plants and went back down to the sweet stench of chicken poop in the morning afternoon. I almost got there, anyway. I got distracted by the monster of all ant hills. The hill looked so silent and peaceful, like there weren't thousands of creatures with fire in their mouths within. It was such a temptation. What if I just poke a tiny hole, how many guards will come out to attack? Just one little hole… Fifty ants came charging out, furious at the insult, their mouths craving human flesh. What will they do if I poke one more hole…Stay focused!
BACK ON TOPIC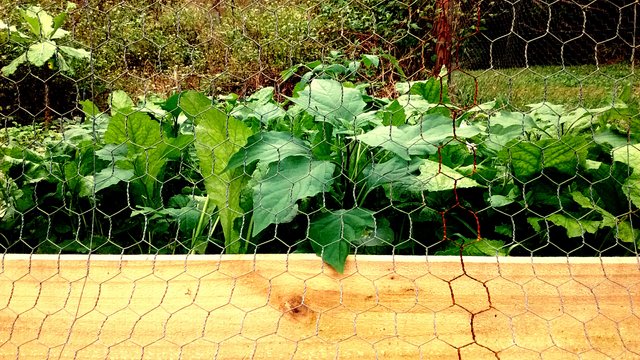 Soft-bodied mustard greens, volunteering themselves, along with some winter weeds.
I walked back through the soft-bodied leaves of winter weeds. I love winter plants with their delicate leaves. Summer lasts six months here, and only the tough-stemmed things thrive. Then, come short daylight hours, the soft, delicate, feathery plants return, from their seeds that somehow survived the dry sand they slept in through the long summer. What am I talking about? This isn't about the garden...
The kids are back. They think I don't hear their feet pitter pattering down the hall, snatching a book with a clunk off the bookcase, and then racing back down the hall with the thudding gallop of a race horse. I could shut down their party, but the boy is reading to the tot, and it's so damn cute. Anyway.
BACK ON TOPIC
I wondered through the winter weeds with their soft, sticky outstretched limbs that left seeds clinging to my shoes, and I almost made it to the garden. But just look at those lemons! Big enough to fill my hand and finally ripe! Lemonade tomorrow. Maybe lemon meringue? Lemon bars, lemon… Tomorrow. Work on it tomorrow. Back to the garden.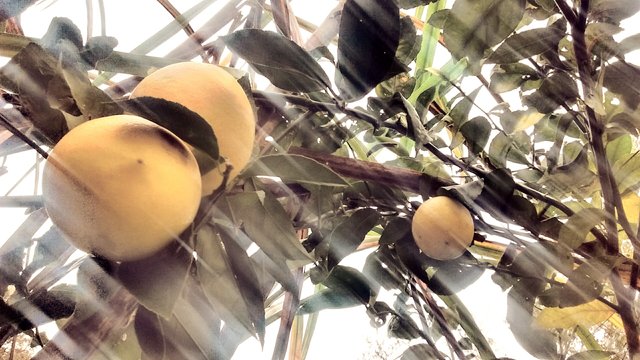 A chicken's eye view.
I made it into the gate, down to the bare soil, and I dug a little hole. Then a tiny voice came rushing at me from around the lemon tree. "Can I come in the garden too, mama!" The tot doesn't ask questions, she makes exclamations. She came in with all her charming toddler charisma, plucked zinnias straight out of the ground root and all, narrowly missed stepping on baby broccoli, and put a good flattening to the softened soil. Then…
DISTRACTION
Now the children have a toy Elmo singing a song in the bedroom. False move. Elmo gives me anxiety. He keeps singing that damn song over and over again, "Get ready, get ready, get ready…" Ready for what? I'm going to have to stop typing so that I can bite my fingernails…
That nervous tick didn't help, I have the toughest fingernails. They are like bone. Alright, I've got to shut the party down, Elmo was not invited…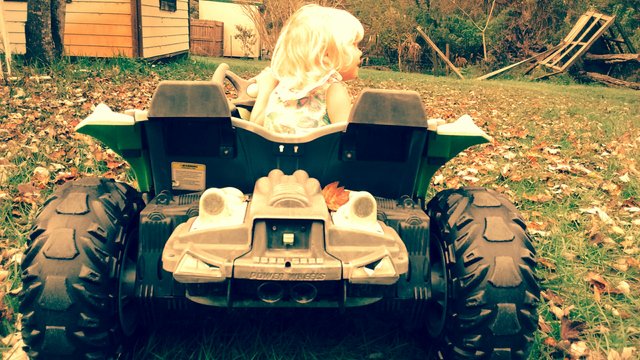 A tot, some maple leaves, and a cool car.
The children are pretending to go to sleep now and Elmo is quiet. Where was I? Right, I was writing about the beauty of a November afternoon in my lovely Floridian landscape.
BACK ON TOPIC
So I placated the tot, and got the plants planted. The End.
I've got to close here, Hamie the Hamster is now making an enormous noise spinning in his wheel, Elmo just let out a muffled Get ready, and I need a snack.
Long attention spans are overrated.