Hello, I hope you are in great shape, I bring you some information for lovers of drawing this time
How do I practice drawing and drawing as Kim Jung Gi?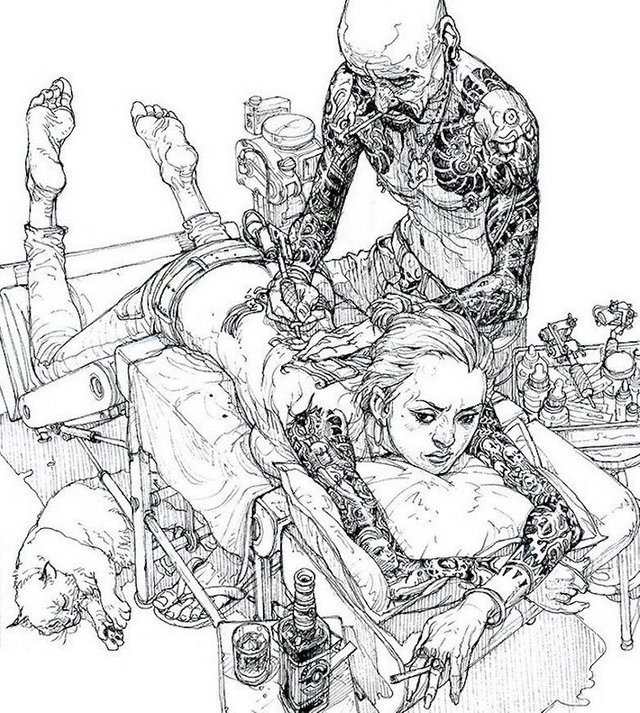 And as our great friend Picasso said "When it comes to drawing, nothing is better than the first sketch"
Kim Jun Gi is using a drawing technique that I like to call Direct Drawing, while you cut out the intermediary and the meander to a finished drawing in a single pass. The result resembles a performance, not unlike a musical performance, so it is so fascinating to see it. Master Kim is not the only artist who draws like that. Some notable examples are Peter Han and Katsuya Terada, who also perform in live drawing shows.
For Kim Jung Gi, there are three main attributes he applies to his drawings:
Foundations - Skills that all artists should know.
Memory - An extremely well developed visual memory.
Technique - Put the marks on the page.
The trick to developing all these attributes, and doing it simply by practicing is not enough. Your practice must be focused, it must be focused and it must have a purpose.
Foundation
-Perspective-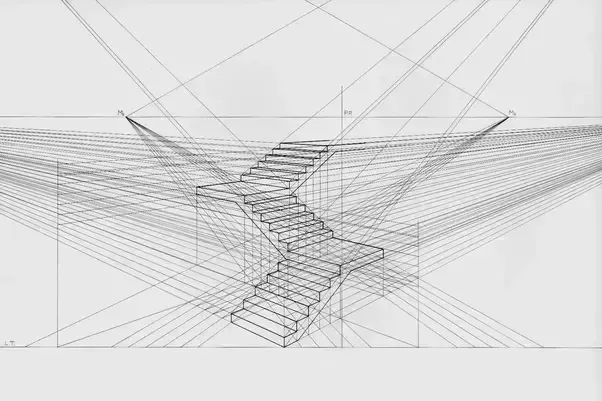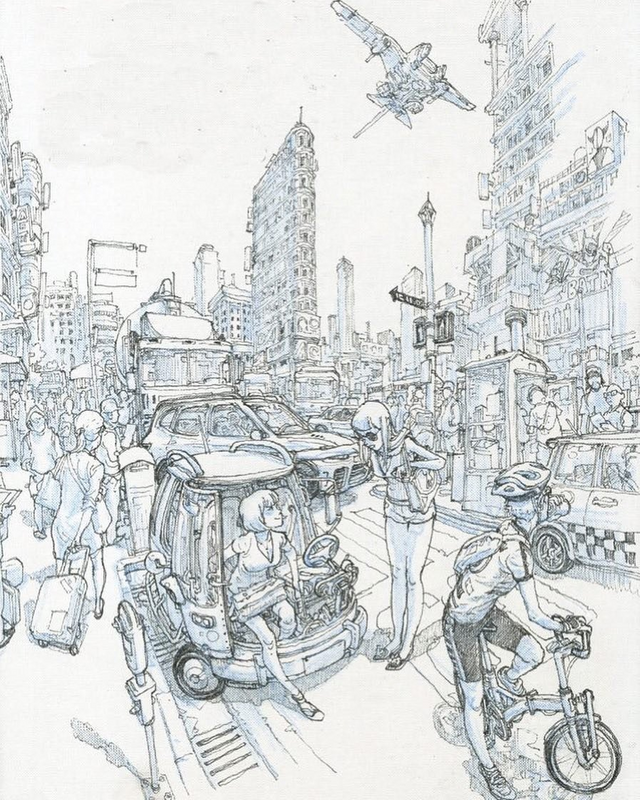 Master Kim explains his fisheye perspective method to whom.
https://www.youtube.com/watch?index=24&list=WL&v=q7XJZyelqkY
Essentially, everything on earth is made up of basic primitives (cube, sphere, pyramid, cylinder, cone), and with the right combinations of these shapes you can draw anything. He says it himself: the most important object to learn to draw is a cube. Once you realize how to effectively tear down the most complicated objects, the complexity suddenly becomes a much smaller obstacle.
Kim Jung Gi follows the rules of perspective while drawing comparing each figure, animal, car and monster with the previously drawn object. By moving slowly and constantly, you are taking into account the general perspective of the piece, which allows you to put everything you need to be.
-Anatomy-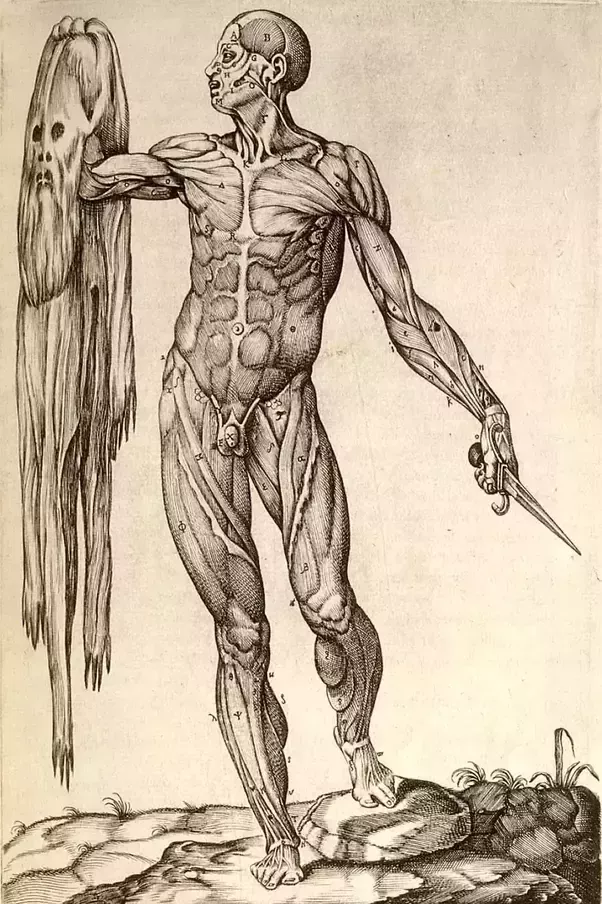 This does not just mean human anatomy either. Anatomy of everything: cars, planes, elephants, skateboards, motorcycles. Although that may seem a lot to assimilate, but remember that learning the anatomy of a dog will provide 3/4 of the way to understand the anatomy of the horse, camel, ox, etc.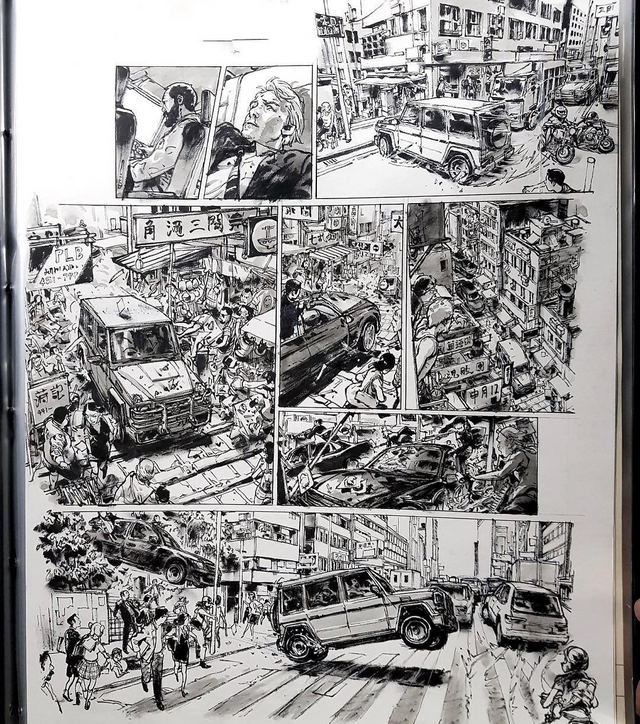 -Light and shadow-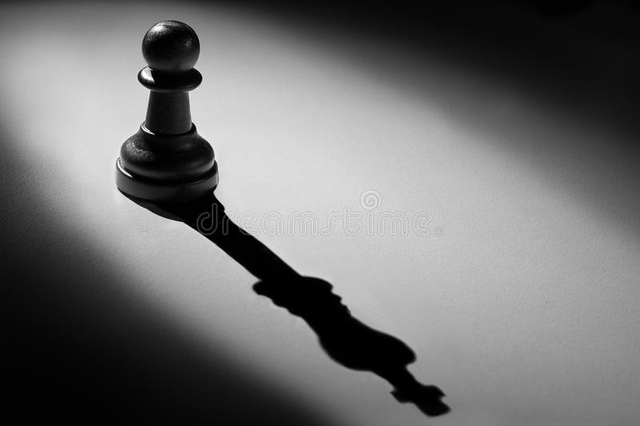 Light and shadow are a key ingredient in making an object look three-dimensional on a two-dimensional surface. Like perspective, it is an illusion.
The most important trick to illuminate a scene is to maintain a constant source of light. Just like planning your perspective, remember to keep the light source in your mind, as this will unite the whole piece.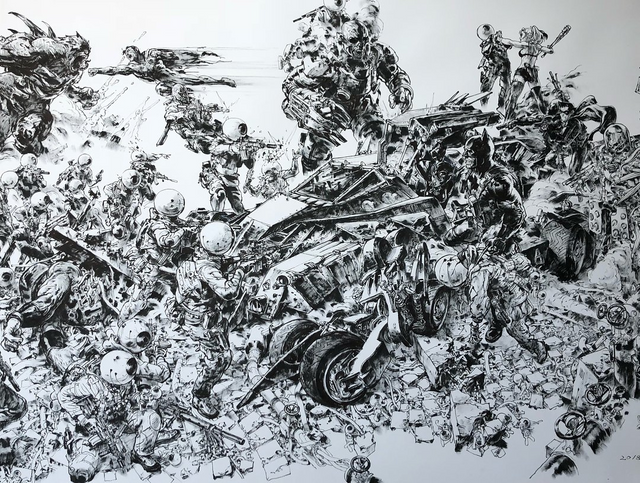 -Practice-
Draw all the basic primitives (cube, sphere, cylinder, pyramid, cone) in different perspectives.
Combine the shapes to create different shapes - have a little fun with this.
Choose a light source and place the objects in the same scene.
Repeat…
Technique
-Triangulation-
It is a system to measure the subject one line at a time, where you can trace the image as you go, using the marks you have established as indicators that show where to go next.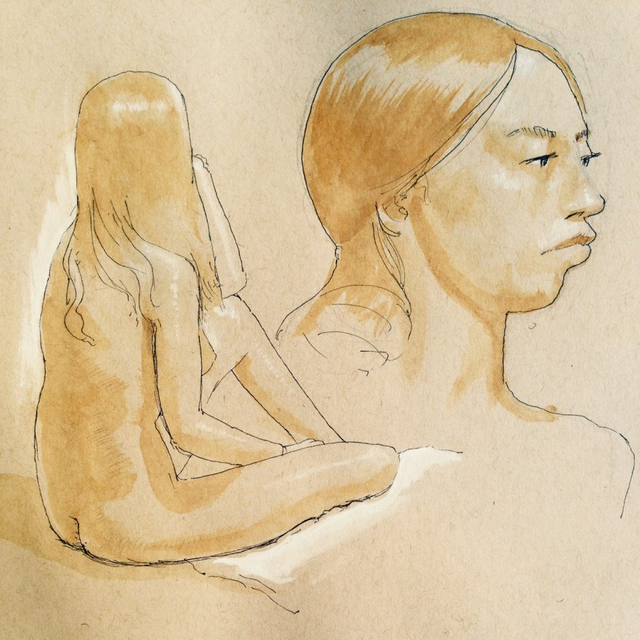 I hate doing that, I like to go directly to the details. To find the length of the leg, I imagine a triangle where one point is at the tip of the shoulder and the other at the tip of the knee, which ends at the pelvis. This creates the necessary angles, therefore the necessary distances, I need to draw the correct proportions. I do this until the end of the figure, triangle after triangle, stroke after stroke.
-Draw with pen only-
Eliminating the comfort of knowing that there is an eraser nearby may seem like walking on a tightrope without a network, but what is the worst that will happen? Maybe he throws a line out of place, maybe his drawing looks tilted, but that's the nature of the practice.
Kim Jung Gi is not only calculating, he is reacting. As he said in a previous interview, he draws faster than he thinks, what has come out of habit. Drawing with pencil will instill these important attributes in your skill set:
- Line quality
As you draw and try to represent objects in your first and only pass, the quality of your calligraphy will naturally increase.
-Trust
Just say "fuck it" and go for it. A drawing full of trust marks is a good drawing.
-Speed
By increasing your skills with the pen, you will achieve a complete drawing faster than you would if you planned everything with a pencil.
One important thing to keep in mind: you can not draw with a pencil, eraser and a lot of time, you can not draw with a pen. Do not skimp on the basics, as they are the most important facet in Master Kim's skill set.
Memory
-Quick failure-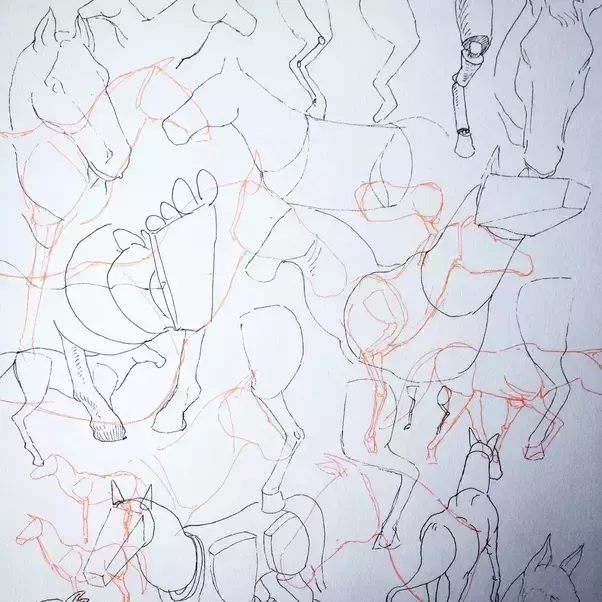 The illustration above is an example of a technique I call Rapid Failure. Is that how it works:
-First, try to draw the object of the memory without looking at it.
-Now observe it, then draw it from memory while dividing it into primitive forms.
-Observe it again, compare your most recent drawing and caliber accordingly.
-Repeat…
By employing this method, you are deliberately failing and making as many mistakes as necessary to get it right. It takes a lot of misplaced lines to learn to draw something from memory, so you can do them as quickly as possible.
-Observe-
"Do not just copy life and photos. Rebuild the object in your mind. Refine it, digest it. It may not be accurate, but it just has to look accurate. Create your own version "-Kim Jung Gi
Divide everything you can, and the complexity will vanish. Our minds are not made to remember every detail we see, so finding effective ways to simplify what we are seeing is key.
-Other notes-
Practice, make it routine
Practice constantly, do it routinely, make it a habit. The skill level of Kim Jung Gi, or any artist, is proportional to the amount of time and effort they put into their craft. It is a simple rule, but it requires dedication.
Set goals
For example, I want to be able to draw "x" in "y" the amount of memory time. You will come up with some interesting techniques to reach your goal.
Draw something
There are an infinite number of subjects out there. You will never run out of things to draw, choose and choose what to draw next.
Focus more on what you do not understand
The hands, feet and face of a human being are some of the most difficult things to put on paper. Attack those things as if they said something bad about your mother.
Develop your own style
As you draw, your style will come. Do not try to be Kim Jung Gi, it already exists. Instead, be yourself.
Accepting the idea that he was doing this from the top of his head seemed unacceptable and, in a way, still does. But now I see what is happening: we are witnessing a man who runs the four minutes in the drawing. What we all thought was impossible has been shown to be very possible and that everyone can get. We all should aspire to draw like him.
I hope that you like and served until next time, and do not forget to practice.
Good luck c: