Korean Society Is In The Classroom: The School As A Factory
Or,
Why I don't wake my students up.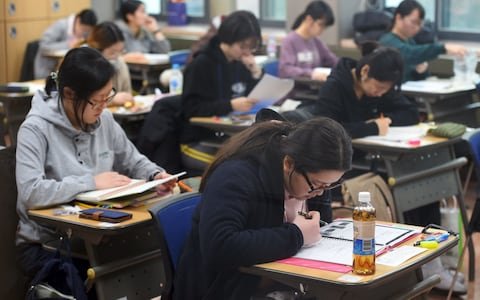 I've taught English for five years between China and Korea. My experience has been in classrooms, from public to private. One of those years in China, I also taught Math, Science, Art and Guitar on top of English. That was pretty absurd. This is not to boast, but to establish beforehand that I have some experience in the classroom to base my following points on.
I do, however, mean this from a purely pedagogic standpoint. As for claiming to understand anything about China or Korea, I don't. And I don't think I could, even if I spent my life in either of the two countries.
Two other qualifiers.
First, I desperately try to obtain an objective viewpoint on my job. There's too many Western 'expats' (I hate that fucking term) who never leave their colonialist perspective. It's banal to find racism among English teachers in Asia.
Their underlying assumption is that, because their only encounter with the people is through English, which the person cannot speak well (hence their job), the people they meet are therefore ignorant. That is to say, because the 'expats' only speak to people in English, despite being in, say, Korea, they only encounter Koreans struggling to express themselves in English, and the racist 'expat' concludes that Koreans in general are unable to express themselves.
In short, their racism stems from a tautology.
I at least try to learn Korean (and Chinese) here and there. I can't speak the language well, but I do try. But my point is, that while trying to understand the cultural context of the classroom, my first step is self-criticism in the attempt to break from a colonialist perspective.
Second, the conclusions below are vetted. Both by the experience of other teachers, and, more importantly, Koreans themselves.
So, to start.
Teaching English in Korea is an incredibly easy job. It's exactly as difficult as you want it to be. This is so long as you accept the factory system of education here. Korea and China are quite similar in this regard, but I'll try to keep this exclusive to Korea.
Now, there are a lot of great and dedicated teachers in the system. But I'm not speaking about their individual success. I'm speaking more of the general structure of the system.
The education system in Korea follows a neo-Confucian system, complete with gender segregation and brain-sponge methods of instruction. The instructor stands and talks for the duration of the class period and students are expected to soak up the material. I've never seen anything that wasn't a lecture. The entirety of the system is geared towards one goal: passing a university entrance exam. Though k-12 education is public and free, the class division is between those who pass the entrance exam to a university and those who take the 'technical school' track.
Because of the single-minded nature of education, nothing else really matters. There's little to no punishment for students that act up. First because the behavior doesn't matter, so long as the kid passes a test.
Second, because it's impossible to keep any student after school. Why?
Because the rich children all have a second school after their first one. This is called a 학원 or, Hagwon.
Representing another class division, students with money attend hagwons after school, some beginning as early as primary school. By the time they reach high school, kids stay at Hagwons until as late as eleven o'clock at night (on school nights), studying for their college entrance exam.
The existence and ubiquity of Hagwons reduces the pressure on the public education system. I've taught in a highschool and there, the students admitted they learned more at Hagwons than at the school itself. First period was sleep time. This is particularly true for second and third year students. The highschool was more of the general outline, the formal, perfunctory activity. The Hagwon is where the students got one-on-one learning, as opposed to being a number out of 30-40 students in a single classroom.
South Korean parents spend an average of $1000 each month per child. . The competition between students to reach a University, which in turn churns out degree holders who can't find jobs, reflects the development of the education system as a whole. Mainly, it's creation from the post-war dictatorship period.
It's vital to understand Korean history for this point. The Korean civil war in the 50's is often portrayed, by the bourgeoisie, as a victory against communism. In truth, the RoK was a corrupt and parasitic entity composed mainly of Japanese collaborators and those elite members of society that stood against the land distribution goals of the North. In short, it was reactionary to the core, and as such the decades of military dictatorships that held out until the Korean people revolted in 1987.
South Korean society, from the war until 1987, was the epitome of authoritarian capitalism. The factory system, on a military-scale, exploited the Korean people down to the bone. I recall reading the biography of Chun Tae Il where it describes his time in a garment factory (which was little more than a cramped room). Working alongside teenage girls in the 1970s, he described the process by which employers would shoot up their workers with amphetamines to keep them laboring over twelve hour shifts. Never turning off the bright phosphorescent lights, Chun Tae Il recalled seeing a girl stop working, stare at her hands and begin sobbing. She'd gone temporarily blind.
Chun Tae-Il himself, after struggling to create a labor union for the garment workers, set himself on fire in protest. He died from his injuries.
I use his tragic story as an example of the utter exploitation these people went through under the dictatorships. The sole purpose of their existence was labor, to produce value for the ruling class. The same time period saw the rise of the Chaebols.. The Park dictatorship established the alliance with the national bourgeoisie in the 1960s as part of his 'economic plan'. The Chaebol originated from the Japanese occupation, and were those who benefitted from it. After the Japanese left, their economic structures were seized by those rich enough to still have power. They in turn got even more wealth, and were the bourgeois elements that the dictator Park Chung Hee came to with his economic plan.
That Chaebols, or families, formed the foundation of Korea's monopoly capitalism today. The country is ruled by a handful of corporations. These are the fuckers who seized the value from workers like Chun Tae-Il. These are the fuckers who benefited from the "Korean Miracle", whereby the country changed in the decades after the war. Of course, the transformation was thanks to the blood and sweat and worker-slaves under a military dictatorship.
That environment, of militant Taylorism, under the control of monopoly capitalism, gave rise to the education system I teach in. That competition between workers, who understood failure meant starvation, is the system that now forces children to compete for highschools and universities. It's the same driving force for the University entrance exam. It's the explanation for why these kids are expected to sit and listen and take test after test after test.
And it's the reason why my job is pointless.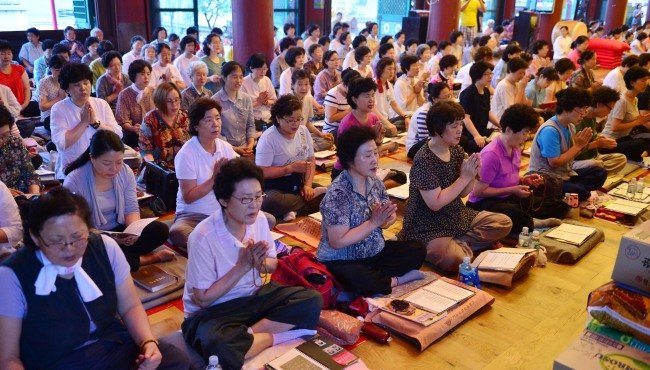 (Parents praying for their students to pass the college entrance exam)
I'm the teacher who likes to explain why. I hate yelling and find screaming at children to be sociopathic at best. Of course, in Korea, that's the normal way of dealing with kids. So if I prefer to tell my students, "if you want to learn, then you should listen to me and participate in class. I'm not going to yell at you until you stop talking," all they see is weakness. All they see is a teacher who admits they won't yell, and therefore won't scold them.
My primary teaching method is the assumption that the learner takes charge of their own learning. It presupposes independence.
If I give my students, during a language activity, the ability to move around the classroom and roleplay, it quickly goes out of hand. Why? Well, mostly because they're children and that's why children do. But there's more to it.
These kids never get the chance to utilize their independence. They don't get the opportunity to take charge of their own learning. It's a completely unfamiliar concept. They choose nothing in life. They might not even understand it as a concept to begin with.
Korea's education system doesn't have room for independence. It has no concept of the individual. It only has numbers, from student number to the grade on a university exam.
Korean society considers individuals as strange, weird, outliers, oddities. Standing out from a group means being the nail, the nail that gets hammered down. This is a rule of the entire neo-Confucian society, utilized by the bourgeoisie to maintain a military-work-ethic.
And it's the reason I don't try very hard at my job.
There's a limit to what I can in a classroom. I go as far as that limit allows.
I have such a love-hate relationship with this country. But every day at work, in the classroom bursting with students, all of whom are expected to defeat one another and get that cherished corporate gig, I see the glaring complexities and contradictions of this place in the beaten-down and exhausted kids sitting in their desks.
So when the student falls asleep in class, I don't wake her up. I let her dream a little.