The Only Writing Advice You'll Ever Need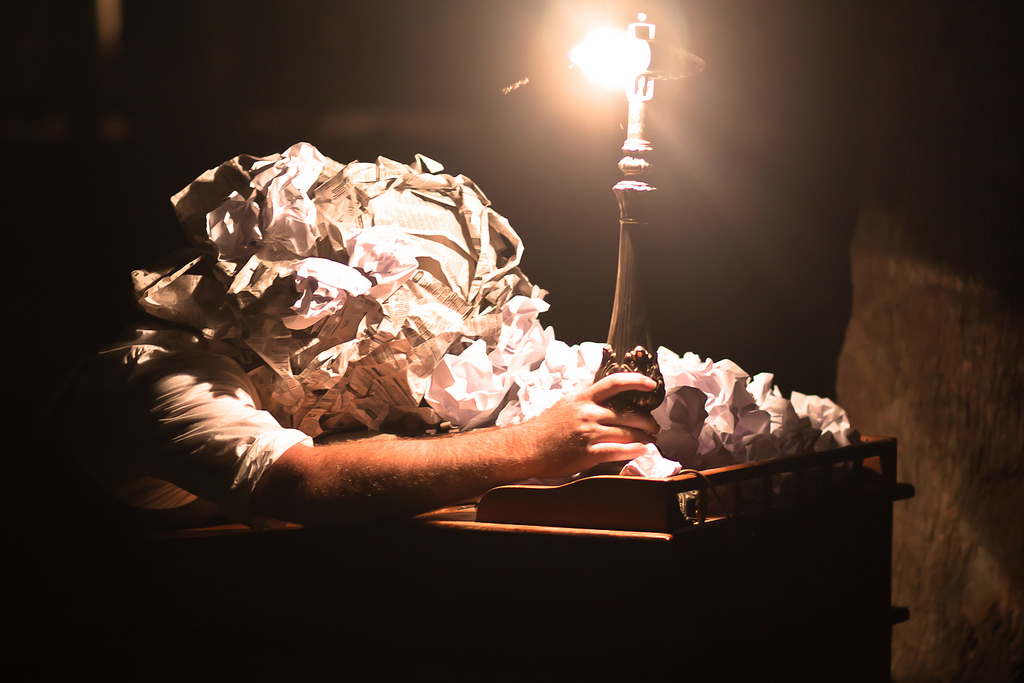 It crops up time and time again.
There are two kinds of writers: the ones that write, and the ones that don't, but will do anything to keep a white-knuckled grip on the title. That isn't to say the latter of the two should be demonized, but it could do a lot of good for aspiring writers to ask themselves what they want.
Why would you want to hold onto the title of "writer"? The most obvious reason is the romanticism placed on writers. You might imagine long nights penning ideas by candle light, and immersing oneself in vast concepts. You imagine the glory of being called an "intellectual."
But that's never how it really is.
Writing isn't much different than being under a perpetual raincloud. Those who continue to write, especially early in their careers, will struggle against themselves and other's opinions. You will feel self-doubt beyond comprehension. You will have to build the calluses needed to look a rejection letter straight in the eye regularly. Then you will have to sit your ass at the desk another day to do it all over again. Those who want to write simply for a title or for fame will quickly jump to something else once they realize how tough it is.
Looking from the inside out, there isn't anything romantic about being a writer—not unless you, dear reader, aren't so different than someone like me.
I fucking love stories. I love them so much, that I will disregard my need to be polite to speak my enthusiasm. Writing is romantic to someone like me, because I find the craft itself to be one of the most powerful and immersing out of all the creative mediums. It is the art of creating from nothing. It is the art of building a bridge between people. A book is that bridge, and invites you to cross into the author's mind to experience their ideas and stories.
It's difficult. That connection and immersion isn't something someone can learn overnight. The chances of your first book resonating with millions are almost nothing. But that's where a vast majority of us have to start: by learning from the ground up.
So what's another reason you'd want to be called a writer, yet have little behind your belt? It's likely because you need to learn. You love stories, but haven't managed to get into a writing routine, or struggle to find where to start. You need to write more.
And like many, you turn to sorry saps like myself who write essays and articles. You've probably read a few before: "Fix Your Writing With These 5 Tips," or "Stephen King's Advice Will Make You a Better Writer." You don't need to look far to find the advice; it's damn near everywhere, and from every kind of source.
And no matter how good it is, it's probably a massive waste of your time.
Bestselling authors didn't gain their chops reading articles on how to write. They didn't sharpen their skills reading "These 7 Writing Tips Will Make You a Bestselling Author," nor did they take courses that gave them everything they needed for their success. We'll get on to workshops in a moment.
It's not a pretty piece of advice to sell someone, but it's honest—and I'm not even going to make you pay for it. It is the true and tested method to becoming the best possible writer you can be, and it can be broken down to three main components:
Sit your ass at the goddamn desk and write something. As often as you can.
Read. Please, dear Lord read something. Read all the genres. Read non-fiction, essays, editorials, poems... Read everything you can get your hands on.
Listen to those who read your work and have something constructive to say.
Yes, that's all it really takes. People will try to tell you there's more to it, and they're partly right. There are specific things you will need to learn and discover as a writer. You will need to learn the rules so you can break them in the ways you desire. There is a lot of constructive advice you can take from articles. They're not gospel per se, but they're not to be entirely disregarded.
What I'm saying, is that there's no one way to write. There's no "correct" way to tell a story—that's the beauty of this craft. But most of the learning and discovery takes place in those three steps listed above. You will have to carve your own path, and put to action the advice that is true for you.
Even with all the good advice I've heard, I only truly "learned" from them by making mistakes first—by sitting down and risking clumsy sentences, poorly-constructed plots, and half-baked ideas. More than what advice can give you, looking objectively at the work you've made and assessing it gives you powerful learning experiences.
Reading is important, not just because it fills you with new ideas, but because it lets you discover the things you like and dislike. It exposes you to different styles and approaches, and allows you to learn from the greatest writers across history. Reading is partly the fuel that allows you to write.
Criticism can also be helpful, but should be examined with caution. There's just as much bad criticism out there as there are bad writers, and nobody's being helped by it. What people have to say can be highly subjective, and not always the best to just accept and incorporate without question. You are lucky to have a group or community that will be brutally honest criticizing you while still being helpful. That being said, seeking feedback is a fundamental part of learning and improving, so seek, seek, seek.
Perhaps you can understand my anger seeing people trying to sell a writing course—especially one that costs hundreds or even thousands of dollars. There have been, and ARE excellent writers who have mentored, helped, and taught others. Jack Ketchum is the first to come to my mind. There are workshops taught by seasoned professionals who can do so much to help you learn new things, and I don't mean to discredit them by saying this, but there are courses out there designed to eat the souls of the naive. That's why it's important to be cautious and vigilant before handing your money over.
No, you don't need to participate in writing workshops. No, you don't need to hand over your money to build your skills. Though classes and workshops can be an excellent resource for an aspiring writer, they are by no means essential. And I'll wager it won't be worth your money unless it's conducted by someone who has made something of themselves.
It's important to keep a cautious eye, and most importantly, read and write as much as you can. That's the only advice you'll ever need. If you are lost without a place to start, rest assured the beginning is at page one. Go wild. Work hard, and enjoy the process.
---
Written by Christopher Warren @ http://midnightauthor.com
Photo by Drew Coffman
Let's expand this discussion: what are the most important things you've learned as a writer, no matter how much experience you've had?