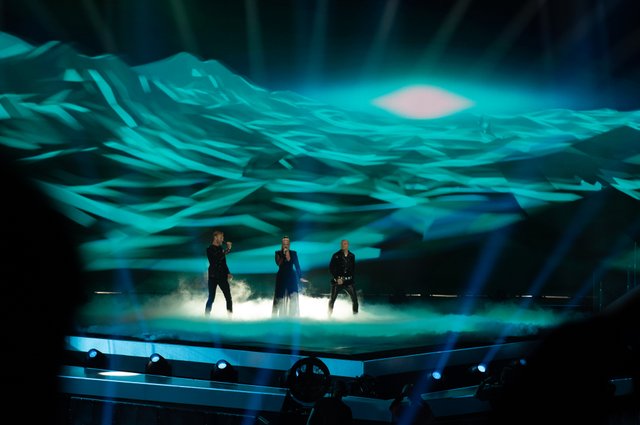 source
Keiino is a Norwegian music group. The songwriter, the rapper and the joiker Fred Buljo, the songer Alexandra Rotan and the songer and the songwriter Tom Hugo.
Keiino won the Norwegian Grand Prix in 2019, and they have done it well in the Eurovision Song Contest. They are much known for the melody «Spirit In The Sky». Fred Buljo is Sami, Alexandra Rotan is coming from Råholt in Akershus in Norway, and Tom Hugo is a musician and songwriter from Kristiansand. Hence, much of Norway is represented in the band Keiino. The name Keiino comes from the last name of Kautokeino. None of the 3 band members knew each other beforehand. They were represented Norway in the Eurovision Song Contest in 2019, and they were formed as a band in 2018. Keiino is a Norwegian and Sami collaborative, and it was formed in relation to the group as taking part in the Norwegian Grand Prix in 2019. And they made it great, and they got a good result in Europe in 2019. They were number five in the Eurovision Song Contest after they won the Norwegian Grand Prix.
Keiino has obtained results after they started the band, and they are known in Norway, and that is in all the media channels. They meet people and interviewers with smile, positive comments and enthusiasm. Today, you find the music to Keiino on YouTube, Spotify and Deezer. The kind of music is electropop, dance- pop and yoiks. Hence, rhythms and dynamic ways of operating with movements and systems with the movements are things they are using in their music. People love it, and there is much tap dancing. You are together with this group if you can sing their songs, and if you are in the same dynamic ways as the actors. The songs they are fronted the music markets today, both nationally and internationally are: «Spirit In The Sky», «Praying» and «Shallow». Accordingly, they are singing about the sky, what people do in world religions, and what you meet in the water and in the oceans, if you are not on deep level! Societies are much about giving and receiving information on the surface, and you should think yourself using your brain, if there are more reflections about what is going on and how you can explain things, persons and organizations. Humans constitute the environments, and the ways of thinking are always typical assets of organizations, but you can improve them and do them even better, when thinking what is the best solution!
Keiino is playing and singing with fitness in their being. And many people like that, since we are human bodies that enjoy and appreciate pleasure with sexual behavior! We find moods in the music to Keiino, and there is much positive enjoyment with the group.
The record label to Keiino is Universal Music Group. And the country-of-origin is Norway from 2018. The members in Keiino have music experiences from before, and therefore they have a good and solid background. Country-of-origin is the country they come from, and Norway is much about nature, valleys, mountains, bird songs and fishes in the waters, the fjords and the oceans surrounding Norway. And in addition, Norway is much love in its rich landscape, and one cannot find all the statements to everyone everywhere ever since, but we are all in human nature!
Keiino has potential to become even more greater as a music group, and there could still be more creativity and spirit in their music kinds. But they meet the daily challenges with much pleasure, and they can operate in many countries in the future, using their bodies to get lots of charm and support! There great things always begin in the small environments, and accordingly everything is small and great things, also in music! One can choose names of songs, song texts, sounds and much more to get much involvement and many people engaged everywhere!
Please do follow if you want to keep up with my next article. Any upvotes or resteems are hugely appreciated!
Latest article, check out :
Article - On finding the meaning of research in different ways!
Sverre Larsen
Kristiansand, Norway
Read about us? // Main page!
Latest content: Travel, Art, Food, Article, Poetry