On this otherwise slow morning, I spent a little time visiting some of my older writing.
No, not early posts here on Steemit, but articles on what is one of the very few surviving sites that paid people for their contributions: HubPages.com.
I actually have articles posted there that date back to 2007. What's kind of unique/unusual about that is that venues that pay contributors almost inevitably "die" at anywhere from a a few months to about 3-4 years of "age."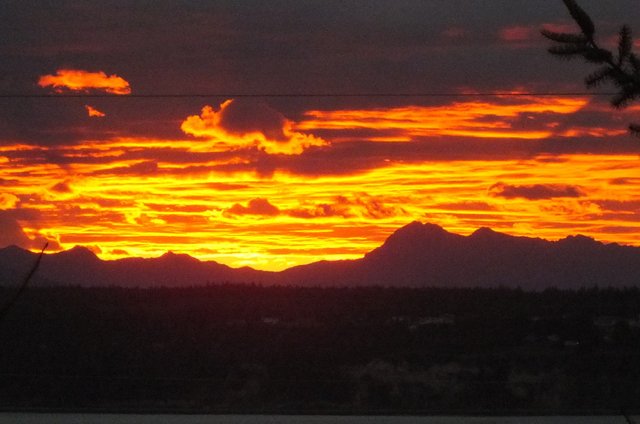 One of our dramatic sunsets...
HubPages? Not so much. Remarkably resilient.
I still get occasional "revenue share" payments for content that is over ten years old! Some of those articles have been read 25,000, 40,000 and as much as 70,000 times.
That is one thing I really appreciate about that site: the value of "evergreen" content.
HubPages is definitely NOT Steemit, so don't go rushing over there!
For starters, 95% of the content I see on Steemit would never see the light of day on HubPages. It's a content site, not a social site, and everything published has to pass the "Quality Assurance Process" where it passes through several human editors before it is approved.
Even then, it may just end up where most content ends: as "published," but not "featured." The rub being that unless your piece is "featured" it will remain internal to the site, invisible to search engines, and thus doomed to live in a black hole for all eternity.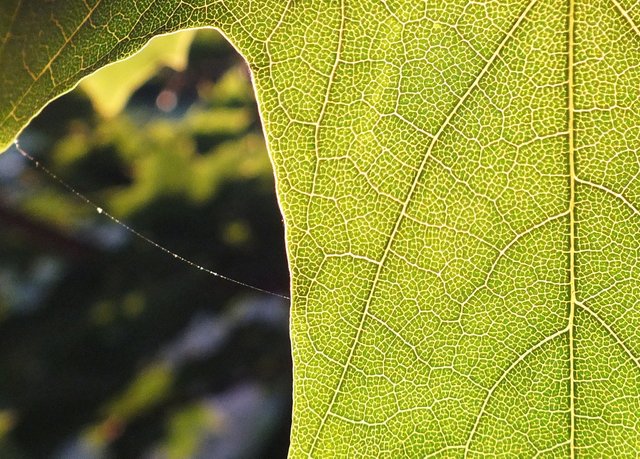 A tiny spider's thread on a leaf in the evening sun
It's one of the reasons HubPages was always very unpopular with "Money For Nothing Seekers," spammers and content spinners. They were welcome to publish their stuff, but it would essentially remain invisible.
"It's not fair!" they would whine.
But why should you get paid for complete garbage nobody cares about?
"Because I want/need MONEY!"
What the fuck does that have to do with anything....?
HubPages is not really a "social" site, built around a community like we have here, it's a content site. Different structures, altogether. That said, a few people have made a name for themselves by purely publishing "inside" HubPages and building their own fan bases through Facebook, twitter and beyond.
Overall, it's not a big deal, in case you're getting all fired up over the prospect of another "make money" site. I get a $50-60 payment, every 3-4 months. It's just nice to know it's still there.
How about YOU? Did you ever write on other sites that paid for content? How did that go? Are those sites still around? Was it easier or more difficult to make an impact than here on Steemit? Leave a comment-- share your experiences-- be part of the conversation!

This entry created and posted via @steempeak. If you haven't tried SteemPeak yet, you really owe it to yourself to give this more "modern" view of Steemit a try! Just go to SteemPeak.com and give it a test drive!
(As usual, all text and images by the author, unless otherwise credited. This is original content, created expressly for Steemit)
Created at 180911 11:32 PDT