Hopefully it's not actually a premonition, but we'll see.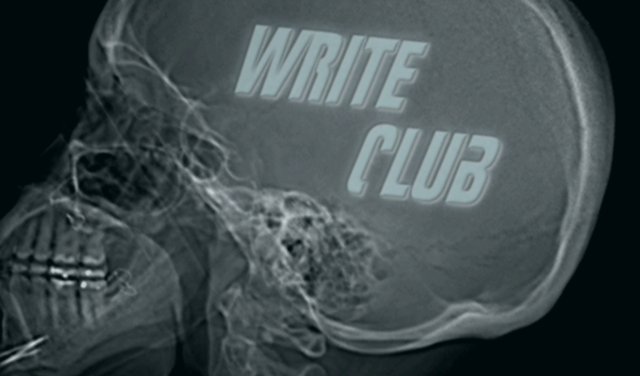 What Up?
It's been 21 days since my last #writeclub post. Wowza! I would say "Time flies!" but, no, it feels like exactly three entire freaking weeks.
The last story we did for Write Club was the scary ones (right?). They were based on the prompt by @johnkingwriter and holy heck, everyone did some seriously good work. It's proof that Write Club really works because, sure, we were all good writers going on, but I think we've become the great writers we've striven to be. (And see? I said "We," so even my self confidence is improving!)
The new prompt was written my moi, and I basically said that there has to be a character, organization, or something that isn't what it seems. I used Flannery O'Connor's Good Country People as my inspiration.
So, the deadline for the stories based on this prompt is tomorrow, and I think most everyone is pretty anxious. I wrote one story and was feverishly upset with it, so I'm writing another. If I don't finish it on time, I'll just turn in the first, since @jayna said "Pfft, besides the ending, it's not bad!" (This is not a direct quote.)
<1>Premonition?
Yup. Can't have a 16 week long writing boot camp without at least one premonition. Now we're just missing Angela Baker holding a severed kids hand and flashing her man parts to make it complete. Oh wait, wrong camp...
The other night, I had a dream that John and Jordan both dropped out of Write Club this round and, to make it eerier, I dreamt it had something to do with a trip John was taking. And then, sure enough, I look at my feed and he's been posting about a motorcycle trip around Scotland that took place last year. Coincidence?
Shudders
To make matters worse, I dreamt about writing this post too. The only part that stuck out was me tripping over the keyboard, trying to type "O'Connor" but accidentally hitting, like, four keys.
Anyways.
I pray that those two make it, seeing that after this session, we only have one more left (so about three weeks!)! Eek! I'm scared and nervous but kinda excited too. I'll miss the pressure and all my homies on Discord, but at the same time, I am busy and would love to help with editing in the Fiction Queue again. I've missed that.
In Conclusion
I dunno, I just thought it was always cool when someone has a "In Conclusion" at the end of something. I don't really have anything else to say.
~
I love you guys! Stay safe, write madly, and God bless! <3