'switch up the beat!!!!' [ conclusion to the jam - Round 87 ] 白蚁.
Keepin on buildin' n keepin on with the dope collabs!!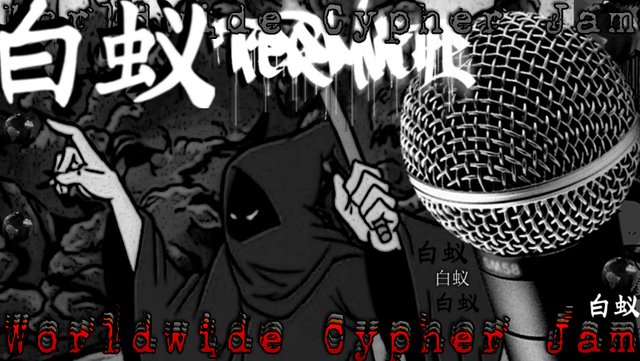 白蚁.
Yes Yes Worldwide Cypher Jam Round 87.
Big up to everyone who has jammed with me!!!
... and as I live in the present, that means @burningzeal16 and @bsusushba
NUFF RESPECT!!!!
白蚁.
2 deep cyphers with super skills right there!!!
I feel blessed to jam with you!!
NUFF RESPECT AND THANKYOU!!!
YOU MAKE THIS!!!!!!!!!!!

So ...
... Here is the 'thing' from the Round 87 post.


So .... 0.649 STEEM ...
... (drumroll) ... is gonna go to ...
... thats a shit prize init!! haha.
Dont know how thats gonna change right now, but its just good jammin n makin dope tunes!! I hope you agree.
Im gonna double it n send 0.650 each to @burningzeal16 and @bsusushba
Big up bruvs!! Smashed it!!!
NUFF RESPECT!!!!
......... BUT WAIT!!!
We also got 20 each of the new Museician coin courtesy of @paulmoon410 to give to you both too!!!!!! Hit him up for more info!!
BOOM!!

Round 88! ...... init!!!!!!
Gonna shake this shit up!! We all never stop building, if you like it or not! ... Onward!! Times are changing!
Peace.