Worldwide Cypher Jam [ ROUND 87 ] "Resteemed ... Thanx. Got it." 白蚁.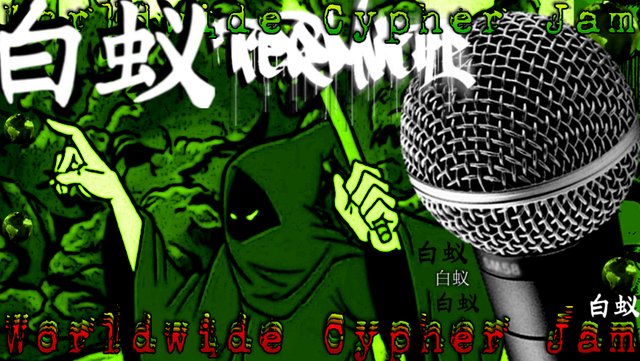 ---
白蚁. 白蚁. 白蚁. 白蚁.
Round 87!
This beat is called 'Piano Apparition' 白蚁.

Play my beat below and record yourself doing your bars/freestyle/song/scratch/verse/guitar solo or whatever you feel over it!
Download link: https://termitemusic.bandcamp.com/album/worldwide-cypher-jam-2019
RULES:
THERE ARE NO RULES!!!
Use whatever you want to record or capture it!
Post your entry (or post a link to your entry) below.
Best entry to the cypher gets the STEEM from this post!!!
You have until Sunday 3rd Nov!! (2 weeks)
Also for this round, we got some of the brand new Museician token to give away courtesy of @paulmoon410 Hit him up for more info!!
This is a repost cos the original post was downvoted to fuck! Bots are obviously out!! All good! I am here to collab and make music!!
OPEN TO ALL!!!
Beginners encouraged, experience respected!!!

... Lets f**kin' jam!!!!!!!
... Peace and enjoy.

---
► Listen on DSound
► Listen from source (IPFS)