The Worldwide Cypher Jam has now whirlwinded through 80 rounds!!!!!!!
I never thought when I started this, it would fly so far!!!! Nuff respect to my extended Cypher Jam crypto crew!!!!!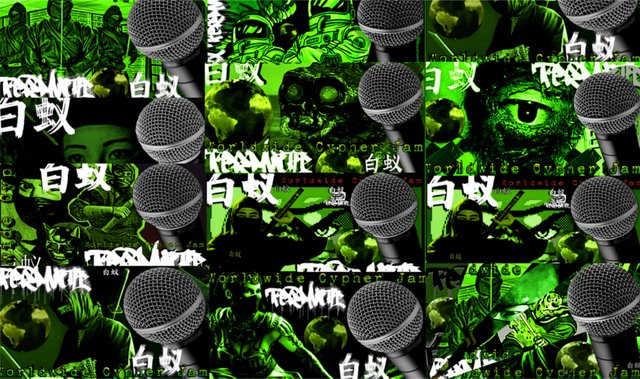 Fuck the monopoly and gradual censorship of true expression through music on the internet!! The seed has already been planted!!
It is your world and it is your internet!!!!!!
So, the winning Cyphers from rounds 65 to 80!!! ... Season 5 if you want!!!
These are decided each week by hiphop heads outside of steemit. I do this to let people know how we do ON steemit! ... AND WE SMASH IT!!!! Shouts to everyone!! This is the realness!!!! 白蚁.
.................................
Round 65: @tygertyger

Round 78: @djslurk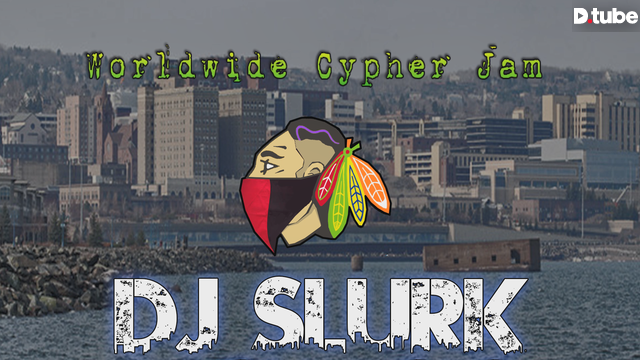 Round 79: @kenentertainment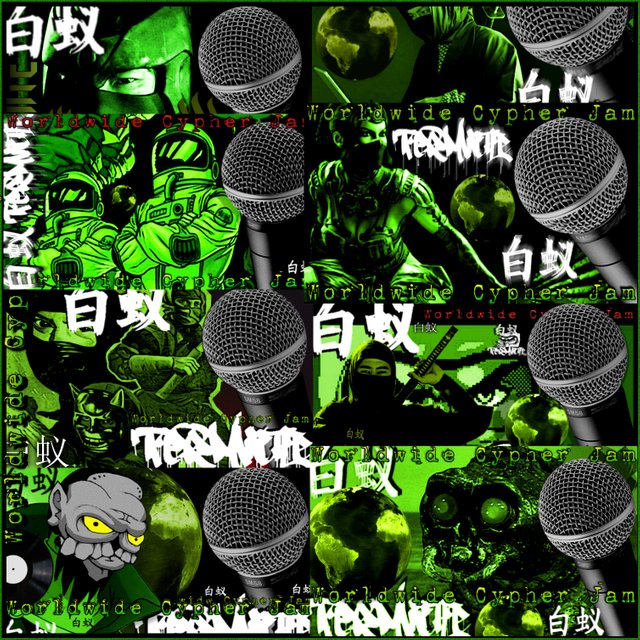 Round 80: @scribblingwilly

... and @djslurk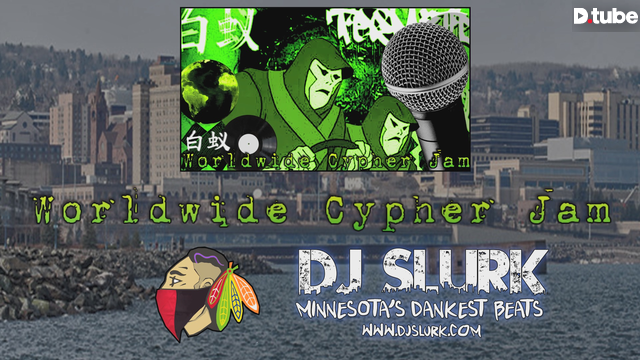 RRRAAAAAAAHHH!!!!!!!
Rounds 49-64 https://steemit.com/cypher/@termitemusic/cypher-gems-round-49-64-of-the-cypher-jam-the-story-so-far
Rounds 33-48 https://steemit.com/worldwidecypherjam/@termitemusic/cypher-gems-16-more-rounds-of-the-cypher-jam-the-story-so-far
Rounds 17-32: https://steemit.com/thecut/@termitemusic/16-more-rounds-of-the-cypher-jam-the-story-so-far
Rounds 1-16: https://steemit.com/thecut/@termitemusic/16-rounds-of-the-lo-fi-cypher-jam

Thanks to everyone who has jammed with me so far, because without you, this does not work!!! (lemme kno if I missed anyone!): Big up @kenentertainment @scribblingwilly @tygertyger @onemedia @burningzeal16 @privat @vandigital @boycharlieplays @wolfnworbeikood @hostioso @jamesgetsit @talea.monet @voyceatlas @alao @scottychams @elbrujo @redsfallin @elisonr13 @d-vine @elderson @venom1987 @edprivat @verbal-d @benja @vachemorte @seveaux @bryandivisions @enginewitty @djslurk @loganhate @paulmoon410 @jtulip @geechidan @thedruid @purapapita @yakuhi @riggsyfort @orbital753 @fresheiremusic @omegarift @mickeymic @yusaymon @bsusushba @positivity420 @jaguarpawmu @knablinz @base33 @themillionthings @hhtb @phorecite @basilmarples @low-profile @bucho @thomasduder @kopusmellini and everyone who has supported this directly or indirectly!! I will keep making beats, and keep posting them! ... At risk of sounding cliché, I do this for the music, not to make money! crypto or otherwise!!!
WE KEEP IT REAL!!!!!

THANKYOU!!!!!!!!!!!!!!!!!!!!!!!!
The beats for The Cypher Jam are unlisted videos. They are only available with Steemit. You can see them all however via this secret unlisted playlist link: https://www.youtube.com/playlist?list=PLLWx2cOaQzf71KQc-pNIi0tVi67c6gG-8
Peace.



https://choon.co/artists/termitemusic/
https://dsound.audio/#!/@termitemusic
https://soundcloud.com/termite-2
https://termitemusic.bandcamp.com/