Christmas Day: a celebration of Jesus Christ's and Isaac Newton's birthday
On this day many years ago, Isaac Newton, a wise man was born. He changed the way we understand the universe.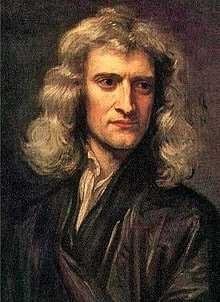 Image source: Wikimedia.org
On this day, most people also celebrate the birth of Jesus Christ. Though most scholars believed that it is highly unlikely that he was born on December 25th. It was just declared by the Romans to coincide with pagan festivals.
On this day, we celebrate the birth of the Prince that was promised--the Messiah, our Savior, the King of the Jews and of the Gentiles, too.
Until this day, we still don't understand how the universe works and we can only offer an approximation of the truth. But on this day, God offered his Son to save us, to die for us. The God of Wisdom and Mercy provided us with the Way, the Truth and Life (personified in Jesus Christ)
So since nobody really knows the day Jesus was born, I think we should celebrate it each day of every year. We must thank Him in every breath we take and in every moment of our life which is but a flicker in the space-time continuum. But because we are saved and redeemed, we will know infinity--we will have eternal life.
---
Posted using @esteemapp
Edited on @partiko