English - German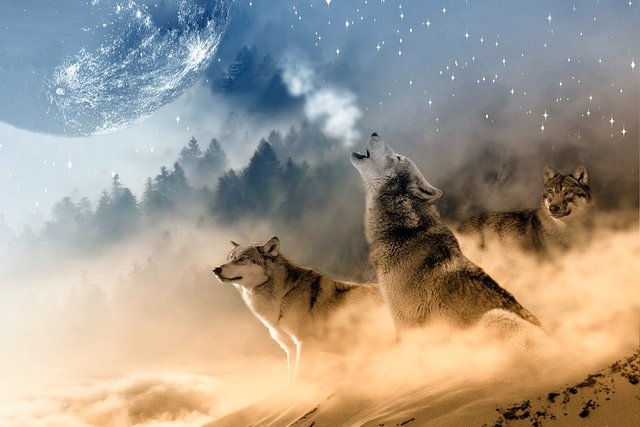 Introduction
Twenty-five years ago, a book was published: Woman who run with the wolves, the Power of Primitive Female Instincts (Clarissa Pinkola Estes). Two years ago the counterpart appeared completely unnoticed: Iron John, a book about men (Robert Bly). In this article I would like to explain some terms from the books.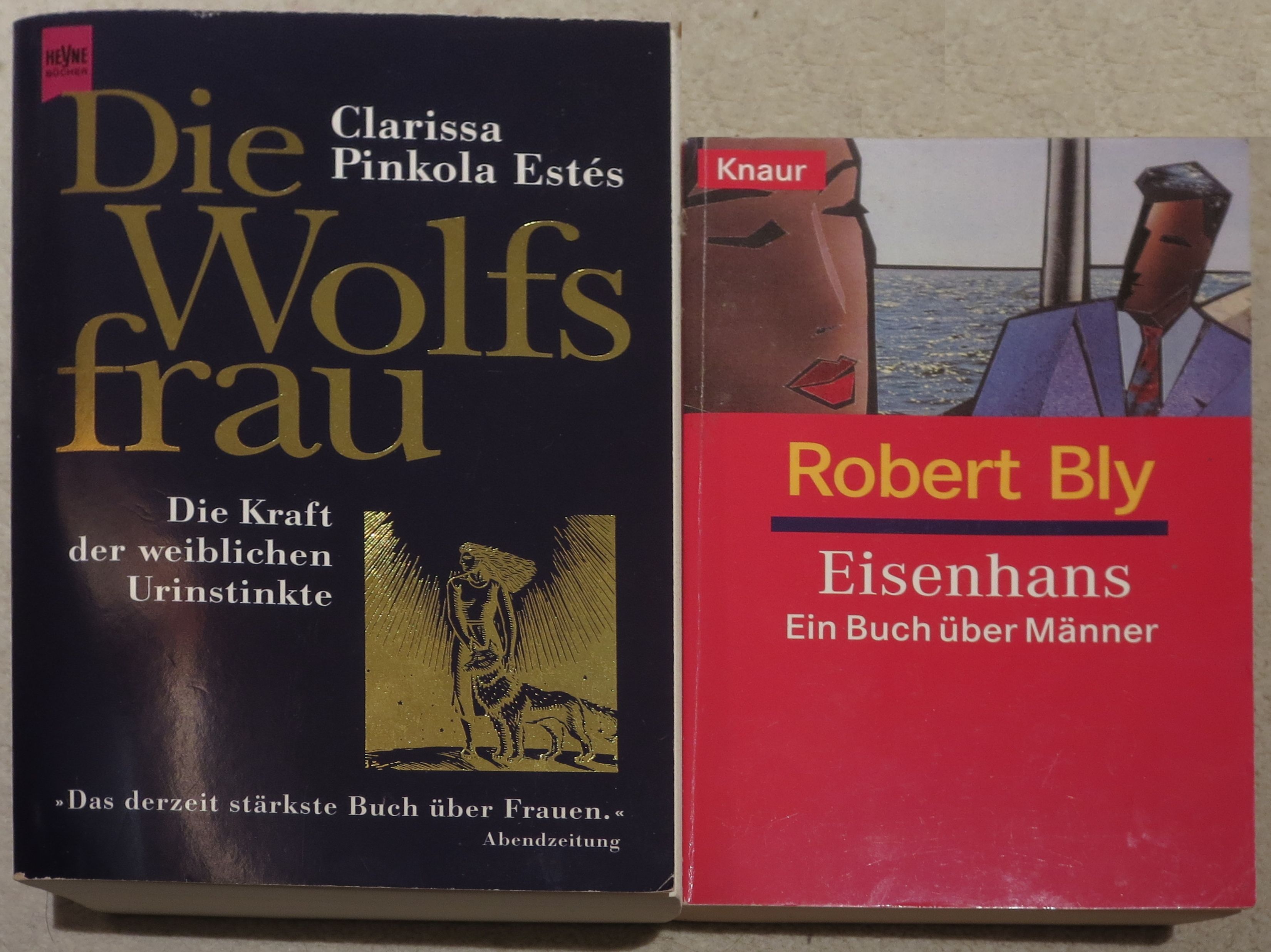 Structure and content of the two books
In the book of the women many legends, fairy tales and stories are dissected and the content of original knowledge is explained. The book about men uses one fairy tale for the same purpose.
Clarissa lets the women find their wild nature piece by piece through 16 chapters, many tasks and exams to go through, with each chapter it is more difficult to stay on the path. In the end, there is a reward that can be enjoyed by the persevering and is often discussed in earlier chapters, but without becoming clear.
Robert, on the other hand, makes the history of humanity circling around the subject of feminine and male in many instances in order to ultimately reach the great marriage between the two elements.
Selected terms
wild: This term runs through both books and is easiest to understand as "natural"
Wild Woman: The wolf woman or the wild self
Dog nature: An ambassador between ego and instinctive unconscious, helper in becoming conscious and stay conscious
Skeleton woman: symbol for life-death-life nature
Warrior inside man: the invulnerable, the ever youthful spirit
Doll: symbol of your own intuition
Double nature of woman
For women and men equally important is the understanding of this key concept. With the awakening of the wild woman or the wild man, a twin nature appears whose name has to be found. With two questions you can try to find out if you can already recognize your twin or if he/she is still hidden: What do you want? What does your deeper self want?
Inner robber, inner predator
The path to wild nature is always blocked by this companion. He is a fierce opponent of any transformative growth, trying to prevent postive development and obscuring insights into instincts.
Conclusion
The unpredictable, the uninstinctive and the ingenious want consistency, it is easy to recognize them. The savages, on the other hand, have recognized their dual nature, use the female and male parts in themselves and can designate the inner woman or the inner man.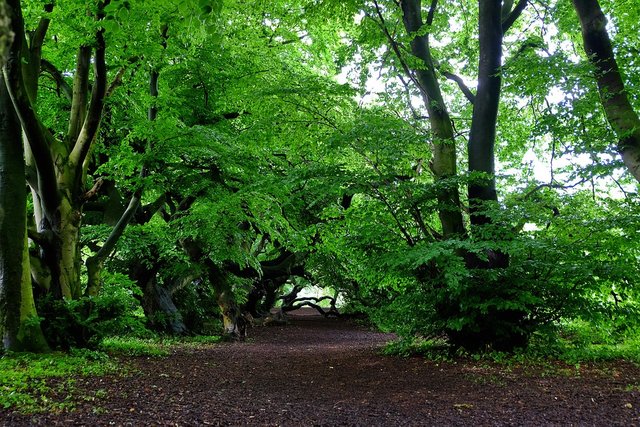 Einleitung
Vor 25 Jahren erschien ein Buch mit dem Titel: Die Wolfsfrau, die Kraft der weiblichen Urinstinkte (Clarissa Pinkola Estes). Von vielen völlig unbemerkt erschien zwei Jahre zuvor das Gegenstück: Eisenhans, ein Buch über Männer (Robert Bly). In diesem Artikel möchte ich einige Begriffe aus den Büchern erklären.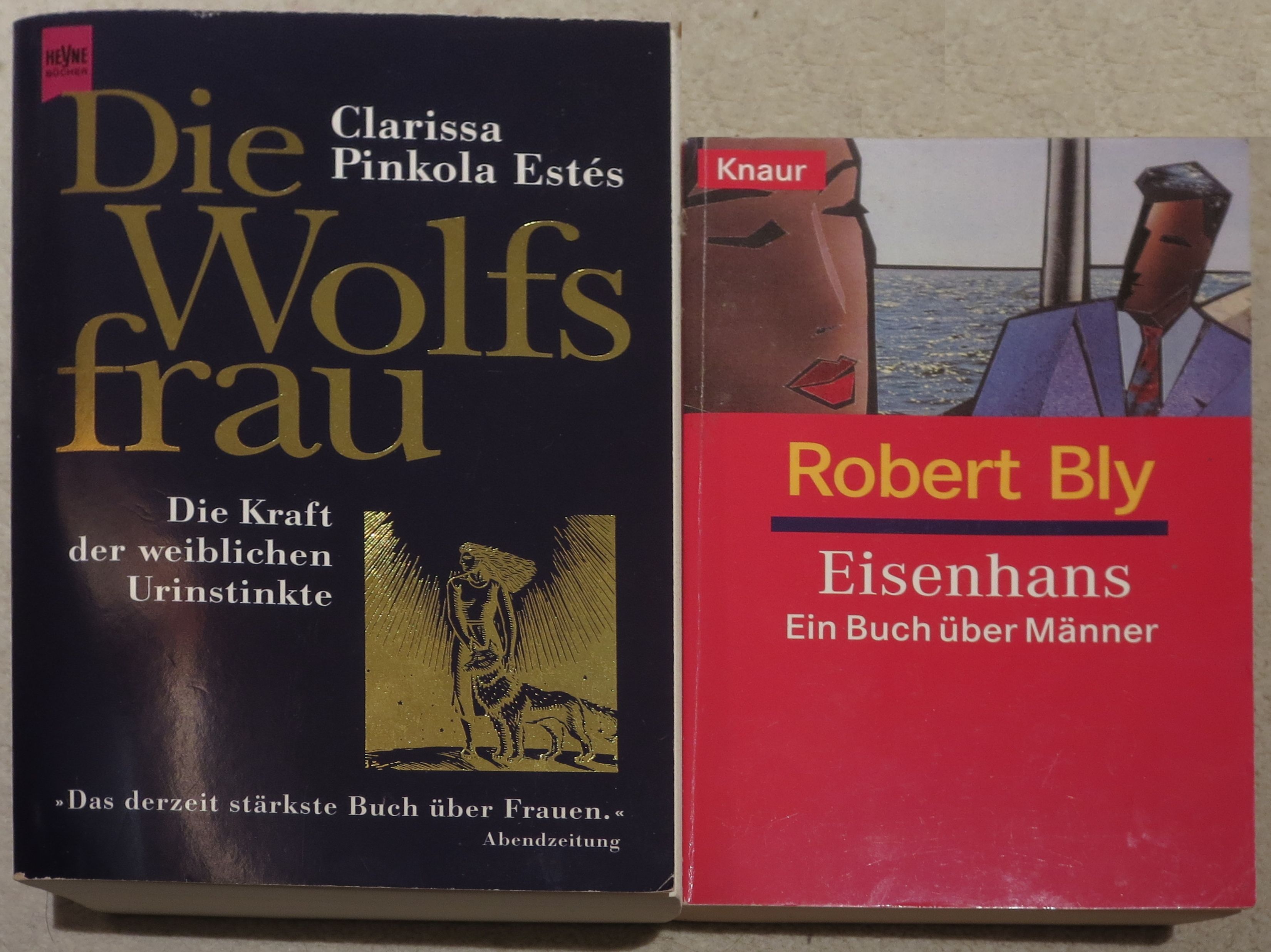 Struktur und Inhalt der beiden Bücher
Im Buch der Frauen werden viele Legenden, Märchen und Geschichten seziert und der Gehalt an ursprünglichem Wissen dargelegt. Im Buch über die Männer wird ein Märchen zum gleichen Zweck benutzt.
Clarissa läßt die Frauen durch 16 Kapitel Stück für Stück ihre wilde Natur wiederfinden, viele Aufgaben und Prüfungen sind zu durchlaufen, mit jedem Kapitel wird es schwieriger den Pfad zu gehen. Am Ende wartet eine Belohnung auf die sich die Durchhaltenden freuen können und oftmals in früheren Kapiteln angeschnitten wird, ohne jedoch klar zu werden.
Robert hingegen läßt die Geschichte der Menschheit in vielen Beispielen um das Thema weiblich und männlich kreisen um letztendlich zur großen Hochzeit zwischen beiden Elementen vorzudringen.
Ausgewählte Begriffe
wild: Dieser Begriff zieht sich durch beide Bücher und ist am einfachsten mit "natürlich" zu verstehen
wilde Frau: Die Wolfsfrau oder das wilde Selbst
Hundenatur: Ein Botschafter zwischen Ego und instinktivem Unbewußten, Helfer bei der Bewußtwerdung und beim Bewußtbleiben
Skelettfrau: Symbol für die Leben-Tod-Leben Natur
Krieger im Mann: das Unverwundete, der ewig jugendliche Geist
Puppe: Symbol für die eigene Intuition
Doppelnatur der Frau
Für Frauen und Männer gleichermaßen wichtig ist das Verständnis dieses Schlüsselbegriffes. Mit dem Erwachen der wilden Frau oder des wilden Mannes erscheint eine Zwillingsnatur, dessen Namen zu finden ist. Mit zwei Fragen kannst du versuchen herauszufinden ob du bereits deinen Zwilling erkennen kannst oder ob er/sie noch im Verborgenen liegt: Was willst du? Was will dein tieferes Selbst?
Innerer Räuber, inneres Raubtier
Der Weg zur wilden Natur wird immer wieder von diesem Gesellen versperrt. Er ist erbitterter Gegner jedes transformierenden Wachstums, versucht postive Fortentwicklung zu verhindern und vernebelt Einsichten in Instinkte.
Fazit
Die Unwilden, die Uninstinktiven und Ungenialen wollen Beständigkeit, daran erkennt man sie ganz leicht. Die Wilden hingegen haben ihre Doppelnatur erkannt, nutzen die weiblichen und männlichen Anteile in sich und können die innere Frau bzw den inneren Mann bezeichnen.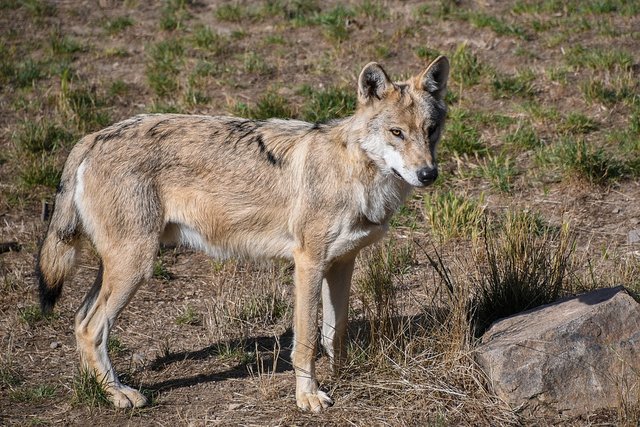 (Images CC0)




See you next time! / Bis nächstes Mal!
Thank you for your attention! / Danke für Deine Aufmerksamkeit!
Original content by