Stem.Witness Witness Survey V.1
Hello to all fellow STEEMians, We at the SteemSTEM project are proud to play our role in maintaining the Steem blockchain through our witness (@stem.witness) and seed node (seed.steemstem.io:2001).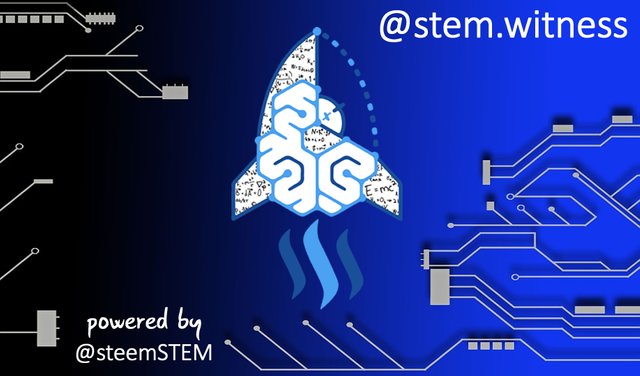 ---
---
What is your position/stance on bid-bots (ownership/delegations/opinion)? - @abh12345, @ammonite
We recognize that bid-bots have not been a net positive with regards to content quality on Steem. This may initially sound critical, however bid-bots exist because they fulfill a need that users have. Increased exposure. As there is no other effective mechanism for promotion, users turn to these bots to gain better access to trending pages, get new viewers and find new benefactors.
This overall is a positive aspect of bid-bots, however there is a large drawback. Bid-bots are massively profitable, and delegating to them results in greater earnings for those who delegate than they could get by any other mechanism (delegation to @steemstem included). This is in part because the economics of Steem is still not optimized enough (as described eloquently in this post by @kevinwong). So long as the underlying issues remain, bid-bots will remain a negative influence overall on the chain and result in drastically reduced overall trending content quality.
SteemSTEM and @stem.witness take no positions on bid-bot users/delegators/owners. Your STEEM is your money, use it as you see fit. Each of those groups is all just playing within the rules dictated by the economics of Steem.
What does the witness want to do to make the blockchain more user-friendly and help to onboard new users. What do THEY personally want to see done and what will they do to get it there? - @ericwilson
We have been around the Steem blockchain since its early days, and as such we have seen on-boarding show up as a major hurdle for adoption of the Steemit platform as well as all other Steem based applications. As we are building our own STEM-based application (www.steemstem.io) we do not want that trend to continue. To that end we have in addition established a collaboration with @wise-team and steemfounders to allow users an opportunity to earn their Steem account through posting. For our niche, this comes in the form of creation of a STEM-based blog post which can then receive support from the community, the earned STEEM being used to fund the creation and functionality of that new user's account.
Of course, we are also doing what we can to claim accounts with @steemstem's resource credits to better facilitate our project's abilities to create new user accounts at no cost to them as well. This is an important issue, and one we hope will continue to be at the front of developers minds as we take Steem into 2019.
Do you think votes for witnesses should last indefinitely or should they time out (or perhaps decay over time) so that periodically voters will need to reevaluate and affirm their positions by recasting their votes? - @harvhat
We think users should be actively engaged in selecting witnesses that they think are doing beneficial things for the Steem blockchain. Having a decay would prevent inactive/long lost accounts from having a say in which witnesses are actively working for the chain's best interest today. This isn't the worst idea, though a more effective position would be for users themselves to play that same active role. Unvoting and voting for the very best witnesses at any given time.
Do you think the 30 witness votes each Steemian gets is the correct number, especially in light of the fact there are only 20 top witnesses to be seated? - @harvhat
There are a lot more than 20 witnesses (we are currently ranked in the low 60's), and certainly those outside of the top 20 are able to make significant contributions to Steem and help shape its future. The number of witness votes each user receives seems fine to us.
What is a concern or two that you have about the #steem blockchain? - @johnspalding
The economics are not conducive to effective content curation/ effective delegation of newly minted STEEM to users.
Onboarding is very difficult
User retention is poor
The reputation of Steem in the outside cryptoverse (reddit/twitter/facebook etc) is not as good as it should be, considering the tech of the chain and what it has to offer.
What are you hopeful about for the #steem blockchain? - @johnspalding
SMT's and the changes to the economic situation of the Steem chain they will inevitably bring.
Hivemind (communities) and more effective mechanisms to promote well-constructed content (not just blogs).
What is the monthly cost of equipment? - @abh12345
We run a witness and seed node, each costs us about 54 euros/month + fees. So break even requires us to earn about 120 euros in Steem per month.
Where do your earnings go? - @abh12345
We currently earn less than the cost of running the witness... What are earnings?
[What are some of your] Current projects? - @abh12345
We manage the SteemSTEM project and are building our own STEEM based front end https://www.steemstem.io. SteemSTEM plays a large role in supporting the very best of STEM content on the Steem blockchain through our team of curators and voters, as well as maintain a discord community for additional ease of communication and discussion. We assist in the mangement and development of a variety of language/national specific STEM based sub communities (Nigerian, Italian, Spanish, German, French, Slavic and hopefully more to come). We are beginning to spin up the creation of an open-source public domain image generation project 'Stem-Art' for STEM authors/academics attempting to connect scientists and artists together for a better depiction of science. However that is in its very early stages, we hope to tie it in more closely with our steemstem.io website, hopefully building out a searchable public database a la Pixabay for these images created through STEEM-based transactions.
There are a few other pending projects which will remain undisclosed as they are actively in development and we do not wish to be scooped!
[Will you provide an] Alt accounts list? - @abh12345
@steemstem, @steemstem-io, @steemstem.pay
What are the benefits associated with being a witness? - @klassic
You help establish and maintain the blockchain upon which your project runs, and your vision needs. Ask not what Steem can do for you as a witness, but for what you can do for Steem.
How do I become a witness? - @steemingmark
Buy/rent a good server (we rent from Hetzner.com) and follow any one of the great guides ranging from instructions on the steemit inc github to those written by your fellow Steemians [1], [2], [3], [4]. There are many others beyond this small set, you should probably reference a number of them to decide whether you want to install from scratch or use one of the dockerized installs available. Either way install the software on your server get it running, declare your accounts intent to be a witness and that's it, you are a witness confirming blocks.
Have you implemented any new procedures for evaluating potential hardforks? - @patrickulrich
No, not yet at least.
How does a new user make the availability of his vote known to the cabal of witnesses wannabes trying to overthrow the current witness regime? - @grimgriz
Each user votes for whichever witnesses they feel bring value, and are helpful/effective in guiding STEE forward.
Should we have interest for SBD? - @patrickulrich
It has been a valuable stabilizing mechanism for STEEM over the existence of the chain. The SBD 1 USD peg has not always held, but overall it seems to have been a valuable asset. More so than many give it credit for.
What takeaways do you have from the Hardfork 20 issues that occurred? - @patrickulrich
More people need to be involved in the Testnet prior to official roll out, especially when large changes to the underlying code were pushed (as was the case for HF20). Additional time where the next version is running on Testnet, perhaps with additional community members involved should be taken before full rollout as well.
Do you think 20/21 top witnesses a good number or should there be more or less? - @harvhat
We feel that there are more witnesses than just those in the top 20 that provide strong value to Steem. If anything there should be more, certainly not less.