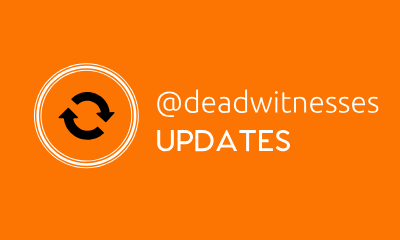 As I mentioned in my intro I threw all of this code together in less than a day so it's pretty rudimentary though I knew I'd want to add some more features and that I'd get some feedback from the community to build on top of and that came quickly.
First, there are several witnesses that operate the witness from one account while most activity occurs in another account. Since I'm pointing out the last post and vote, these accounts can easily look like false positives if there is little to no activity in the witness account itself.
Then, some accounts have set a proxy and before I would just display a blank page since it shows you have no witness votes. I'm excited to say I've put something together for both of these issues!
The New Look!

Here, I'm using a well known account to highlight both features.
Proxy
Before, if an account was using a proxy, it had no witness votes so a blank page would display.
Now, I check and display the votes of your proxy if you have one set, note that in the header like this, and then display the votes from your proxy.
@deadwitnesses for @freedom (through proxy to @pumpkin)
This gives us a way to not only evaluate our own votes, but to see how our proxy is voting.
Separate Posting Accounts
For witnesses that post from a separate account or are run by two or more accounts I'm now listing them each separately so you can see the activity for all the accounts related to the witness, so there will be multiple rows for those particular witnesses with each row clearly the second account in parenthesis.
(posting/voting as @otheraccount)
For these rows, the Last Post and Last Vote columns will reflect the @otheraccount listed.
This will give you a better perspective into the full witness account and those supporting it separately. As far as I can tell, there's nowhere else that clearly outlines the relationship between witness accounts like this, which is extremely important.
It's important for everyone to see the activity of a witness account, which may not be so obvious for witnesses posting from a separate account or even tougher to convey for those witnesses being run by multiple other accounts. I'm certainly going to continue building this out more, but with your help I'd like to become a trusted source to identify these relationships to help everyone get a complete view of our witnesses.
Accounts Identified
I feel like there are more witnesses like this to identify, so please help me find any others I might have missed. I hope this additional perspective of witness accounts and their related accounts will give the community a much better perspective when considering who to vote for.
Feedback
I always wanna hear from the community so let me know your thoughts! Is there anything you dislike or I should consider changing? What did I get right? Even more, I'm looking for new features like that I can implement to better support the community in their witness voting.
Resteem
Thanks so much to everyone for the TONS of resteems I got for my intro post! I'm obviously just a couple days old so I'd really appreciate a few resteems again to help get this tool in front of more accounts.