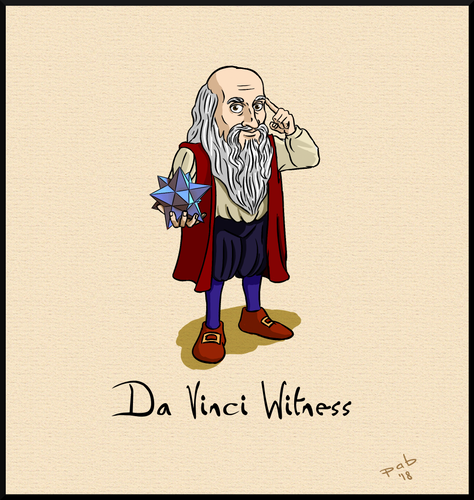 Thanks to @pab.ink for making this fantastic drawing!
This is the fourth report of the translation activity conducted in collaboration with @utopian-io (you can find the previous week HERE). The stats presented below show clearly that every week we continue to grow our activities. In particular, during the last week we almost doubled the number of translated words. This was possible because of the hard work of our teams and our LMs.
We would also like to use this occasion to thank @utopian-io for giving us the opportunity to help bringing back the translation category. As a witness they are doing a lot to foster the growth of smaller communities and we are delighted to help. Even if @davinci.witness ranks under the position #110 as a witness, we helped @utopian-io distribute a whopping $ 3,264.32 (2,530.43 + 433.89 + 300) this week. Can you imagine what we could do as a witness from a higher position? Make it happen, vote davinci as a witness Click HERE to Vote our Witness
DAVINCI TRANSLATION REPORT 4 - July 8 2018 -:- July 14 2018

WEEK 4 SUMMARY:
45 translations
Translators have received rewards for $ 2,530.43
LMs have received rewards for $ 433.89
CMs have received rewards for $ 300
43,965 words have been translated, with an average of 1000 words per post
Average score received to evaluate the translations is 66.29/100
Average translation payout is $ 57.07
Number of languages in which translations were made here are 8
Number of translators who worked are 23
43,965 words were translated this week with a unit cost of $ 0.06 per word

In this table (click to enlarge) you can find averages, medians, mode, minimum and maximum values related to this weeks.
GRAPHS
First chart show:
Number of words translated
Score
Upvote (SUM of all % distributed)
Payout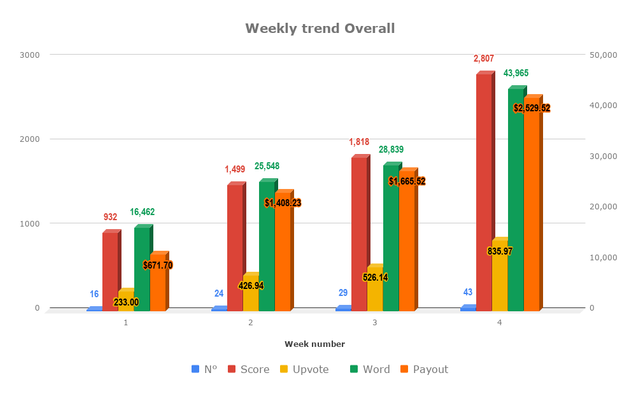 Really impressive growth, the numbers are going to be rounded, more than 2,500 S.T.U. distributed to 23 translators and almost 44 thousand words translated.
We can only be happy with the good work done so far.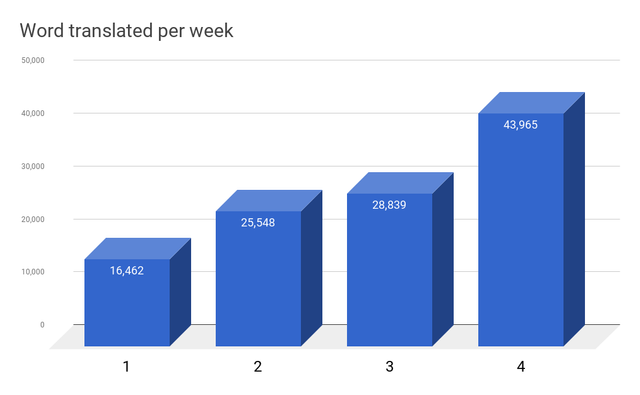 Thanks to the great work done by the translators the number of translated words is growing very rapidly, we hope to continue the growth in view of the next recruitment window.
Averages of the scores assigned to the translations by our LMs, the points vary from a minimum of 1 to a maximum of 4 for the following categories:
formatting, language and overall presentation of the post
overall value of this contribution on the open source community
total volume of the translated text
overall difficulty rate of the translated text (this value depends on the type of text to be translated)
rate the semantic accuracy of the translated text
---
Stay tuned for the next report!
The aim of this report was to provide complete transparency
about the development of this project.
---

CC0 Image - Creative Commons, thanks to @mrazura for ITASTEM logo.
CLICK HERE AND VOTE FOR DAVINCI.WITNESS
DAVINCI WITNESS TRAIL


If you are the owner of an Open Source project on Crowind platform and you want to translate it with our help and the support of @utopian-io please join our discord server and chat with us.


DAVINCI WITNESS DISCORD SERVER