Yabapmatt's Witness Update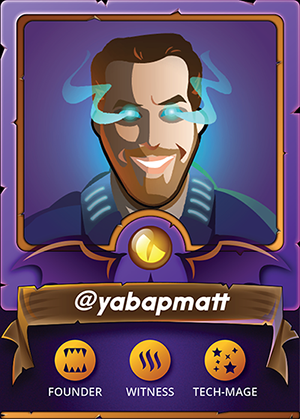 Coolest business card ever, courtesy of the amazing @nateaguila
I know it has been way too long since I've done a witness update post, so I figure it's about time I let everyone know what I've been up to around here these last few months!
---

Let's kick things off by talking about recent progress on the Steem Keychain browser extension. For those of you who don't know, Steem Keychain is a browser extension similar to Metamask, but for Steem. It allows you to interact with apps built on the Steem platform without having to enter your private keys into a website!
In addition to interacting with apps, the Steem Keychain extension also allows you to easily manage multiple accounts and perform actions such as transferring STEEM, SBD, and Steem Engine tokens, managing witness votes, managing SP delegation, and more right from the extension. In January we released the extension for the Firefox web browser, but it is also available for the Google Chrome and Brave browsers, and I believe there's a way to install Chrome extensions in Opera as well.
There is a large list of Steem-based apps and services that have already integrated with Steem Keychain, but we are also pushing really hard to get it integrated into steemit.com and we would appreciate your help and support to encourage Steemit, Inc. to follow through with that. You can read more about why it's important to integrate Keychain into steemit.com in this post: https://steemit.com/steemit/@yabapmatt/steemits-security-values--how-steem-keychain-can-help
---

In January, @aggroed and I, in partnership with @harpagon, launched the Steem Engine platform, which is a smart-contracts enabled "layer 2" platform that runs on top of the Steem blockchain.
In the initial version, Steem Engine allows anyone to create their own simple token that is run through transactions on the Steem blockchain, and about a month ago we released the decentralized exchange on Steem Engine so that all of the tokens on the platform can be traded against STEEM!
A number of projects had been building their own systems to create a token on top of Steem, which is great, but the problem is that every app and service would then have to do a separate integration for each individual token they wanted to support. That lack of standardization makes it very difficult to create an ecosystem around these tokens, which is really important for providing value and gaining adoption.
By creating a platform that anyone can use to create their tokens, it allows tools like Steem Keychain and apps like SteemPeak to support every token that's created instantly with just a single integration.
This is just the tip of the iceberg for Steem Engine though, and the really exciting stuff is yet to come. As soon as next week we (in partnership with @someguy123) will be adding pegged versions of some other major cryptos to the platform to use on the decentralized exchange, which will work just like the current STEEMP token. After that, we're planning some really exciting updates around running security token offerings (STOs) on the platform and implementing a Steem-like distribution model that the various tokens can utilize.
Our overall goal with Steem Engine is to give all of the existing projects that have been creating tokens on other platforms, forking Steem, or just giving up, a way to accomplish their goals entirely on the Steem platform and to attract new projects to build on Steem where they would have previously discounted it.
I also want to be clear that Steem Engine is NOT the same as the Smart Media Tokens (SMT) project being developed by Steemit, Inc. While it does provide similar functionality, we don't intend for it to be a competitor to SMTs but rather an additional option that is available for Steem apps to use, as well as a way to keep projects on Steem and let them get started until SMTs are available.
---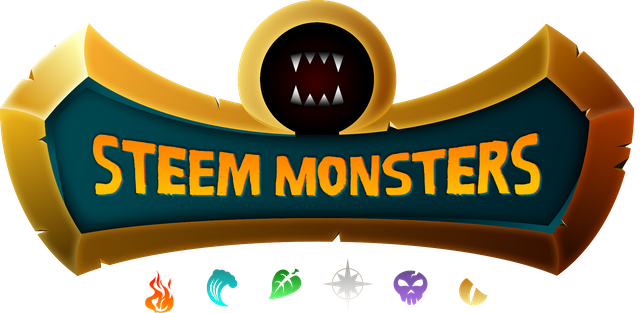 Last, but certainly not least, is Steem Monsters. Since this is a witness update post and not a Steem Monsters update, instead of focusing on all of the exciting things we have planned for the game I want to focus on our plans to grow the game and attract new players from outside of the Steem ecosystem.
@aggroed and I have been pushing really hard to promote the game to other large and active crypto/blockchain communities. It's generally been a slow and difficult process to be "accepted" by another crypto community, but we're making progress and we have some exciting opportunities in the works which have the potential to double our player base almost overnight.
Of course, every new player brought into the game is also a new Steem user, and we're excited to have the opportunity and responsibility of onboarding thousands of new people to the Steem ecosystem!
Additionally, we have been using every available opportunity to go out to meetups and blockchain conferences and promote the game and, indirectly, the Steem platform. I'll be at the Penn Blockchain Conference at the University of Pennsylvania next weekend (which should be a great event with speakers including Charlie Lee), as well as at the Philly Entrepreneur's Expo in May. In any case, at every event I've attended, one of the most common questions I get is "why did you build this on Steem?".
Sometimes the inquirer is generally curious, and other times they think I must have been dropped on my head as a child, but in either case it's a fantastic opportunity to enlighten them about the myriad benefits the Steem platform has to offer.
Steem Monsters has created nearly 2,500 new accounts to date and I talk to people on almost a daily basis who have been introduced to Steem through the game. Our goal is to grow the player base of the game ten-fold over the next 12 - 24 months which should increase that number of accounts created, and new users introduced to Steem, to 25,000 or more.
That's All Folks
So there you have it. That's what I've been doing. Now you know. I spend pretty much every free minute I have working on Steem-related projects, and I'm incredibly grateful to everyone in the Steem community who has supported me and helped make that possible!