Hey There! I am @underground and this is my Witness Thread! I started on Steemit and the Steem Blockchain on May 11th, 2017. I started a little slowly, over the course of a week or two, and once I got my bearings I converted some ETH to Steem. I saw that a bigger up-vote showed my steemian friends I valued their work. That was mostly in June and July, and I really started making some good friends. In those days a lot of the focus in my circles was in Crypto (Imagine That!) and I was just happy to see a few cents coming in on my replies and posts. It is STILL A MAGICAL THING to see any amount of cash money being earned online, in my humble opinion. Our intellectual properties and creations are worth something, so might as well convert them to Steem!
I was really feeling it around this time and after, (summer of '17) and I made several purchases of Steem in the 80¢ and 90¢ ranges. My account value was over $3000 pretty quickly, I seem to remember $3500 in the Fall of '17. I was now thinking DOLPHIN. In fact, I was thinking I could make it by Jan 1 of '18 and that is exactly what I did! I got a payout that day and hit the magic 5000 SP on New Year's Day, 2018. Little did I know I actually probably was a Dolphin for a few days prior, because the m-vests are what counts, and it was right near 4900 SP for Dolphin then. 4950 NOW. But everyone was saying "5000" because it is a nice, round figure. So that was one of my earliest lessons in "Steem Inflation". I was PLEASED to see that STEEM-Flation goes directly into OUR WALLETS, as opposed to Fiat Inflation, which is "government printing more money" for their own nefarious purposes, which devalues the existing "money". This inflation grows in the wallets of the HOLDERS, not the issuers. It also inflates in our "DELI" (my word for Delegations) which is useful to those we "lend" our Steem, and hence our Influence. I really like these arrangements, DELI, Inflation, and free transfers. IMO Steem is a GODSEND, or Gift from the Universe, w/e your inclinations might be.
Some major influences in my journey... One of the greatest Self Made Steemians I have had the pleasure of learning from is @FYRSTIKKEN. Anyone that can spend some time around the Big Viking should, he has an open discord that can be quite a thrill ride! But in his voice channels, and video lectures, he has laid out a LOT of Valuable Wisdom. He is a firm believer in the saying...
Give a man a fish, and feed him for a Day. TEACH a man to fish, and feed him for a LIFETIME.
He has given out great advice on investing, hardware, crypto coins and even just the overall basics on the value of Hard Work and Perseverance. Any time one can get a few nuggets of wisdom from Fyrst, is time well spent! His story of busting his butt to get to One Million SP is a good story, he tells of cutting expenses in all non-essentials and pouring everything into his business. He may have even mentioned eating "beans and rice" which is the same thing Dave Ramsey says to do LOL!!! GREAT ADVICE!
Another awesome person, and quite the PARTNER in my journey has been @BATTLEAXE. She really know how to work, she keeps up on the shifting needs and tricks in the blockchain. I knew she was one to listen to, she is like the Godfather of her group, we call her Mamasan ;) She sure can deliver!
PS on Axey: @ReverendRum is her new Hubz and fits right in w/o skipping a Beat! I ALSO must thank them BOTH for a great big upvote on my "pre-announcement" post, it was very generous...
---
I want to be a Witness of STEEM because I see its potential as a MAJOR FORCE in Cryptos, the specs of the blockchain far exceed ALL other proven blockchains and other "pretenders". In my promise to myself, I said I would not undertake a Witness endeavour, unless I could come in at the HIGHEST TECHNOLOGICAL LEVEL. Enter @SAPPHIC, and her 30+ year IT Career! She has the exact same vision. She is already running system specs compatible with ALL HF20 requirements, and is now running the latest version 0.19.12 which some in the Top 20 are not even upgraded to yet... She's ON TOP OF IT! She will be a Fine Teacher. It's also a great thing that I am in the western hemisphere, (USA) and Sapph is in Australia, we can eventually have 24/7 Support during waking hours for at least one of us! Not many witnesses can make that claim. It is a definite PLUS.
---
I also am a founder in the Minnowbootcamp, and my loyal co-founder @EAGLESPIRIT has been with me since before it started. She's more like my right hand, in fact. The Discord would not be NEARLY the place that it is, without her additions. I am more of a Big Picture guy and she makes it RUN. Added all our bots in the Discord and tweaks the settings. I handle the blockchain voting bots for the community, and the rolls for those. I have some other good help but the Eagle makes it go.
I am also active in Team Good (@battleaxe founder) and that is where I met @sapphic and learned of her wizardry. We got along famously and eventually an alliance was formed. We have near-identical visions of how a witness should be conducted. I would be remiss if I did not at this time mention the rest of the gang @teamgood Discord. It is an unstoppable team of women (and men) who know what they want and how to get there! I am proud to be their friend and a co-admin at the discord. They had a high enough opinion of me to just grant that level of access, I am truly honored! A few names are @swolesome, @crimsonclad (another witness) and too many more to think of at this time LOL!!! U GUYS ROCK!
---
I remember the start-up process that was completed BEFORE @sapphic, or Joni, announced her Witness... She listened to conventional wisdom and took the "usual route" of a 32 gig memory but quickly decided the 64 gig that the big-timers were running was a better match! Here are the specs...
I'm currently running the following server configuration for the witness node
Ubuntu: 16.04 LTS, (OS, Linux based)
Steem: 0.19.12 (latest version!)
Server: Intel Xeon D-1520, (processor) 4c/8t (4 core, 8 threads) - 2.2GHz /2.7GHz, (processor speed) 64GB DDR4 ECC 2133 MHz, (RAM and speed) SoftRAID 2x2TB (parallel hardrives for faster access) , 250 Mbps bandwidth. (web connection)
Future plans include within the next few months, upgrading the witness server to handle future memory requirements of a witness node. The current node will then be re-purposed to a seed node, if we are able to grow to where we can self fund future server options. We would put in place an additional fallback witness node and then finally we hope to bring a full RPC node to complete the package.
Like I said, we see Eye to Eye on going "Full Bore"! I added (notes in parenthesis) as an explanation of my understanding of these specs. I personally have a good bit of experience with installing hardwiring for networks, and I am around IT folks a good bit. Working with Joni, I feel like I can make the jump! I am hoping to bring to the table my long list of Steem Friends and Associates, to move us up the ladder to Top 100 witnesses ASAP, and from there, well, let's just say we have high aspirations... but with my future growth projections of the Steem Blockchain, I said above that Top 20 will need t be more like Top 200! These are not just personal projections, but observations and predictions from many Steem Users with more experience than just myself and close associates. I think we are HERE on this Crypto-Timeline: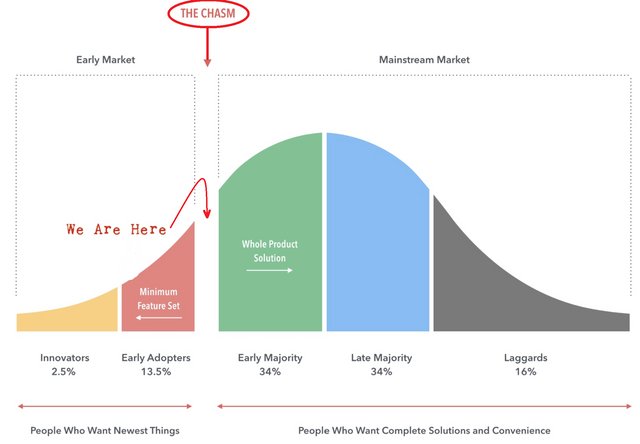 This joint venture will reduce the financial startup load on each of us, increase voter exposure and give our server 24 hour daytime monitoring as Joni is 14 hours ahead of me on the international date line! My training has already commenced.
Joni is one of the more advanced folks in the "hivemind" application, her post is here: https://steemit.com/hivemind/@sapphic/a-new-life-awaits-you-in-the-hivemind
She is already running the Hivemind App successfully, through the testnet. Here is her quote:
Well as part of my commitment to the blockchain as a witness and a stakeholder, is developing for the blockchain, as such I have been running a test Hivemind core 1.0 server for the last few days, setting it up was simple and I had it complied, built and syncing nicely into a Postgres DB, all that blockchain data in a Postgres DB that I could read and write to, that will be in sync with the blockchain.....this gives me delicious dreams.
Our unique partnership has many advantages, and we hope to work "every angle" to bring you, the Steemians of the Blockchain, the BEST POSSIBLE Witness server/team available. I am asking for you to vote for @sapphic for Witness, and I am her partner, under the same name. It was my idea to just keep the name as-is, for the time being at least. It will remain so unless we find a compelling reason to change it!
ANOTHER BIG ADVANTAGE to voting for us is that we are fully HF20 compliant NOW, and I just looked, SIX of the Top 20 Witnesses are not even running Steem version 0.19.12, these 6 all have 0.19.6 installed. Hmmm.... 🤔
Here's the website of Witness Stats: https://steemian.info/witnesses They are upgrading all the time, perhaps some have the 0.19.6 running well and the HF20 is looming, could be a minimal payback to switch now. 0.20.x will be needed for sure in a very short time, and @SAPPHIC [Witness] is ready for that too!
[final edit 9-3-18 13:00 EST]