Symbiont{s} | Public Service Announcement | Steem-Engine Is Going Down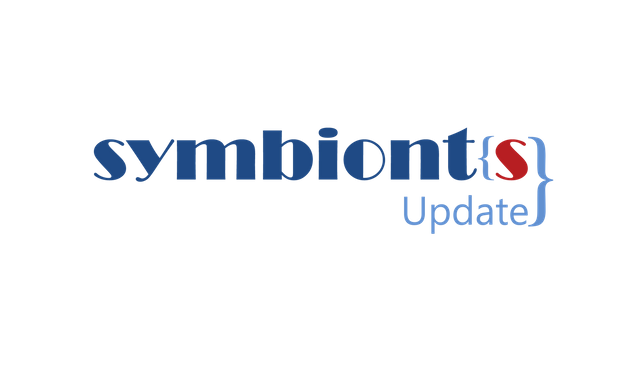 https://ecosynthesizer.com

Thriving through a Symbiotic Equilibrium
Public Service Announcement | Steem-Engine Is Going Down

Greetings!
According to @aggroed, which is one of the founders of Steem-Engine that moved to Hive, the service will no longer be available for the community.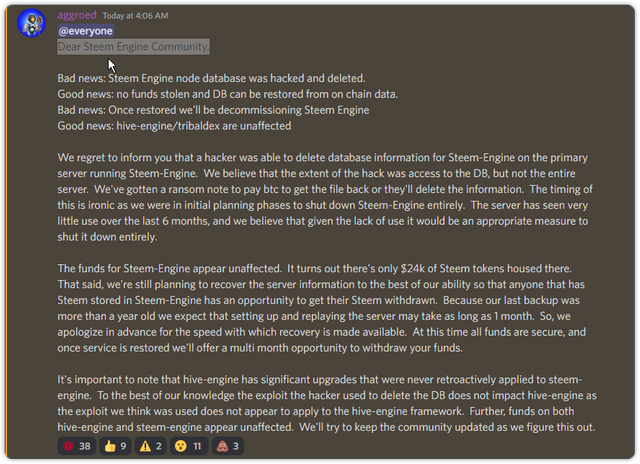 The Original Quote


Dear Steem Engine Community,
Bad news: Steem Engine node database was hacked and deleted.
Good news: no funds stolen and DB can be restored from on chain data.
Bad news: Once restored we'll be decommissioning Steem Engine.
Good news: hive-engine/tribaldex are unaffected.
We regret to inform you that a hacker was able to delete database information for Steem-Engine on the primary server running Steem-Engine. We believe that the extent of the hack was access to the DB, but not the entire server. We've gotten a ransom note to pay btc to get the file back or they'll delete the information. The timing of this is ironic as we were in initial planning phases to shut down Steem-Engine entirely. The server has seen very little use over the last 6 months, and we believe that given the lack of use it would be an appropriate measure to shut it down entirely.
The funds for Steem-Engine appear unaffected. It turns out there's only $24k of Steem tokens housed there. That said, we're still planning to recover the server information to the best of our ability so that anyone that has Steem stored in Steem-Engine has an opportunity to get their Steem withdrawn. Because our last backup was more than a year old we expect that setting up and replaying the server may take as long as 1 month. So, we apologize in advance for the speed with which recovery is made available. At this time all funds are secure, and once service is restored we'll offer a multi month opportunity to withdraw your funds.
It's important to note that hive-engine has significant upgrades that were never retroactively applied to steem-engine. To the best of our knowledge the exploit the hacker used to delete the DB does not impact hive-engine as the exploit we think was used does not appear to apply to the hive-engine framework. Further, funds on both hive-engine and steem-engine appear unaffected. We'll try to keep the community updated as we figure this out.

----
It is unclear if they neglected their responsibilities toward their users by being unprofessional and purposefully not patching their service for a long time and following basic security practice to secure their server. But the sure thing is that you need to recover your assets, especially your pegged STEEM before it is too late. If you have follow-up questions, you can directly reach the Steem Engine team on Discord or reach us directly on Discord as well.

The Symbionts Team,