The SteemGigs Witness Has Upgraded To The Latest 19.5 Version. We Have Kept Moving. You May Desire To Vote On The "steemgigs" Witness.
It did take many missed blocks but the "steemgigs" witness is back up and functional and updated to the most recent update "19.5 version" created by the steemit dev team, in their response to a bug found that affected steem's stability for a few hours. 
The reaction of the steemit devs to bring about solutions in times like this is admirable and was evident in the various witness chats and steem-related chat rooms, where they tried to keep us abreast with the matters that arose and their progress. 
In the face of some panic for community, they had maintained poise and gradually create a fix with live and ongoing feedback visible on the steem github page. (Being that steem is opensource, the code and all additions made to it a visible of the Steem's Github account)
If you are new on steemit, it is especially expected to panic in such times but steem has indeed shown capability and especially poise in tending to times like this. The community especially has been key to this effect especially those who have stayed on steemit for long and have been witness to fork-updates, empty reward pools, DDOS attacks etc
Most of the top witnesses have also followed suite in making sure they are up-to-date as is evident on steemdb.com/witnesses.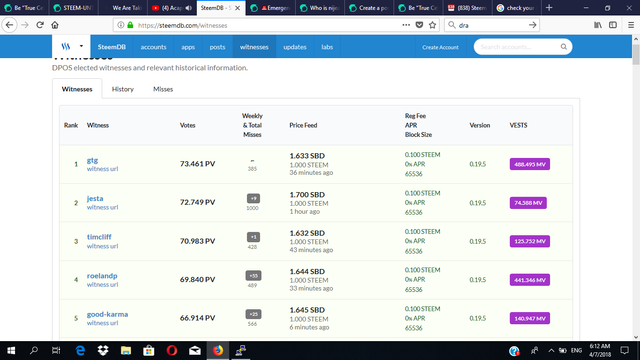 The "steemgigs" witness never stopped. Progress has gone on. Our recent project https://ulogs.org is undergoing admirable success measuring by "adoption by the community". The first 6 days since the birth of #ulog saw some 2029 posts and more than 6,000 comments. Then, we were able to count around 20,000 posts on #ulog after a month has passed. 
Efforts to keep #ulog one of the cleanest tags on steemit in terms of freshly-made authentic content daily has been pretty effective. Per day, the number of actual ULOGS increases as well as quality. We have also attained adoption from a rising number of countries. Then, the birth of the website has happened really quickly too, with the adoption of a method of programming (development) that makes use of micro-programming-tasks, we have been able to avail some 15 developers who have shown interest in the project and our Github issues have gone on to completion really fast. 
https://ulogs.org is under testing currently and we create enhancement on-the-go. 
We shape up the model of the site to constantly celebrate ULOGGERS by virtue of their "human", applying a paradigm that "mines the human". 
While users of #ulog record their daily lives as private or public figures, the art of #ulogging "mines the human". 
Per day, we want uloggers to gift to the internet, "excerpts that constitute their very legacies", thus, reshaping the internet instead of resourcing from it. #ulogging being as difficult as 1, 2, 3 curbs on plagiarism etc by giving "everyone" one reason per day to "do steeming for real".
ulogs.org also is developing a knowledge-bank to give direction to the art of ulogging. This knowledge-bank will accrue niche-based knowledge from uloggers born solely out of day-to-day experience without resourcing or recycling content from the internet at least in one steemit post a day. 
Then, we added an un(dis)talented paradigm across the website to further mine other virtues of the human like "attempts-at-out-of-the-boxness". 
Being the home of "true celebrities", we celebrate them constantly with the imaginary @teardrops Smart Media tokens currently in the form of "steem and a variety of rewards".
Ofcourse, we can never forget the development and completion of https://steemgigs.org which is bound to continue upon placing https://ulogs.org in a state of stability. To focus very seriously on the completion of https://steemgigs.org, we have decided to add untalented, surpassinggoogle.com and teardrops on https://ulogs.org instead of standalone steem-based websites like was once planned. This will drastically reduce our work quota for this year and make it more focused and allow us to go back into completing https://steemgigs.org.
Alot of learning has gone into this over the course of time and the seemingly-failing development of https://steemgigs.org and ongoing development of ulogs.org has helped us accrue valuable and tangible experience on how to deal with matters and challenges present in development and in the maintenance of steem-based websites. 
In the course of gaining this experience, we were able to build an enterprise called Macrohard that adds "swag in the world of coding". Applying all this to the upcoming completion of https://steemgigs.org will give us solid foot against all odds, as we will now be applying a similar method that we have used for ulogs.org that involves the application of micro-programming-tasks per GitHub issues. This method has given us the right kind of inspiration (both project owners and developers), helped us negotiate developmental bounties better, but most especially, has exposed us to a wider range of programming talents to work with, improving our overall speed and efficiency.
Among other things, the "steemgigs" witness has kept helping with steem-account-opening by providing the delegation for these accounts. We have also maintain a weekly talks on steem-related and communit-related matters on the steemgigs discord community, where we are approaching gradually 6000 steemians. 
Overall, the "steemgigs" witness never stopped working and stands in place to represent "everyone" (community)
Here Are The Resource That Will Help You Update Your Witness To Version 19.5:
 Quick Update:   
19,916 Steemit Posts Across    #ulog, Since Its Birth A Month Ago! Ulogs.org Is In Test Phase! We Can Now Simply Tell Friends To Join Steem To Try#ulogging!!!
Join in and become a ULOGGER today.     
You can use these graphics as comment responses while curation #ulogs as "true fans":  
graphics was created by @iwrite and picked from a post of @purpledaisy57
You can get minimalist-design ULOGGER footers like this (below) from @chaelpacia :  


I do need strength
Dedicating My Entire Steem/Steemit Journey To My Mum
If you want to support an extra witness and you support mine "steemgigs", it will be really helpful. 
To vote my witness, simply visit https://steemit.com/~witnesses and type in "steemgigs" into the first search box for witnesses or simply click Here to do it on one click! 
If you want me to make witness voting decisions on your behalf, simply visit https://steemit.com/~witnesses and type in "surpassinggoogle" in the second box for proxy.