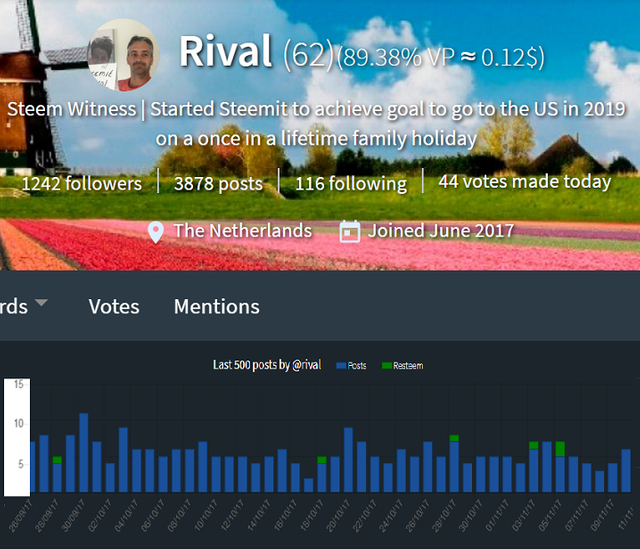 #48 - @rival
Rival is a diligent blogger, and he posts weekly witness updates that cover not only his technical situation, but also which projects he is helping with or sponsoring, and any important posts he has made that week.
Rival is a friendly Steemian, who I have had the pleasure of chatting with in the comments of my own articles. I know he was eagerly hoping I would continue to write witness reports long enough to reach his position, which has moved up from below 50 in recent weeks!
Rival keeps up an impressive posting frequency, with 35 pages on his ChainBB page. He is on day 138 of posting a music recommendation every day. He tends to post most often in the music or photography tags on Steem.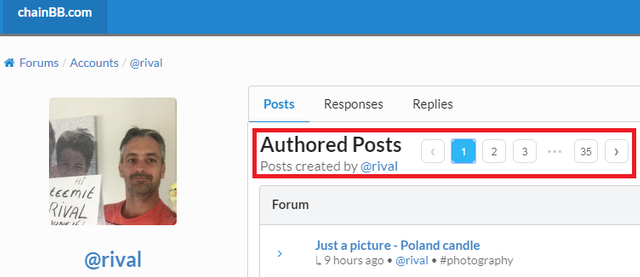 Rival has also been looking for a developer to work on merging an existing game with the Steem blockchain (with additional details TBD).
I would invite him to stop by in the comments and update us on anything he'd like us to know.
Rival holds 2,000 SP and is powering down.
Rival's Current Witness Update: https://steemit.com/witness-category/@rival/rival-weekly-witness-update-report
Rival's Original Witness Thread: https://steemit.com/witness-category/@rival/rival-new-witness-on-the-block-chasing-my-dreams
Game: https://steemit.com/steemit/@rival/looking-for-a-developer-please-read
Please see the acknowledgement post here.
If you have any additions or errata for this post, please let me know! I will see that they are voted to the top of the comments, and will make the appropriate edits (if possible).
Try SteemFollower today and get rewarded for every vote and follow!
See my explanation of SteemFollower here.

Join us at the Minnow Support Project! (click me)
We also have a Radio Station! (click me)
...and a 5000+ active user Discord Chat Server! (click me)
Almost 80% of Steemians do not vote! If you wish to make me your witness voting proxy, I will attempt to vote in Steem's best interest based on the information in my witness reports. You may set me as your proxy by clicking here and scrolling to the bottom of the Witness Voting page. Proxies are instantly revokable at any time.

Check out the Steemhouse Fiction Trail here!
Join the Steemit Poker League! (@spl)
World's Largest Cyptocurrency Freeroll Poker Site, open only to Steemians!