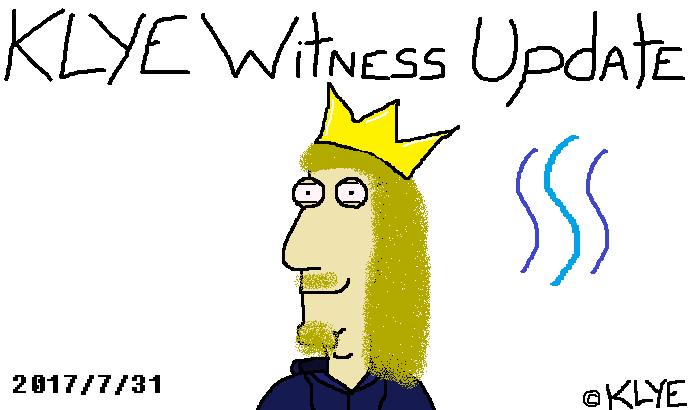 Hail to all past, present and future STEEM network users! Hope all's good.
Each week as part of my ongoing witness campaign on STEEM a post is written to keep the users of STEEM up to date on my current ongoing services development. Please accept my apology for being so silent lately and being late on this witness update. In the middle of moving to a new place and was not feeling very well over the past few days which ended up in me bedridden for the greater part of 48 hours. Feeling a bit better today but still have to get stuff moved over from the old house sometime yet tonight or tommorow. Thankfully my old landlord is a really cool understanding dude and isn't crawling up my arse to get my stuff out!
This Week as STEEM Witnes
As some may have noticed this week wasn't spectacular on my part for posting! However that doesn't mean ole @KLYE spent the week slothing about with his thumb in his derrière! A few things showed up in the mail earlier this week that will hopefully help expedite development some! I'll have a post up sometime in the near future showcasing what I'm referring to.. Perhaps if I'm lucky I can even get the damn thing to run stable enough to show you all!
STEEM.GLOBAL Faucet Re-opening Soon!
After much thought on how one could re-instate the faucet located on STEEM.GLOBAL it donned on me that one of the simplest ways to verify against multi accounting was to verify the person using the account. Borrowing ideas from the early standard on the introducemyself tag posts when STEEM.GLOBAL faucet opens back up this week users will have to post a verification picture with their username, the date verification was requested and their face. Not only does this allow for manual verification of person using account but also may help in account recovery down the road if the user somehow loses access to their account.
Project "STEEMPi3" R&D Looks into Low Cost STEEM Hardware
While many users here on STEEM are fortunate enough to be able to afford laptops or computers to access Steemit, Busy.org or any of the other STEEM BLockchain browsers this simply isn't the case for everyone. Given the advances in electronics and with them the drastic drops in hardware costs it's now feasible to have a fully functioned computer capable of web browsing, email, wifi and other basic computing necessities for less than a few hundred dollars (or STEEM).
Project STEEMPi3 is a passive side project of mine which will hopefully see a Raspberry Pi 3 Model B into a fully functional STEEM orientated computer preloaded with scripts and tools to make the most out of it's resources. If the prototype proves to be something feasible they may be offered for sale in the future, only time will tell really. Not putting a bunch of time or effort into this one until I get some other things finished first.
Tippy Alpha v0.0.13 - Still Needs Work
What you figure should be easy seldom ever is.. This is what I've learnt over the past while in my coding endevours. On the paper of ones mind it's quite easy to design a program and then get it's core functionality working in code.. But once you start really getting into it tons of features and security mechanisms that were previously undreamed have to be implemented and tested.
While Tippy is functional right now in it's current state it's not ready for production mode yet. Better error handling, a revisit to the queue system and a redesign of the stats system are the 3 top priorities on this project currently to get it beyond alpha and going.
---