An Appeal to Holders of BitShares
It appears that my BitShares witness, verbaltech2 was voted out yesterday. This is an appeal to those of you with a stake in BitShares to please cast your vote for this witness and reinstate it as a block producer.
---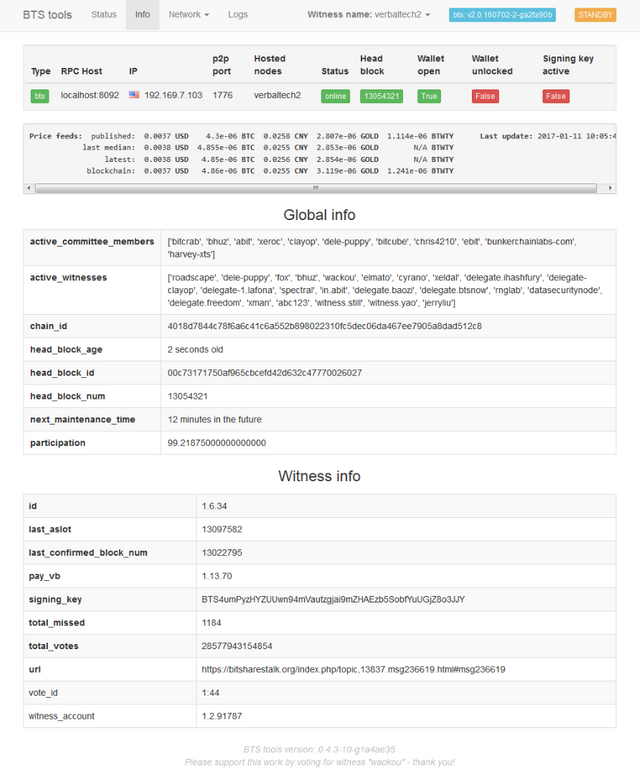 I have been a BitShares witness since before graphene existed until yesterday. When graphene was launched I worked with witness wackou, writing a deployment shell script to facilitate setting up new nodes. I also added 3 seed nodes which can also be switched in to serve as an active witness in the event the primary witness node fails.
I was unaware of the events contributing to my slide from 3rd ranking of 27 witnesses a month or 2 ago to being voted out on Jan 11th. I am currently ranked 26 and 3rd in line to become active as the votes stand right now, behind xn-delegate with 314M votes and spartaco with 298M votes. Spartaco is also a valued member of the BitShares community and provides an interface between the BitShares blockchain and telegram which notifies witnesses of missed blocks and other useful info. These changes do not appear to have the best interests of the BitShares ecosystem in mind.
These changes in the BitShares ecosystem are disturbing. The number of witnesses has also been reduced to 23 from 27. Several witnesses such as myself have been replaced. Do the replacements even provide price feeds? I recently responded to a question on the BitSharesDEX Telegram channel about voting in witnesses, saying we should vet witnesses to seeing if they can actually do the job by observing them as a standby witness rather than blindly voting them in. The suggested witness was unknown to the BitShares community members I spoke with.
This demonstrates how quickly a DPoS blockchain can change. I don't know if my campaigning here will amass enough votes to reinstate the verbaltech2 witness but I appeal to those of you have clout in the BitShares ecosystem to consider helping me get reactivated my casting your vote for the verbaltech2 witness.
Those of you who are familiar with me know my reputation and abilities. For those who don't and wish to I am Thomas Freedman, a.k.a. Thom on the bitsharestalk.org forum, and Thom or Thomas on mumble. I am known as full-steem-ahead here on Steemit, and have been writing about the history of BitShares here. I have been active on the bitsharestalk forum since September of 2014 with over 1200 posts. If you wish to research my work or my principles that is the best place to mine your data.
Also note that I am 1 of only 3 witnesses that are providing price feeds for the Bit Twenty index fund (assetID: BTWTY). Now that asset has only 2 witnesses providing feed data, as only active witnesses are allowed to publish price feeds.
Thank you for your time and attention.