[ECON 101 For Witness] Welfare Analysis on Discount Rate
Introduction
This series is inspired by a discussion on price feed discount rates with other witnesses. I will provide basic microeconomic concepts to understand how witness parameters have impacts on price, quantity, and welfare of each agents. In this first post, I will explain the effects of price feed discount on SBD buyers, sellers, and the network(that is, the whole STEEM stakeholders).
1.Basic Supply-demand Graph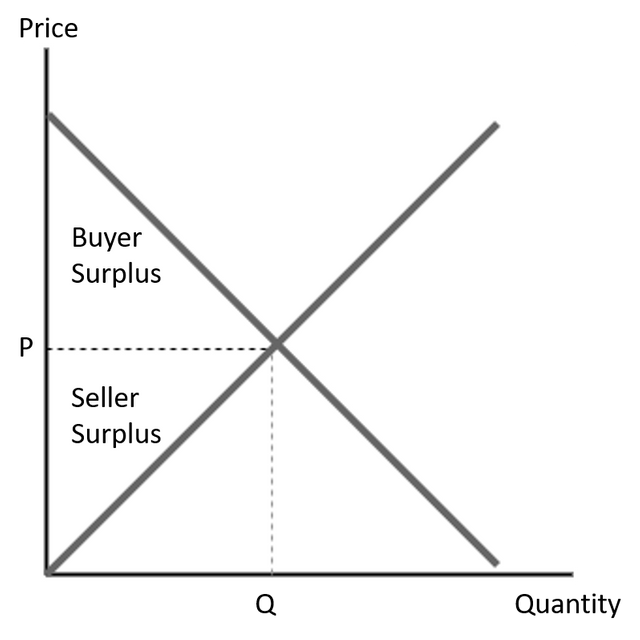 This graph shows supply and demand curve of sellers and buyers, and equilibrium market point P and Q. Given market price P, the upper triangle represents buyer's surplus, that is the sum of difference between williness to pay and the market price. Similarily, the bottom means seller's surplus, the sum of difference between willingess to ask and the market price.
2.Discount Increases SBD Price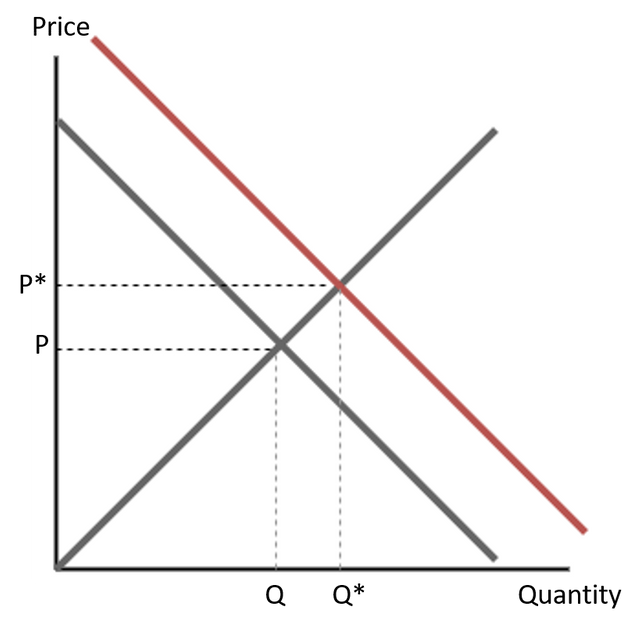 If SBD market price of P is below $1.00, witnesses can put discount on feed. This means that STEEM price is discounted or SBD has premium. Given x% feed discount, when SBD to STEEM conversion is filled, the network subsidizes x% more STEEM to a converter. It moves demand curve upwards, as presented in red line, and set a new market equilibrium wit higher price and quantity (P* and Q). With the feed discount, Steem system expects P will be close to $1.00.
3.Welfare Analysis of Discount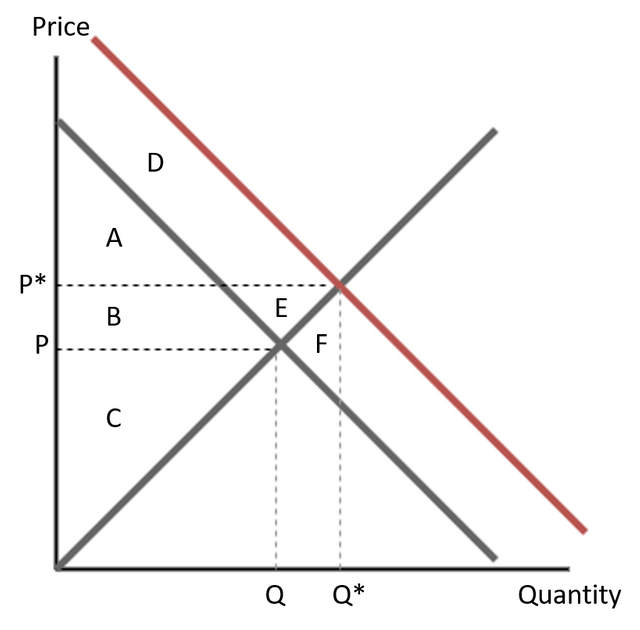 This part is very important and somewhat difficult. So let's start with simple things first. In the free market without any feed discount, given the market price P and quantity Q, the buyer's surplus is A+B and seller's surplus is C. Then what will happen witn new price P* and quantity Q*?
We said buyer's surplus is an upper triangle above the market price. So in this case, A+D. With same logic, we can easily find seller's surplus, B+C+E. In total, buyer and seller's surplus has changed from A+B+C to A+B+C+D+E. So we have Additional D+E now! But where does this money come from?
To answer this question, we need to think about who discounts. Witnesses? They just set the discount level and they don't pay anything from their pocket. It is the network(= stakeholders). The network compensate the difference between red demand line and black demand line, and in sum the amount is D+E+F. (FYI, similar graph is here).
The following table briefly summarizes welfare changes after introducing price feed discount.
| | Before | After | Change |
| --- | --- | --- | --- |
| Buyer | A+B | A+D | -B+D |
| Seller | C | B+C+E | +B+E |
| Stakeholder | 0 | -D-E-F | -D-E-F |
| Total | A+B+C | A+B+C-F | -F |
We found that while buyer and seller get better off, the stakeholders become worse off. Additioanlly, in total, we lose F, which is called the deadweight loss.
4.Greater Discount Leads Greater Loss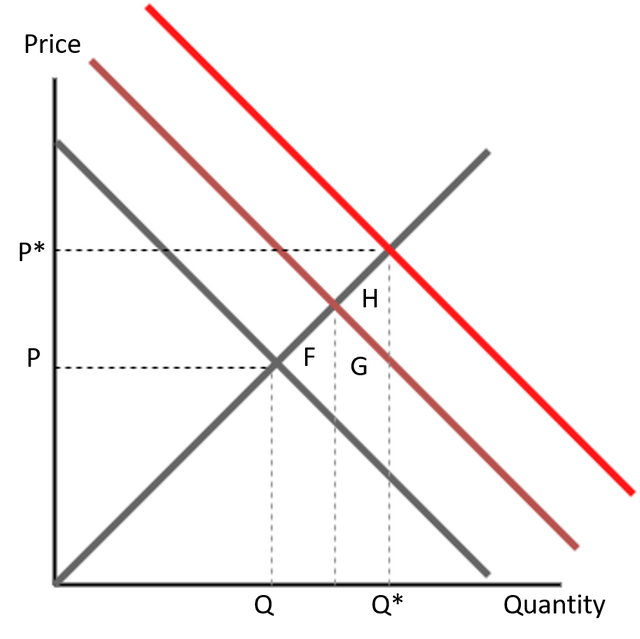 Suppose we introduce greater feed discount to facilitate SBD conversion. We can draw a new brighter red line that is higher than the old red line. We can easily find that the deadweight loss has increased from F to F+G+H. Also it is obvious that the stakeholders pay more, due to both a higher discount level and a greater quantity.
Conclusion
Since a higher feed discount increases burden on the stakeholders, witnesses should prudently determine the discount level. In the dynamic market it is hard to find the pinpoint accurately, but they always keep in mind that carelessly high discount will harm the stakeholders (but SBD market participants will love it). In the next post, I will explain how interest rates influence the market and each agent. If I can, I will cover the third element that can justify some deadweight loss, externalities.