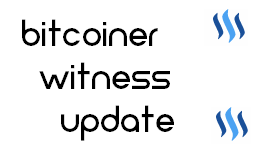 ---
My fellow Steemians,
Welcome to my witness update. This is something I do as some other witnesses do too. Hopefully, this will keep my followers and the community up-to-date with what I've been up to. Ultimately, I hope I may gain your witness approval vote.
---

---
Updated various nodes to the latest HF 18 release, now at 0.18.2, first from 0.18.0, then 0.18.1. This hardfork brings many changes like the 7 day payout, removal of pow mining, removal of comment nesting limits, etc. On the daemon provisioning side, there is increased verbosity like showing the witness that produced each block plus their latency. This is very neat!

As there is no more pow mining, I had to remove the mining queue from my Witness Schedule Visualization Tool. Also, because of this, there are now the top 20, instead of 19, witnesses plus a scheduled backup witness every round. This is also reflected in my tool.
---


---
We've received a new release on steemit.com! You'll see the new banner image and table of contents in the Welcome page, the animation of the vote buttons, and other things. My pull request for the changes to that page were merged in on February 23rd as you can see at Add Banner and TOC to the "Welcome to Steemit" Page #1130 so it's great we see it live now! For more detail on the release, see GitHub Report - Condenser (Steemit.com) Release 0.1.170323.
Congratulations to Steem's 1 year birthday and the new marketing specialist in joining!
Thanks to everyone who have voted for me as witness. I am currently at rank 29! Thanks to all who support me and like what I do. It is all very much appreciated!
---



---
Various Links
bitcoiner.me - Full Node Details, Live Node Test, Witness Posts, Worldwide Connections Map, Witness Schedule Live Visualization
---




---
Like my work?