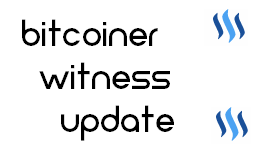 ---
My fellow Steemians,
Welcome to my first witness update. I will do these weekly on Fridays as some other witnesses do, so I may keep my followers and the community up-to-date. Hopefully, this will show that I strive to be an active and reliable witness and that I may hopefully gain your witness approval vote.
I will use @jesta's template for these witness updates as it is a straightforward and clear structure.
1. Accomplished the week of 2016-09-23
Finished setting up powerful infrastructure in preparation to become a witness.
This included a dedicated witness node on release 0.14.2 and a separate seed node also on 0.14.2.
Set up a price feed.
Configured the seed node to function as a full API node!
Set up my domain bitcoiner.me with relevant links, connection details to the seed node (seed.bitcoiner.me:2001), and a live test to the API node (wss://seed.bitcoiner.me).
Announced my intent to be a witness in my witness thread. There's good information in there. Please do check it out if you haven't seen it already and consider me.
Helped out other witnesses on Steemit Chat with technical problems.
Followed up with my second giveaway, resulted in giving 62 Steem Power to 62 Steemians.
2. Upcoming projects/goals
Start getting up to speed on the Steemit and Steem codebases. (I had set up my GitHub for this, handle is thebitcoiner there, so I may contribute via pull requests in the near future.)
I plan to target my focus on the Steemit web frontend first as this is what the average user will see and work with primarily. I will explore user avatars and profiles as this will make the social aspect much better.
Set up a test web server with any code changes I make. I'm thinking this could just be a subdomain on bitcoiner.me, such as test.bitcoiner.me. This will make it easier to demo new things to everyone, rather than asking a normal person to checkout a specific commit or branch on their cloned local repo and hosting it for themselves in their sandbox. :)
Finish up my responses to @thecryptofiend's Witness Questionnaire, and post them in a day or two.
Continue being active on Steemit and Steemit Chat.
3. Thoughts from this week
We've got the resteem feature! And the inline pop-up when opening posts!
The resteem feature is great for old posts and posts from authors you don't follow directly. I've discovered great resteemed posts that I would have missed had it not been resteemed.
It is true that my feed is a lot longer now, but I don't mind. As others have said, perhaps a toggle of some sort or moving all resteemed posts to another tab would help. Such a change would also be ideal to see in a Steemian's blog.
Navigation has really gotten better with the introduction of the inline pop-up. I can just go down through my feed or a particular tag/category or author's blog and not lose my place. Before, it would be a lot of new tabs or hitting the back button constantly.
Yes, there have been a lot of drama going around. But, let's stay positive, shall we?
I was really glad that @arcange and his work on STEEMSQL finally got recognized and much deserved high payouts. Initially, it wasn't the case. STEEMSQL is definitely an important public service.
Finally, I've really gone down the rabbit hole now. My witness campaign has been going great so far, with 24 witness votes currently. Thank you to all who trust me and like what I do. Thank you to my followers for believing in me. I will continue to do everything I believe will be beneficial to the long-term success of Steemit.
---
Support!
To vote for my witness, go to the following, scrolling to the bottom, entering bitcoiner, and clicking VOTE:
https://steemit.com/~witnesses

NOTE: Upvoting this post is not the same as voting me as witness, but I will still appreciate it!
Resteem too, if you would.
Thank you for your support!