ATS-Witness Update: January 2018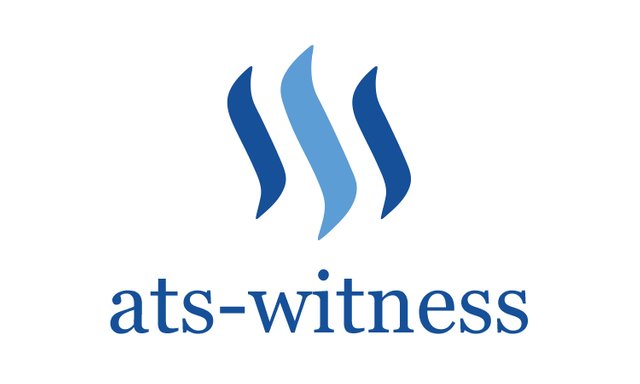 This is my first monthly witness update since launching in late November.
As the holidays have passed and we welcome the new year, it's time for an update on the @ats-witness happenings!
These witness updates will likely come once per month, with any time-sensitive and/or @ats-witness project-related updates falling between them, as necessary.
---
News and Announcements
If you read my original post from the launch of this witness account, or if you're familiar with the contests that are run from my main account, @ats-david, then you already know that I've been trying to establish a fun sports community for the Steem blockchain for over a year and a half. In my first post, I mentioned that I planned on creating a website for a variety of sports-related content that would be tied directly to the Steem community and reward users with the Steem cryptocurrencies accordingly. I have an announcement about that and an "official" affiliation/partnership with another Steem community.
I have been a proud supporter of the Steem Poker League – @spl – for many months now. If you're not familiar with the @spl, it's a community of poker players at all levels who can play daily freerolls and other tournaments for Steem Dollars with verified members from the Steem community. The @spl has seen impressive growth (increasing its daily users by over 600% in recent weeks) and has given away thousands of Steem Dollars in prizes since inception. It has a good management and moderation team and you can join their Discord community and sign up on the website at Lucksacks.com.
So with that being said...
I would like to announce that @ats-witness (and @ats-david) will be working with Lucksacks.com and the Steem Poker League to bring you sports content and contests!
This is an exciting time to merge the growing sports and games communities into one platform, especially considering that there is quite a bit of overlap between the two. Poker players and sports enthusiasts will soon be able to move seamlessly between online card games and sports contests...and be rewarded in the Steem currencies for both! If you enjoy sports and card games, give Lucksacks.com a try and join the chat on Discord.
Further details about funding, development, and timelines are being worked out and we will keep the community updated on any progress.
Witness Info
Since officially launching @ats-witness on November 21, 2017, zero blocks have been missed with no server downtime and it continues to run on a 32GB RAM server. This server will likely be upgraded to 64GB of RAM soon, as the platform continues to grow and transactions per day continue to rise.
From the rewards for the initial @ats-witness post, I sold 20.001 Steem Dollars on the internal marketplace at the then current market prices for 131.859 STEEM. I powered up 101.859 STEEM into this account. The remaining 30 STEEM are being held in reserve for future allocation. I transferred 20 Steem Dollars to my @ats-david account, allocated for recurring server costs.
This week, I adjusted my Steem account creation fee to 0.100 STEEM to reflect the increased prices of STEEM over the past three weeks and I will continue monitoring fees and STEEM prices.
While a few other witnesses have been increasing block sizes to try to deal with bandwidth issues for some users, I have made no changes to block sizes and do not have plans to make any in the near future.
Due to the spike in the Steem Dollar price that began the day after launching this witness account and the sustained support it has received well above the target peg, I increased my price feed bias to 400% a couple of weeks ago and reduced the APR on Steem Dollars to 0%. These parameters will remain as they are until the Steem Dollar prices fall below $4.00. I will then reevaluate the markets and may adjust the parameters accordingly.
A quick note on the Steem Dollar peg
I will likely explain this in more detail in a post from my main account later this week, but I want to be clear about pegging and the reason for adjusting my witness parameters.
The Steem blockchain was designed as a two-token system. We have an investment token that extends privileges to stakeholders in the Steem blockchain (STEEM) and we have a debt token that was intended for use in commerce (Steem Dollar) that does not extend any privileges to holders, other than redemption for STEEM. Witnesses are essentially the managers of these two tokens and their relationship to each other. Witnesses are responsible for publishing price feeds and setting parameters that maintain the proper relationship between the investment token and the debt token.
The intent of the Steem Dollar peg is to provide a crypto token with very low volatility to those who wish to use it for commerce. If we are intentionally ignoring the volatility or otherwise doing nothing to attempt to maintain the peg, then there's no point in having a debt token in the first place. There is no purpose for two volatile tokens on the same blockchain – one of them representing a debt on the other.
Other than maintaining a functioning witness node on a reliable server, witnesses literally have only one other job: Publishing price feeds and setting the related parameters.
As a witness, it's my responsibility to monitor prices and to evaluate market conditions, then adjust my witness parameters to reflect those conditions. If I'm not doing that, then I'm not being a "good" or "responsible" witness. Of course, not adjusting parameters in a given time frame is always an option, depending on the length of your outlook regarding prices and market sentiment.
Sadly, most witnesses don't bother with setting price parameters at all. Some of them aren't even sure what the parameters are or what their effects are. There are a handful of witnesses in the top-50 that aren't even publishing price feeds and haven't been publishing them for up to 9.5 months, yet are still producing blocks and earning rewards. I do not intend to be one of these witnesses and I will continue to set my parameters to reflect my intention of maintaining the Steem Dollar peg, until or unless blockchain protocols have been changed to reflect a desire to no longer want or need a debt token.
---
If you haven't already, please consider approving @ats-witness.
As I'm currently outside of the top-50 on the witness list, the Steemit.com interface does not display my witness name on the voting list (and this is poor practice, in my opinion). So if you'd like to vote, you'll need to enter "ats-witness" manually into the "VOTE" field here: Vote for Witnesses.

---
Thank you to everyone supporting me! Stay tuned for future updates and announcements!
Vote for

Block-change you can believe in!