Wildflower series ~ wild garlic
These strange little flowers caught my eye as they were growing along the dry watercourse along the hill. At first, the seedpods were most noticeable as in spring, this plant has made flowers and seeds before it has made leaves and there are many little seed pods on stalks sticking out of the ground and if you look really closely, the tiny orange flowers become noticeable. Tulbaghia acutiloba is one of a number of plants in the Alliacae family that smell strongly of garlic and are called Wild Garlic.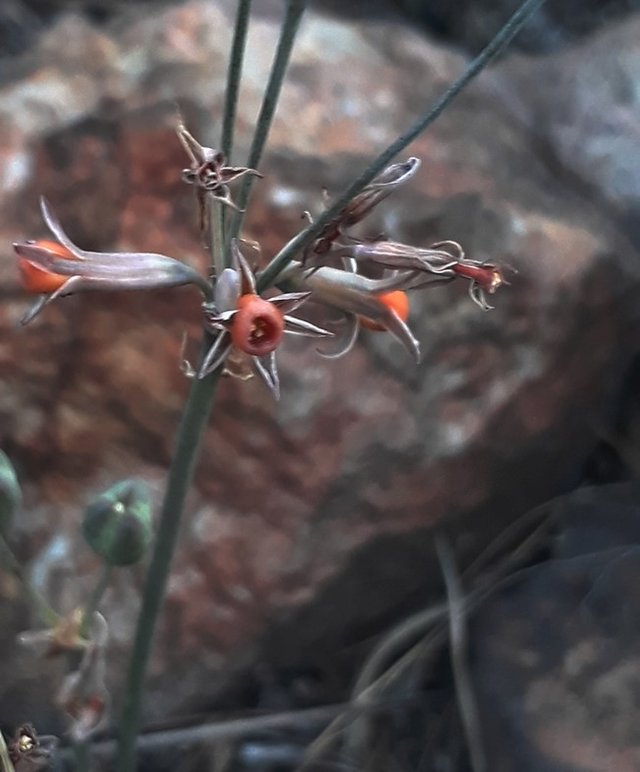 The wild garlic family is used medicinally the same way that ordinary garlic is and has the same antiseptic properties. This particular species of wild garlic is mainly used as a poultice to heal wounds. It can also be cooked and eaten and although it smells and tastes like garlic, it doesn't cause 'garlic breath'. It doesn't form cloves the way garlic does but has a swollen rootstock.
References: SL Lyantagaye: Ethnopharmacological and Phytochemical Review of Allium Species (sweet Garlic) and Tulbaghia Species (Wild Garlic) from Southern Africa, Tanz. J. Sci. Vol. 37 2011