Happy to be a member of steemcentrewiki. Come and join us and earn steem for contributing. or help us by donating
Over the past few weeks ive been contributing and editing on steemcentrewiki https://www.steem.center/ and have earned 71.679 steem so far.
Steemcentrewiki is run by @someguy123 and is a wiki site to learn about steem, steemit and all things related.
If you would like to get involved and contribute then check out this post for instructions....
https://steemit.com/introduceyourself/@steemcenterwiki/introduction-rewarding-steem-center-wiki-editors-with-steem-too
If you like the idea of steemcentrewiki please consider sending a donation of steem or sbd (no matter how small) to @steemcenterwiki. Donations will be distributed between all contributors and those involved and will keep the project moving forward.
here are some of my contributions....
https://www.steem.center/index.php?title=How_to_use_STEEM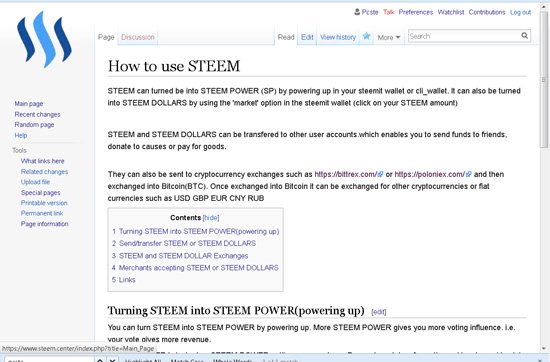 https://www.steem.center/index.php?title=Steem_Exchanges
https://www.steem.center/index.php?title=Steemfest
https://www.steem.center/index.php?title=Steemian
Please consider voting for me on the witness page. I would like to just cover my witness server costs atm. your votes will help me move up the ladder to a position wher my cost can be covered. in return i promise to be a good steemian and contribute to the community.
to vote for me go to : https://steemit.com/~witnesses scroll down the page and enter pcste into the box (dont use @sign) then click vote