Tonight is my first official day at work in over a year. It's a bit strange on this side of the bar!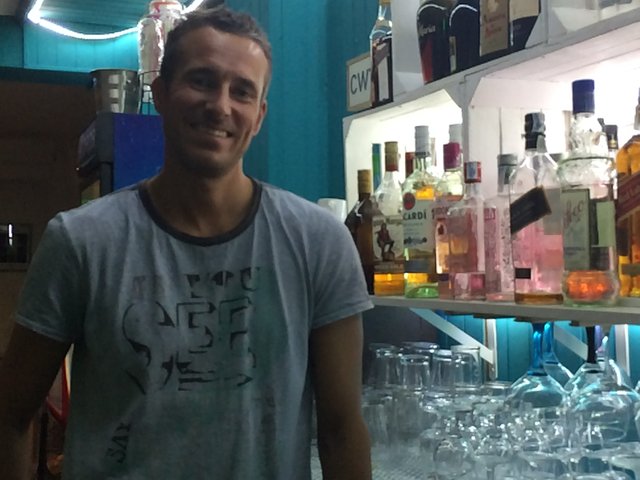 With the downturn in crypto, which could well continue further, I can no longer fund myself via Steem. When I quit my job at the United Nations at the end of August last year, I never fully believed I wouldn't need to earn fiat again - it was good while it lasted though.
Family and friends thought I was crazy and lazy, but I've put a lot of hours into our blockchain and so I don't agree with the 2nd accusation at all. And really, it's never that hard to find some sort of work, if you are willing to travel and get your hands dirty.
I'm writing this one on the phone at the bar, business is steady and the boss is fairly laid back. It's her first year running 'The Cwtch', which is Welsh for 'hug'. I can see the idea behind the name, it's just that neither the Spanish, German, or English, have any idea what it means. And seriously, a word with no vowels? Pretty sure the only one I've written so far today.
The bar is fairly quite this evening, and so I've been able to write around pouring drinks and other duties. I've pulled a few pints, opened a couple of bottles of corona, and poured a blood orange vodka. In the UK, spirits are measured, 25ml for a single, and 50ml for a double. In Spain, no such laws seem to be present and you just pour over the ice until it looks like a fair amount. I'm not entirely ok with this and would prefer not to have to judge how much is in the glass, but it does work in favour of the customer. I would guess that the servings are closer to a triple - better to air on the side of generous 😊
What else do you have to do as bar staff? Stock the fridge, stick the glasses into the dishwasher, and chat to the customers. Nothing too taxing, except for the hours. The place will likely close around 3 am tonight, and even later if there are people who want a lock-in. After hours drinking isn't allowed, and so the boss has bought some black curtains to hide everyone inside. The fine is likely to be thousands and so I hope they do the job, for her sake.
Hopefully I'll still have time to Steem on the laptop, I can't make pies for everyone here. Also, it takes flipping ages to write on the phone, I don't imagine this blog is half as long as it feels.
Right, I'd best pretend to look busy. I'm ready for bed really but will soldier on. I wonder if I'll get a free drink at closing time?
Have a good evening all
Barman Asher