回收代理通知 Delegation withdrawal notice
大家好鸭。又是我微印小能手为大家发帖报告一下现况。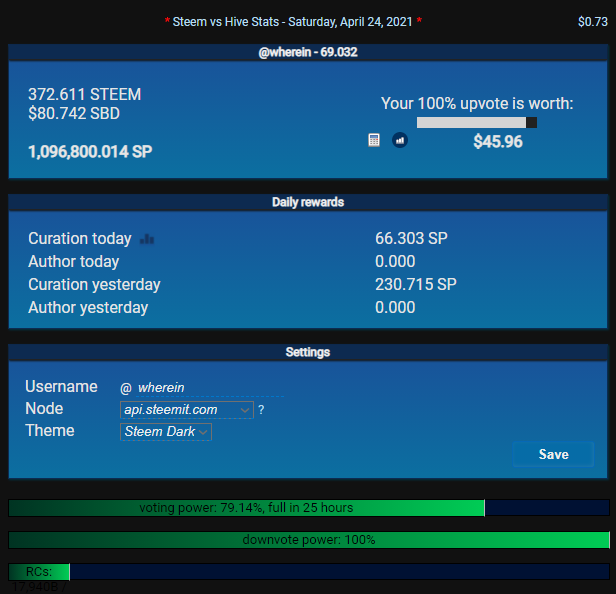 由于最近用户增加,所以我的点赞能量杯严重撸损。昨天一度掉到59%。眼看再这样撸下去,大家都没有好处,所以我调整了一哈点赞力度,以便在短时间内恢复给大家的福利。
今天看到能量已经稍微恢复,大家又可以继续享受微印会员的特权啦,继续领点赞。
至于代理那一块,小能手很伤心。本来代理给新人用来发帖点赞,交流沟通的,很多用户收了帖子收益,第一时间代理出去,也不顾虑自己发帖的资源。
小能手跟大人们商量了以后,决定将部份已经能独当一面的老新人代理抽回。另外一部份,是已经注册超过一个月,但是没有动静的用户,我们也会把代理抽回。一方面鼓励大家对社区负责任,保留一些点赞力给社区和自己发帖使用,另一方面回收的代理能量可以继续供应给新人。
---
To my fellow users,
In view of the current expansion of our communities in #wherein-id and #wherein-esp, my voting power has been drained drastically. Therefore, I have adjusted my voting mechanism. If you have post from a day ago, I will try to revisit soonest possible.
According to my record, my voting power has been drained below 60% yesterday, and therefore our committee decided to take a short rest, and today we saw the voting power has been restored to close to 80%. Therefore, we have restarted our voting again for the benefit for all.
Meanwhile, we are in the midst of clearing all the previous delegation for new users who registered via WhereIn App, as we noticed some of these users has been abusing our delegation. Instead of using their given SP from their post reward for future posting, they delegate for profit. I find it very disappointing and decided to do a house cleaning.
By removing delegation does not mean we do not care about the community. We do this for the benefit of all, for the growth of the community. We want user to make use of their SP wisely, rather than using all of them for profit whilst hogging on our delegations for new users. All collected SP will be use for future development and delegation for new registered users via WhereIn App(currently only available in China, but we will be looking forward to expand to other countries as well).
Once again, thank you for your support thus far and we are still looking forward on your contribution to our content creation activities.