So, here's the thing...
I printed this quote about two years ago on a piece of paper to keep me reminded of this, because I found myself consumed with anger/envy towards some people for various reasons.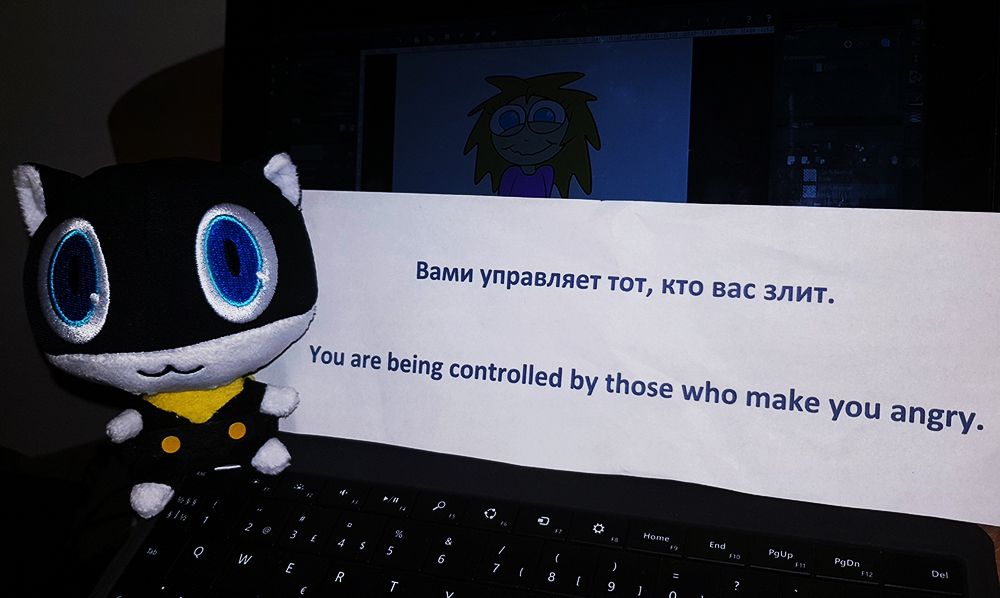 The first line is in Russian, and in English below. The kitty cat on the left is my buddy Mojo (yes, I named him Mojo). He helps me stay creative, cute and fluffy (obviously,lol)
I am being very honest here, thus I want to remind you that my purpose is not to show off or nag about life, it is all about sharing my experience with you and hopefully you can make some use of it.
So, what happened was that I actually was well aware of the fact that being angry at someone (for whatever reason) was not healthy for me, it felt wrong and exhausting, not to mention that I was unhappy with myself in that state - so consumed by negativity - yet I didn't know how to work it out on my own.
I was asking myself questions: why do I care that much, why does it annoy me? And even though people say talking to yourself helps, in my case it didn't help much (I'm the most unreasonable person when it comes to logic sometimes,lol)…
And then I saw this quote. It was so easy for me to change my focus I couldn't believe it!
I realized that I could be above that miserable "state of mind" and instead of focusing on what annoys me in others, I should focus on myself and what I can do to make my life better/happier/you-name-it.
The idea that I was being controlled by those who made me angry was unbearable and made it so easy to let go of my anger, because I simply did not want to do that to myself.
My desire to be free from being controlled by others was/is much stronger. (-Me) :)
My point is,
if you ever catch yourself getting consumed by anger or envy, or frustration etc. remind yourself of this quote. Of course, I can't guarantee anything, but it works for me, so I think it's worth a try.
We all are human beings and we all have our dark sides, so sometimes we'd give into it, though I know from my own experience, that it has never been productive or useful for me in any way.
I hope this was helpful.
N.B.
I do not advise anger suppression. In this post I talk about letting go and choosing to focus on things in your life that actually matter (triggered by the above mentioned quote). Remember, anger can be redirected into something positive like a workout or creative process in whatever you do.