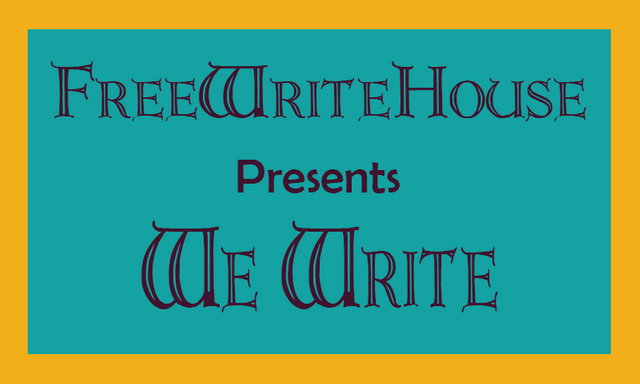 @Zeldacroft here!
Last Week's Winner
Many thanks to our partner teams from last week: @tristancarax and @iamraincrystal, @hlezama and @felixgarciap, and @kaelci and @ntowl! Your stories were a great start to the revival of the partner contest. You can find this week's prompt further down, but first our random winners are...
Congratulations @kaelci and @ntowl!!! @kaelci Your SBI will be sent shortly! Because @ntowl is a sponsor, she's donated her SBI to the @freewritehouse!
The Prize: 5 SBI per Winner, Sponsored by @ntowl and @owasco
100% Upvotes from the FreeWrite House for All Entries

What is a We-Write?
If this is your first time coming across a WE-Write post, have no fear! It's all quite simple.
Every Monday we'll give you the beginning of a story. Use that beginning and keep writing. Most people do the 5-minute freewrite method, but a little longer is okay, too.
Then, publish it as a post with a link to this post AND drop a link to your post in the comments below this one. To be eligible to win you must comment on this post with a link to your entry.
Or, you may publish your story as a comment to this post.
Please tag me, @zeldacroft, and @freewritehouse in the beginning of your posts, and add a link back to the contest. Also, please make it clear which part is the prompt and what is your ending. Thank you!

How Do You Win?
Each week two winners will be chosen randomly from the entries. The deadline for entering is Sunday night at 9:00pm EDT, aka the same timezone as Boston, USA.
The announcement will be made the following day in the post for the next week's prompt! If you're a winner, @ntowl or @owasco will send you your 5 SBI then. 😊

This Week's Prompt
by @zeldacroft
"A first sentence is all it takes to get the story going. Just start writing and see where it goes," suggested Mrs. Mowry as she handed out the composition notebooks. Some of her students eagerly grasped them, while others reluctantly dropped it on their desk. With a shuffle they each pulled out their pencil cases, although Charlie already had his half-chewed pencil in hand.
The classroom was especially cheerfully decorated, from the colored pin boards hanging on the walls to the beanbags in the reading corner. Even the chairs the children sat on were varying shades of blue. Some of the students were shifting in them, mostly out of anxiety or excitement.
"Mrs. Mowry, do we need to write in pencil?" asked one of the younger girls, Alicia. Her utensils of choice were falling out of their case in a myriad of colors.
"So long as I can read it you can use whatever you want." The teacher smiled as the girl excitedly picked up a bright blue pen, and then a green one. "But I do recommend one color at a time."
---
So what happens next is up to you! I'm really looking forward to reading your continuations. 😊
As always, any resteems and upvotes will be eternally appreciated (but aren't necessary for the contest or anything). Let's spread the word and get writing!

Update on We-Writes
Last week was a fun venture back to partner writes! We're going back to our usual format this week, but I think the partner contest will be monthly. It was really neat to see people write beginnings and endings, and to grow the Freewrite community 😊
Speaking of, if you haven't joined our discord yet you're more than welcome to! If you want to share writing contests, talk about freewrites, or even just say 'hi', you should join. It's a nice place.
Lastly, the prompt this week is a slightly extended version of a daily freewrite I did a while ago. So it wasn't written specifically for a we-write beginning, but I hope you still like it and can have fun with the ending.
For daily freewrite inspiration, be sure to follow @mariannewest for prompts!