Replace 'I' instead of 'We'.
Hi Friends....
Do you like to think about yourself always?
We all like to think. Isn't it?
Do you know this 'I ' is the cause of all 'Illness.' Physical illness can be traced by doctor and can be cured by medicine. Somehow, mental illness can be treated with medicine, but it can not cure it permanently. It's just because mental illness is caused by chattering of thoughts in our mind in a disorder way.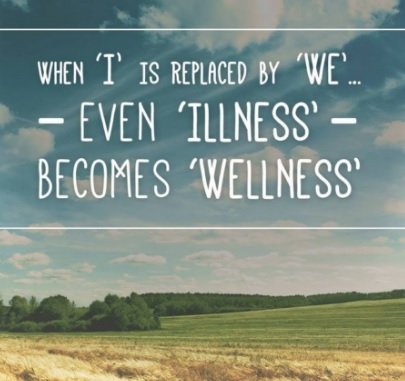 Here is a solution for you all. Just replace 'I' in place of 'We', a magic will happen. 'Illness will become 'Wellness.'
Don't you believe it? Just do it , you will get the result. Don't think about yourself, start thinking about ourselves. Miracle will happen in your life. When you think only about you, life become limited, narrow. Life will become happy when we will accept it in a broader prospective. Think about others' well being. Think about others' goodness and wellness. Your life will be poured with happiness and wellness.
Please put your valuable opinion in the comment box below.