Yesterday was Sunday. It should have been Tuesday but it got messed up. What was I going to do? They, Herbert and Sandy, were expecting me as their best man. I was late. This may destroy their entire wedding.
I raced to the bathroom and made my hair the best that it could look after throwing in some styling gem. It was a wreck but it would have to do.
I went out it my car. The damn thing wouldn't start as I turned the ignition key. The smell of pomegranates filled my nose. I looked to my left over into the neighbor's yard where the spectacle of the juice stand stood. Gabby, a girl around the age of six, was using a juicer to get out the little bit of juice she could from what she had.
Turning the ignition key again, the car started. I raced down the street. A pothole proved destructive to my tire. Going to the trunk, I remembered that I'd used the spare last week when I help an elder woman out.
I got down on one knee. I was going to pop the question right then, but then I heard little Gabby scream. I whipped my head around and saw little Gabby getting mauled by some homeless man. Getting a better look had revealed the grotesque blood and guts dripping out of his mouth.
I moved in Gabby's direction, but then I noticed the homeless man looking hungrily at me. He darted toward me. My body started to run before my conscious mind gathered what was going on.
Hopping a fence and landing into a back yard, a dog barrelled after me. It almost caught me by the throat but was jerked back by the chain reaching it's max length.
I heard the crashing of the fence as it was being torn down by the homeless man. My feet picked up their pace again. I ran into a shed. I picked up a hammer, which had a busted handle, and hid in the shed waiting for the psychotic man to come barging in.
The way the guitar sounded coming from the upper floors of the two story house reminded me of the time I'd gotten high while watching "Final Destination."
I thought about calling for help but then the homeless man entered the shed. I put the hammer right between his eyes. He fell to the floor. As I looked at his face, I could see the paleness of the skin, the heavy bags under the eyes, and the fresh blood dripping from his mouth. What the fuck was going on?
My way to the house was block off by three more homeless who looked just as crazed for blood as the one I'd just taken down.
I rushed to the street where I found a bus. Wasting no time, I hopped on. Sitting in the driver's seat, I'd found the key already in the ignition. Lucky me.
Driving toward the chapel where my friends where getting married, I saw many more people running and getting mauled by these crazed creatures.
Pulling up to the chapel and rushing in, I shouted, "There is something maddening happening out there!"
Twenty faces with blank stares like that of the homeless man looked back at me. I could see the thought of lunch was on their minds.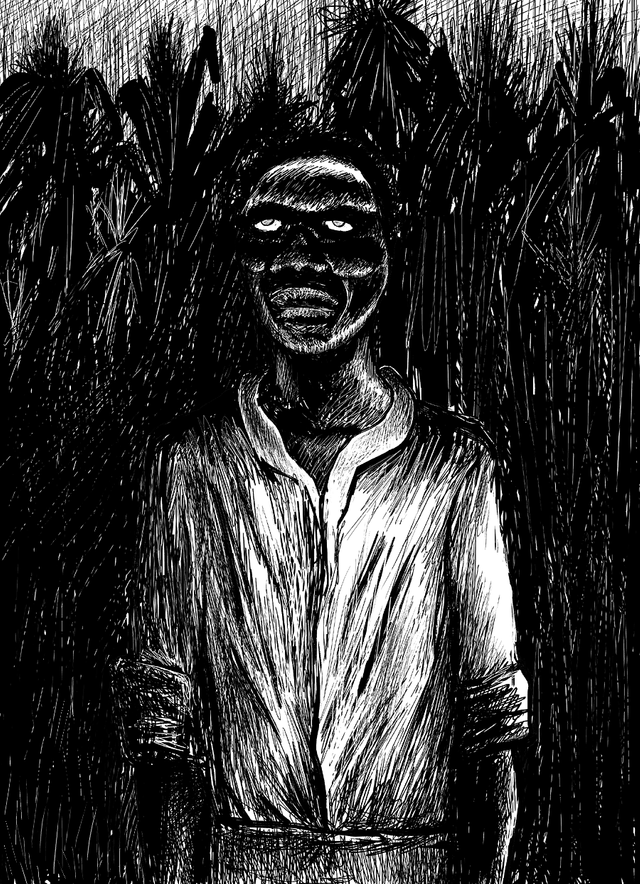 source
---
---
If you would like to find out what freewriting is all about, go here.

Regular Freewritehouse features
Announce the Adoptee -Monday
Recommend your Favorite Freewrite and Win SBI - Tuesday
We-Write and win SBI - Every other Wednesday
Freewrite Favorites - Thursday
Adopt Me!! -Friday
Over 20 Club - Saturday


# Badges

If you are enjoying my work, please -
===
Upvote my posts through steem auto and add the other people and groups you would like to support.

Support me and others through steembasicincome shares. (This also helps you because you will also get a share for sponsoring somebody.)

Click here --> Steemmonsters. This is an offical affiliate link. So, not only will you get awesome cards, but you will also be helping me out.
---
---
Coming to you from arcange, a friendly warning to all who want to be successful on the steemit platform:
A bit of paranoia is the basis of security.
There are a few simple rules to follow in order to avoid having your account hacked:
Rule 1: NEVER, I repeat, NEVER use or give your owner key or password!
Rule 2: Use your posting key to login, post and vote on trusted websites like steemit.com or busy.org.
Rule 3: NEVER give your active key as this key allows to control your funds! Only use your active key for special operation like money transfer or account update on trusted websites like steemit.com.
Rule 4: Anywhere else, if you are requested to provide any of the above key: RUN AWAY!!!
---
---
Tools:
---
---
Ongoing Contests
---
---
My Completed Freewriting prompts:
---
---
---
---
---
---
---
===
How can you make this table or create something even better?
stackedit.io, which is great for seeing what you are doing while you are building your page.