Mother was dead. I sat up startled and leaned against the pine headboard of our bed. I hadn't expected the prescription drugs to dry her body out in the middle of the night. I touched her wrinkly, lifeless hands with a finger. Pulling my finger away left a blue mark. What was I going to do with the body?
I could have taken her to a ditch. Where? Someplace by the railroad tracks. I knew the crackers hang out in that area. They might be blamed for this unfortunate incident if I can direct the detective there. He has been following me lately. How was I going to get the body out without being spotted by him?
Getting out of bed, I picked up my nail polish from the coffee table and walk over to the stereo. The music that burst forth from the speaker was French music. The sounds of bells, drums and pianos filled the stuffy air.
I unscrewed the nail polish lid and start painting my nails. It was good Steve was no longer in contact with her.
However, after living with Steve for three years, she wasn't sure if the ants climbing up the wall would ever be gotten rid of with cleaning products. Were the ants ever going to leave? Now that she, Gabriel the tranny, was gone, they would undoubtedly make there way over the the decomposing corpse and have their way with her if I didn't clean up.
I had warned him not to get the sex change. She persisted. She now looked like Jessica Rabbit after having her six lower ribs removed.
She was a faithless little bitch. I'd caught her cheating on me more than once.
I needed a shower before I was going to go out into the world. Some drugs would have helped to straighten my mind out, giving me the vision on how to get this body out without being bothered by the detective.
I pulled out the blood red sweater I had worn on Halloween. I was a damn good looking vampire.
It didn't work. I tried and tried to stuff the head into the bag but the bag just wasn't big enough. I looked at the body in the tub. The tub had a crack. Blood was leaking out onto the floor through the crack. How am I going to clean up this mess before Steve gets back from vacation was beyond me.
"You were always a little manic depressive," said Garbiel's head.
I fumble with the head, grabbing the bleached hair and swinging it back and forth as I meandered to the refrigerator.
"Shut up, Gabriel. You're dead. I have morals to live by in front of others and you can't be seen here when my true love returns from the Bahamas."
"What you did in the darkness of this house will never be forgotten."
"Do you think I really care about that?" I grabbed a warm can of coke from the broken refrigerator.
"I've got the perfect disguise," I said after taking a sip. "With this vampire suit, people will think I'm off to entertain a group of adult children. The detective will surely be thrown off track."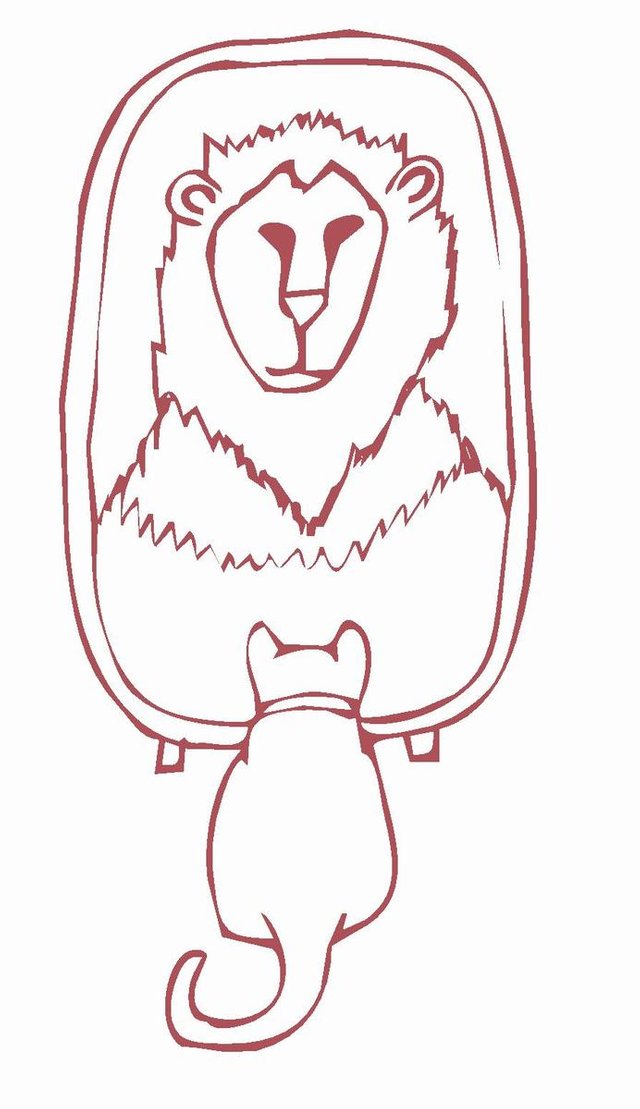 source
---
---
If you would like to find out what freewriting is all about, go here.

Regular Freewritehouse features
Announce the Adoptee -Monday
Recommend your Favorite Freewrite and Win SBI - Tuesday
We-Write and win SBI - Every other Wednesday
Freewrite Favorites - Thursday
Adopt Me!! -Friday
Over 20 Club - Saturday


# Badges

If you are enjoying my work, please -
===
Upvote my posts through steem auto and add the other people and groups you would like to support.

Support me and others through steembasicincome shares. (This also helps you because you will also get a share for sponsoring somebody.)

Click here --> Steemmonsters. This is an offical affiliate link. So, not only will you get awesome cards, but you will also be helping me out.
---
---
Coming to you from arcange, a friendly warning to all who want to be successful on the steemit platform:
A bit of paranoia is the basis of security.
There are a few simple rules to follow in order to avoid having your account hacked:
Rule 1: NEVER, I repeat, NEVER use or give your owner key or password!
Rule 2: Use your posting key to login, post and vote on trusted websites like steemit.com or busy.org.
Rule 3: NEVER give your active key as this key allows to control your funds! Only use your active key for special operation like money transfer or account update on trusted websites like steemit.com.
Rule 4: Anywhere else, if you are requested to provide any of the above key: RUN AWAY!!!
---
---
Tools:
---
---
Ongoing Contests
---
---
My Completed Freewriting prompts:
---
---
---
---
---
---
---
===
How can you make this table or create something even better?
stackedit.io, which is great for seeing what you are doing while you are building your page.