Depleted Uranium & White Phosphorus Part of Massive Weapons Smuggling Operation Involving US Contractors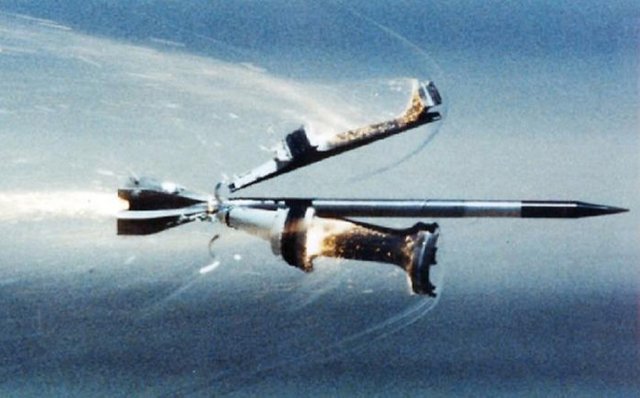 Several US contractors have been revealed to be involved with a large scale weapons smuggling operation from Eastern Europe to conflict zones in the Middle East including: Syria, Iraq and Afghanistan.

In my last post, we learned how the state-run SilkWay Airlines, operating out of Azerbaijan, has been exposed as using diplomatic immunity protection to disguise the international weapons enterprise. Bulgarian reporter Dilyana Gaytandzhieva has released a set of explosive articles that include documents detailing the illegal transport of military weapons aboard a commercial airliner.
https://steemit.com/weapons-smuggling/@v4vapid/silkway-airlines-diplomatic-flights-used-to-ship-billions-worth-of-weapons-from-eastern-europe-to-the-middle-east
The documents detailing the weapons shipments were leaked online from the twitter account Anonymous Bulgaria @anon_bg. Additionally, they show how a special "exemption" was made in order to allow Silkway Airlines to transport military cargo. Billions worth of weapons from Belarus, Bulgaria and Serbia were purchased by US contractors and shipped to conflict zones over the last three years.
---
Several US contractors are implicated in the operation. They are:

Purple Shovel
Alliant Techsystems Operations-USA
Orbital ATK
Chemring Group
In another post I will explore Purple Shovel LLC, so let's dig a little deeper into Orbital ATK and the Chemring Group.
---

---
Orbital ATK Inc. is an American aerospace manufacturer and defense industry company. It was formed in 2015 from the merger of Orbital Sciences Corporation and parts of Alliant Techsystems. Orbital ATK designs, builds and delivers space, defense and aviation-related systems to customers around the world both as a prime contractor and as a merchant supplier.
The company has three major divisions:

Flight Systems (Chandler, Arizona)
Defense Systems (Baltimore, Maryland)
Space Systems (Dulles, Virginia - Company Headquarters)
---
Orbital ATK and SilkWay Airlines
Another U.S. contractor involved in the same program for non-US standard military supplies is Orbital ATK. This company received $250 million over just the past two years. Information as to what type of weapons and to whom those weapons were supplied is classified.
According to the documents, Orbital ATK transported weapons on 6 diplomatic Silk Way Airlines flights in July and August of 2015 flying the route Baku (Azerbaijan)-Tuzla (Bosnia and Herzegovina)-Baku-Kabul (Afghanistan). The weapons were exported by IGMAN j.j. Konjic, (Bosnia and Herzegovina) commissioned by Orbital ATK. The consignee was the National Police of Afghanistan. Interestingly, all these diplomatic flights with weapons had technical landings and a 7 h 30 min stop at Baku before their final destination – Afghanistan.
"Information as to what type of weapons and to whom those weapons were supplied is classified."
ATK has been awarded multiple contracts for supplying SOCOM with Non-Standard Ammunition. Non-standard refers to weapons and ammunition that are not US military grade.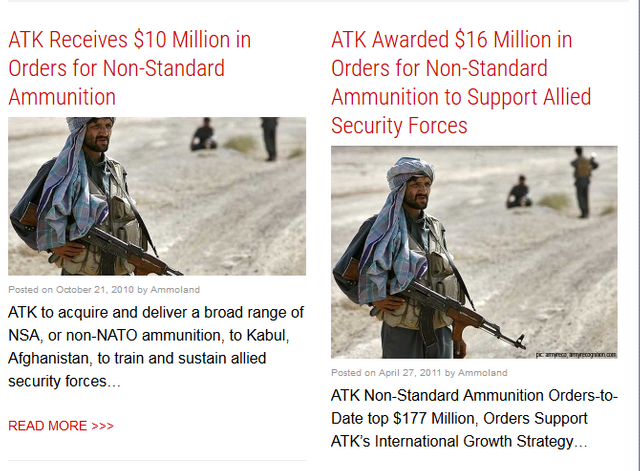 ---
Depleted Uranium
---


What other kinds of "non-standard" weapons ammunition does Orbital ATK produce? Unbelievably, they are major manufacturer of armor piercing projectiles: M829A1 / M829A3
M829A1 - "The Silver Bullet"

https://www.orbitalatk.com/defense-systems/armament-systems/120mm/

Weapons-grade Depleted Uranium
This has nothing to do with uranium's radioactivity, but everything to do with mass. Mass is basically how much matter is in an object. For example, a 1-square-inch block of balsa wood weighs less than an inch-square block of lead -- lead has more mass. And depleted uranium is roughly 70% denser than lead! Orbital ATK (NYSE: OA), for example, makes use of depleted uranium in some of its munitions.
... the density of depleted uranium allows it to more easily break through protective armor. What makes it a good choice for armor-piercing munitions (sometimes called kinetic energy penetrators) also has to do with projectile shape involved and what happens when uranium's temperature increases and pressure is applied. But suffice it to say, uranium finds its way into more weapons than just nuclear bombs.
Could the "classified" weapons transported by Silk Airlines and destined for the Afghan National Police be depleted uranium munitions?

Note: the 120mm Cartridges are the same as those used for Depleted Uranium rounds of M829A1 / M829A3.
---
Orbital ATK Space Systems
---
Robotic Servicing of Geosynchronous Satellites

Another interesting technology that Orbital ATK is involved with is Robotic Servicing of Geosynchronous Satellites (RSGS). The purpose of RSGS is to have a relatively small sized robotic servicing satellite capable of repairing and checking existing satellites orbiting at 22,000 miles above the planet.
In February 2017, Orbital ATK file a lawsuit against DARPA (Defense Advanced Research Projects Agency) after the agency awarded a contract to competitor Space Systems Loral.

Orbital ATK's legal department launched the suit as they believe the creation of RSGS systems is in violation of US National Space Policy.
The policy requires "that the government not build or buy systems" that "preclude, discourage or compete" with commercial systems.
---

---
The Chemring Group, also Chemring Military Products, is exposed by the document leak.

Chemring Military Products is another main contractor in the program for non-US standard weapon supplies to the US army through diplomatic Silk Way Airlines flights. This military supplier has 4 contracts for $302.8 million in total. The weapons were purchased from local manufacturers in Serbia, Bulgaria, and Romania and according to documents transported to Iraq and Afghanistan via diplomatic flights.
One of those flights in particular, on 18 October 2016, carrying 15.5 tons of 122 mm rockets bought by Chemring in Belgrade, Serbia, was diverted from its destination – Kabul, and instead landed in Lahore, Pakistan. After a 2-hour stop, the aircraft took off to Afghanistan. The only possible explanation for the extension of the flight by a thousand kilometers is offloading in Pakistan, even though documents stated that the cargo was destined for Afghanistan.


Chemring specializes in three key departments

Ammunition
Weapons
Pyrotechnics

Chemring
Department of Defense Contracts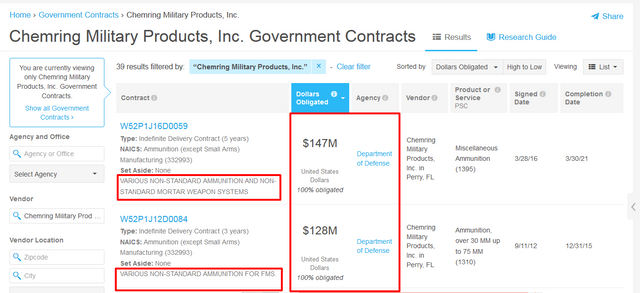 Source: Insidegov.com

Chemring is also a major supplier of "non-standard" ammunition and "non-standard" mortar weapons systems. Government records show that the majority of the companies sales fall under the category of "Miscellaneous Ammunition".
---
White Phosphorous

---
Chemrings Pyrotechnics division produces a glossy brochure detailing their warehouse of smoke screen, illumination, signalling products.
http://www.chemring.co.uk/~/media/Files/C/Chemring-V2/PDFs/sector-brochure-pyrotechnics-web-1111.pdf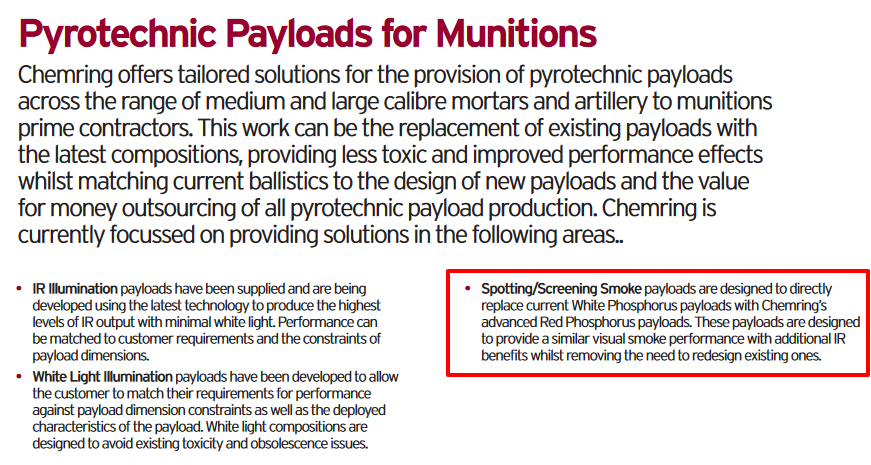 From the brochure it would appear that the Chemring Group is attempting to distance itself from the controversial White Phosphorus by replacing it with what the company refers to as 'less toxic' Red Phosphorus. It is unclear if the company has already implemented these changes.
Red phosphorus is an allotrope of phosphorus, so essentially they're the same substance. White Phosphorus is characteristically unstable and highly flammable when exposed to oxygen, where as Red Phosphorus is much more stable. Red phosphorus can be produced by heating white phosphorus (in the absence of oxygen) or by exposure to sunlight.

Nonetheless, the weapons from the leaked documents show they were purchased in Serbia, Bulgaria and Romania before being transported to Iraq, Afghanistan and perhaps Pakistan.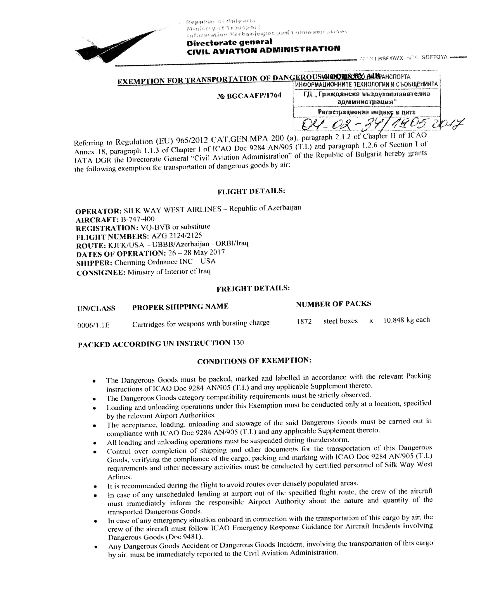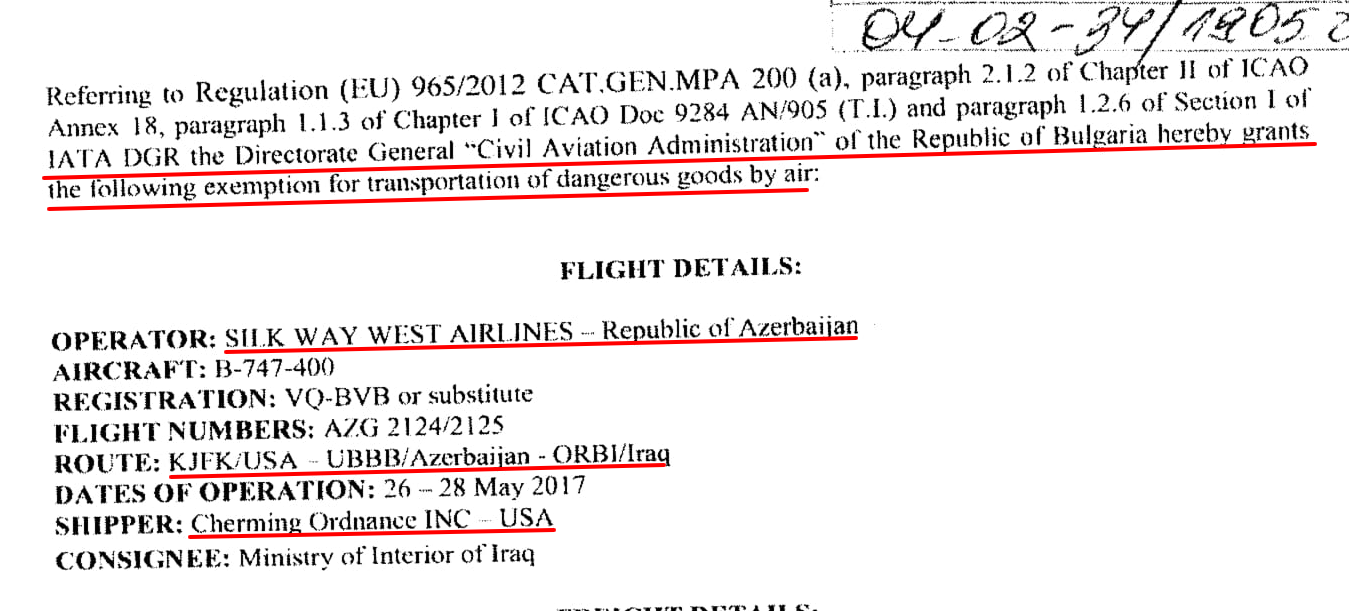 ---
Wikileaks - Hacking Team Email

The Chemring Group figures prominently in this Hacking Team email released by Wikileaks.
https://wikileaks.org/hackingteam/emails/emailid/582452
The email is titled: CBRN Defence Market Forecast 2014-2024
Visiongain Business Reports CBRN Defence Market Forecast 2014-2024
Leading Companies for Chemical, Biological, Radiological & Nuclear Detection Equipment
It outlines the CBRN market landscape.
A decade of robust investment in the CBRN defence market has been primarily driven by the enduring threat of a CBRN t errorist attack. In addition, even as budgets in North America and Europe come under pressure, CBRN defence spending remains an attractive opportunity for leading defence and homeland security contractors. Visiongain's new report examines how emerging market spending and the threat of CBRN attacks underscore an optimistic outlook for a market that will reach $8.71bn in 2014.
How this report delivers:
• View global CBRN defence market forecasts and analysis from 2014-2024 to keep your knowledge ahead of your competition and ensure you exploit key business opportunities
• Read the full transcripts of exclusive expert opinion interviews from leading industry specialists informing your understanding and allowing you to assess prospects for investments and sales>

Avon Protection
Bruker Corporation
• Discover sales predictions for the key end use submarkets from 2014-2024
CBRN Detection submarket forecast 2014-2024
CBRN Protection submarket forecast 2014-2024
CBRN Decontamination submarket forecast 2014-2024
CBRN Simulation submarket forecast 2014-2024
• Understand the prospects for the leading national CBRN defence markets - where will the highest revenues and opportunities occur?
Learn about the market potential for CBRN defence companies in the developed and developing countries, from 2013 onwards. You will see where and how opportunities exist with revealing individual market forecasts and analysis from 2014-2024 for 20 leading national markets.
---
Summary

These US contractors are profiting off the US taxpayer, purchasing and smuggling weapons illegally with the use of civilian aircraft and diplomatic immunity aboard Silkway Airlines. The history of both Orbital ATK and Chemring indicate that the types of undisclosed weapons transported across the Middle East are likely to be Depleted Uranium and White Phosphorus among others.
Stay Tuned for More on Purple Shovel and Alliant Techsystems Operations-USA as I plan on covering both of these contractors in an upcoming post.
---
---